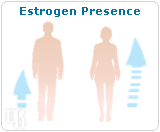 Estrogen, though commonly believed to be an exclusively "female" hormone, is also found, in smaller quantities, in men. Responsible for regulating such aspects of the female body as physical appearance and reproductive ability, normal levels of estrogen ensure that the body and its components interact properly to maintain general health and well-being.
Fluctuating estrogen levels can wreak havoc on the female body. The sections below define "normal" as it relates to estrogen and detail the importance of monitoring estrogen levels.
Role of Estrogen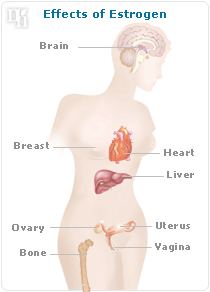 Estrogen is known as a "chemical messenger" due to its ability to pass information between cells. Normal estrogen levels are important as, among other key functions, they control:
Tissue function
Sexual function
Mood
Normal estrogen levels are essential to the performance of many sexual reproductive functions focused on the breast and uterus. A normal estrogen level is capable of affecting the expanse of the uterine lining during the first stages of the menstrual cycle and such a process is linked to the later fertilization of an egg and the growth of a fetus.
Stable estrogen levels also help to protect against heart disease and osteoporosis, assist in the lactation process, promote healthy blood flow within the uterus, and maintain, regulate and instigate the production of different hormones. If normal estrogen levels fluctuate in any way, it can cause a variety of negative effects within the body; during menopause, this manifests through symptoms such as vaginal dryness, hot flashes, and irregular menstrual periods.
Estrogen affects the urinary tract, the heart and blood vessels, bones, breasts, skin, hair, mucous membranes, pelvic muscles, and the brain.
Ranges of Normal Estrogen Levels
Average Estrogen Levels
Age (yrs)
20 - 29
30 - 39
40 - 49
50 - 59
The table to the right shows the average estrogen levels for a woman at different times during her reproductive years. Measurements of the range of normal estrogen levels are given in parts pg/ml (pictograms/milliliter) of estradiol.
During the menstrual cycle, a woman of normal reproductive age will have estradiol levels ranging from 50-400 pg/ml. Normal levels of estrogen fluctuate at varying stages of the menstrual cycle.
A woman suffering from low estrogen levels during menopause will usually have an estrogen reading of 10-20 pg/ml.
High estrogen levels during menopause will usually have an estrogen reading of more than 200 pg/ml.
Now that normal estrogen levels have been explained, continue reading to learn about high estrogen levels in the body and what they indicate.