Estrogen's function within the female body is extensive and complex due to the hormone's vast number of receptors and glands. If not utilized within the producing gland, the hormone is transported elsewhere for use of its wide-reaching effects. Thus, an estrogen imbalance has the potential to negatively affect homeostasis in a variety of ways.
To learn more about the role and effects of estrogen beyond the reproductive system, continue reading.
Estrogen Roles
Estrogen is essential to a woman's physical and psychological well-being, impacting everything from reproductive ability to bone strength.
The hormone affects a variety of different organs, including the reproductive tract; urinary tract; heart and blood vessels; bones; breasts; skin; hair; mucous membranes; pelvic muscles; and the brain.
The range of tasks that estrogen carries out include: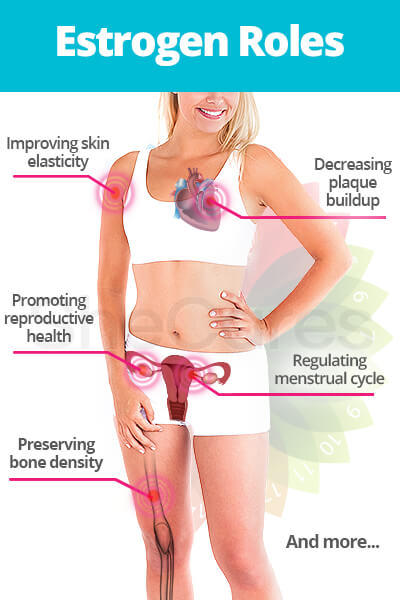 Promoting health of reproductive tract

Regulating the menstrual cycle

Maintaining urinary continence

Decreasing buildup of plaque in coronary arteries
Preserving bone density
Supporting maturation of the breasts
Improving skin elasticity and thickness
Encouraging and stimulating hair growth
Conserving integrity of mucous membranes
Sustaining normal body temperature
Deterring amnesia
And more crucial functions.

Discover more about estrogen's continual contribution to these varying body parts below.
Effects of Estrogen in the Female Body
Effects of healthy estrogen levels are experienced throughout a woman's entire body:
Reproductive Tract
Estrogen gives the formation of the female reproductive tract - vagina, uterus, and ovaries - as well as external genitals. It also helps maintain a lubricated and thick vaginal lining. During the follicular phase of the menstrual cycle, estrogen grows and matures the uterine lining and later triggers ovulation, provoking further changes if conception occurs.
Urinary tract
Estrogen strengthens the cells lining the bladder and maintains the epithelial lining of the urethra, the tube that carries urine from the bladder to the outside of the body. The bladder lumen is covered with epithelial cells to protect the urinary bladder from infecting bacteria. It also produces antimicrobial peptides - the body's self-made antibiotics.
Heart and blood vessels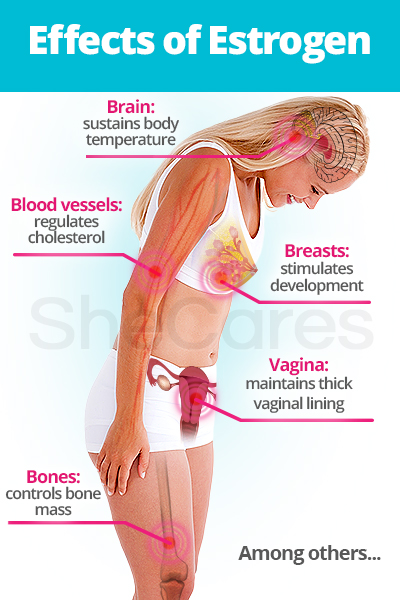 Moreover, estrogen regulates the liver's production of cholesterol and increases the amount of HDL cholesterol to clear arteries of LDL cholesterol. The hormone is believed to have a positive effect on the inner layer of the artery wall by keeping blood vessels strong and flexible.
Bones
Estrogen produced by the ovaries helps control bone mass and strength. By managing the activity of bone-resorbing osteoclasts and bone-forming osteoblasts, estrogen assists with averting the onset of osteoporosis later on in life.
Breasts
Estrogen stimulates the development of the breasts during puberty and prepares the glands for future milk production. When a girl approaches adolescence, the ovaries will start to secrete estrogen, which leads to connective tissue fat and breast enlargement.
Skin
Estrogen prevents a reduction in skin collagen content and is suggested to increase cutaneous wound healing by regulating the levels of cytokines. As such, topical estrogen has actually been found to accelerate and improve wound healing in elderly women.1
Hair
Estrogen is one of four hormones directly related to hair loss and growth. Likewise, the healthy ratio of estrogen to progesterone and other reproductive hormones is vital for hair growth in the scalp.
Mucous membranes
Similar to maintaining the thick lining of the vagina, estrogen also maintains the thickness of mucous membranes. Mucous membranes are epithelial tissues that secrete mucus in the body. They line many body cavities and organs, including the stomach and intestines; mouth; nose; urinary bladder; trachea and lungs; urethra; and more.
Pelvic muscles
Estrogen receptors are present in the bladder, urethra, vagina, and pelvic floor muscles, and they play a role in the supportive mechanism of the pelvis by handling the production and breakdown of collagen. Estrogen enhances urethral resistance by increasing the number of surrounding vessels, which accounts for a third of urethral pressure.
Brain
Estrogen helps maintain body temperature and may delay memory loss. Research also demonstrates that estrogen lowers the risk of developing Alzheimer's disease before symptoms set in by enhancing communication between neurons in the hippocampus.2 It also increases the concentration of enzymes used to synthesize brain chemicals critical for memory.
Possible Effects of High Estrogen Levels
On the contrary, elevated estrogen levels can also provoke effects in women:
Reproductive tract
Uterine cancer can occur from an estrogen imbalance as estrogen impels the endometrial lining to continually thicken. Further high estrogen health conditions affecting the reproductive tract include ovarian cancer, endometriosis, uterine fibroids, and others.
Heart and blood vessels
Fluctuating hormonal levels and unnatural spikes in estrogen can cause heart palpitations, abnormal heart rhythms, and blood clotting.
Bones
Because estrogen has anti-inflammatory effects on the body, when levels unhealthily fluctuate, women can suffer from chronic inflammation and arthritis.
Breasts
Women who have dominating estrogen levels are at an increased risk of contracting breast cancer. It is reported that about 70 percent of breast cancers are sensitive to the hormone.3 There is also an increased risk of breast tenderness or fibrocystic breasts.
Skin
One of the first signs of a hormonal imbalance can be dry, itchy skin. Furthermore, this can be a warning sign of more concerning health conditions, such as thyroid dysfunction and autoimmune disorders like allergies and allergic reactions.
Hair
Estrogen dominance - in which there is too much estrogen relative to progesterone - can principally lead to hair loss as well as other unsightly symptoms, such as abdominal weight gain.
Mucous membranes
The risk of infections increases with any type of hormonal fluctuation because healthy estrogen levels regulate health of mucous membrane linings throughout the body.
Pelvic muscles
High estrogen levels and consistently fluctuating hormones can prompt increased occurrences of cramps, especially as a symptom of premenstrual syndrome (PMS) or a symptom of estrogen dominance conditions, such as uterine fibroids and endometriosis.
Brain
Fluctuating estrogen levels can affect women mentally by causing headaches, depression, panic attacks, low self-esteem, and more.
Possible Effects of Low Estrogen Levels
Estrogen levels that are unnaturally low may lead to the following throughout the body:
Reproductive tract
When estrogen levels dip, vaginal atrophy can occur as the vagina loses natural lubrication, and the walls begin to thin and shrink. Half of all postmenopausal women are believed to suffer from vaginal atrophy, causing vaginal dryness; dyspareunia; and irritation or itching.4
Urinary tract
When the epithelium is fragile with gaps between cells, women are less able to ward off infections, giving reason to why decreased estrogen levels may engender recurring urinary tract infections (UTIs).
Heart and blood vessels
Without estrogen's positive influence on cholesterol production, low estrogen levels could contribute to a build-up of plaque in coronary arteries. They could also constrict appropriate relaxation and expansion of blood vessels.
Bones
An estrogen deficiency can result in weakened bones and osteoporosis due to pathological bone loss from fewer cells being produced. Low estrogen levels increase osteoclast formation and enhance bone resorption, a process by which the bone is broken down.
Breasts
Insufficient estrogen levels can cause underdeveloped breast tissues. Increasing levels of estrogen during puberty are a major underlying contributor to reproductive maturity.
Skin
Decreased estrogen levels will lead to poor skin elasticity, especially with age. Postmenopausal women with notable decreased skin thickness can attribute a number of environmental factors - such as sun exposure and smoking - to skin changes.
Hair
As estrogen levels decline, there is a greater influence of testosterone on hair follicles, consequently shortening the growth phase and causing gradual hair loss. Female pattern hair loss is believed to be triggered by low estrogen to androgen ratios.5
Mucous membranes
Thin mucous membranes could lead to an increased risk of UTIs as well as arousal and sexual pain disorders. Estrogen deficiencies adversely affect the membranes lining the bladder, urethra, and more.
Pelvic muscles
The decline in estrogen is a possible factor in pelvic floor disorders seen in menopausal women, such as vaginal atrophy, urinary incontinence, overactive bladder, and pelvic organ prolapse. These disorders are estimated to affect up to 40 percent of postmenopausal women.6
Brain
Estrogens are generally responsible for promoting vasodilation, heat dissipation, and lower body temperatures. Therefore, an estrogen deficiency can cause hot flushes, which can be aggravated by constant hormonal fluctuations.
Overall, because of estrogen's role and effects throughout the body, maintaining healthyestrogen levels is indispensable. Not only is the hormone's presence vital to the functioning of reproductive system, but it also positively impacts principal bodily systems and organs, including the skin, hair, and brain.
If estrogen levels fluctuate abnormally, this imbalance can provoke unimaginable signs and symptoms. However, there are periods within a woman's reproductive life in which estrogen will fluctuate as such, triggered accordingly by the specific circumstance. Keep reading to learn more about estrogen fluctuations through life for a better understanding of the hormone's significant involvement in the body.
Sources
American Heart Association. (2015). Menopause and Heart Disease. Retrieved July 13, 2017, from http://www.heart.org/HEARTORG/Conditions/More/MyHeartandStrokeNews/Menopause-and-Heart-Disease_UCM_448432_Article.jsp#.WWfN5VGQyUk
Briden, L. (2015). Period Repair Manual: Natural Treatments for Better Hormones and Better Periods. Publisher: Author.
Charkoudian, N. & Stachenfeld, N.S. (2014). Reproductive hormone influences on thermoregulation in women. Comprehensive Physiology, 4(2), 793-804. doi: 10.1002/cphy.c130029
Imai, Y. et al. (2009). Estrogens maintain bone mass by regulating expression of genes controlling function and life span in mature osteoclasts. Annals of the New York Academy of Sciences, 1173 Suppl 1, E31-9. Retrieved July 6, 2017, from https://www.ncbi.nlm.nih.gov/pubmed/19751412
Luthje, P et al. (2013). Estrogen Supports Urothelial Defense Mechanisms. Science Translational Medicine, 5(190), 190ra80. doi: 10.1126/scitranslmed.3005574
National Institutes of Health. (2015). Pregnancy, Breastfeeding, and Bone Health. Retrieved July 6, 2017, from https://www.niams.nih.gov/Health_Info/Bone/Bone_Health/Pregnancy/default.asp
National Women's Health Network. (2011). Menopause, Hormone Therapy, & Aging Skin – Is There a Connection? Retrieved July 13, 2017, from https://www.nwhn.org/menopause-hormone-therapy-aging-skin-is-there-a-connection/
National Women's Health Resource Center, Inc. (2017). Estrogen | Atherosclerosis. Retrieved July 6, 2017, from http://www.healthywomen.org/condition/estrogen | http://www.healthywomen.org/condition/atherosclerosis
Parker-Pope, Tara. (2007). The Hormone Decision: Untangle the Controversy, Understand Your Options, Make Your Own Choices. New York: Rodale, Inc.
PubMed Health. (n.d.). Reproductive System. Retrieved July 6, 2017, from https://www.ncbi.nlm.nih.gov/pubmedhealth/PMHT0025040/
Russel, K. (2012). Yoga for Hair Growth. Atlanta: Inner Light Publishers. Available from Google Books.
Shah, M.G. & Maibach, H.I. (2001). Estrogen and skin. An overview. American Journal of Clinical Dermatology, 2(3), 143-50. Retrieved July 13, 2017, from https://www.ncbi.nlm.nih.gov/pubmed/11705091
Tulane University. (n.d.). The Hormones: Estrogens. Retrieved July 13, 2017, from http://e.hormone.tulane.edu/learning/estrogens.html
UCSF Medical Center. (n.d.). The Menstrual Cycle. Retrieved July 13, 2017, from https://www.ucsfhealth.org/education/the_menstrual_cycle/
University of Rochester Medical Center. (2017). Estrogen's Effects on the Female Body. Retrieved October 7, 2019, from https://www.urmc.rochester.edu/encyclopedia/content.aspx?ContentTypeID=85&ContentID=P00559
Women in Balance Institute: National University of Natural Medicine. (2017). Hot Flashes & Night Sweats. Retrieved October 7, 2019, from https://womeninbalance.org/symptoms-solutions/hot-flashes-night-sweats/

Footnotes:

Stevenson, S. & Thornton, J. (2007). Effect of estrogens on skin aging and the potential role of SERMs. Clinical Interventions in Aging, 2(3), 283-297. Retrieved October 7, 2019, from https://www.ncbi.nlm.nih.gov/pmc/articles/PMC2685269/
Carpenter, S. (2001). Does estrogen protect memory? American Psychological Association, 32(1), 52. Retrieved October 7, 2019, from http://www.apa.org/monitor/jan01/estrogen.aspx
Victoria State Government. (2017). Breast cancer and oestrogen. Retrieved October 7, 2019, from https://www.betterhealth.vic.gov.au/health/conditionsandtreatments/breast-cancer-and-oestrogen
Parish, S.J. et al. (2013). Impact of vulvovaginal health on postmenopausal women: a review of surveys on symptoms of vulvovaginal atrophy. International Journal of Women's Health, 5, 437-447. doi: 10.2147/IJWH.S44579
Riedel-Baima, B. & Riedel, A. (2008). Female pattern hair loss may be triggered by low oestrogen to androgen ratio. Endocrine Regulations, 42(1), 13-16. Retrieved October 7, 2019, from https://www.ncbi.nlm.nih.gov/pubmed/18333699
Weber, M.A. (2015). Local Oestrogen for Pelvic Floor Disorders: A Systematic Review. PLOS ONE, 10(9), e0136265. doi: 10.1371/journal.pone.0136265