What is a First Pregnancy Appointment?
The first prenatal visit is the initial medical check-up a woman undergoes once confirmed pregnant. It is the longest and most thorough of all prenatal visits.
When to See a Doctor When Pregnant?
A woman should schedule her first pregnancy appointment as soon as she receives a positive pregnancy test.
However, in most cases, the appointment will be given around the eighth week of gestation, counted from the first day of a woman's last menstrual period (LMP).
A sooner first prenatal visit might be given if a woman has history of or is currently in danger of pregnancy complications or has a medical condition that might compromise the pregnancy or a woman's health.
What Doctor To See For Pregnancy?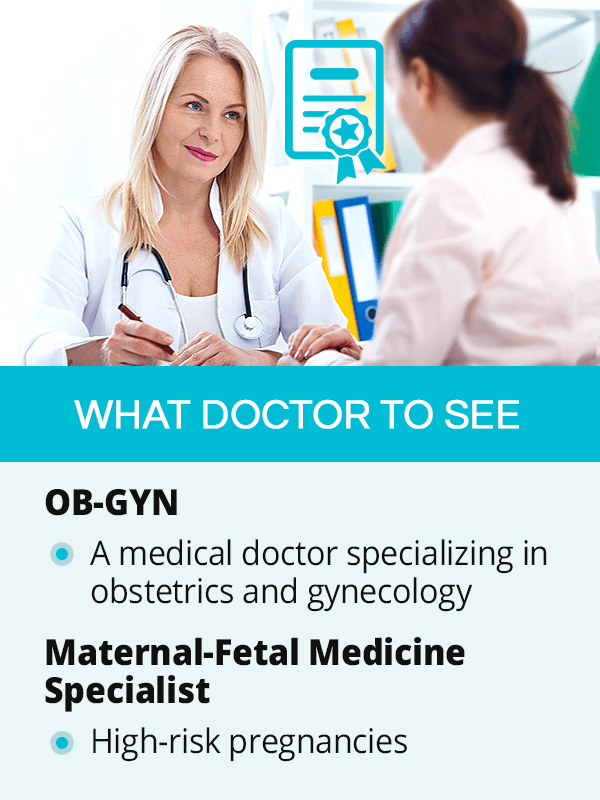 Although other doctors can also deliver babies, prenatal care is most commonly provided by an OB-GYN, a medical doctor with a specialty in obstetrics (pregnancy and delivery) and gynecology (female reproductive health).
In the case of a high-risk pregnancy, a maternal-fetal medicine specialist, or a perinatologist, will overlook the progression of the pregnancy and coordinate with other specialists, if necessary.
How to Choose an OB-GYN?
Many women already have their chosen OB-GYN who has been providing their gynecology care before conceiving. If not, it is best to take some time to research the doctor's credentials and verify other useful information, such as:
Is he or she Board certified?
Are there reliable patients' reviews available online?
Is his or her office in close proximity to one's house?
What is his or her after-hours answering service?
What insurance plans does he or she accept?
At which hospitals does he or she have privileges? Are these hospitals reputable?
Do these hospitals accept the same insurance plans as the doctor?
A woman can also begin her search by choosing a hospital where she wants to deliver her baby and picking her OBGYN from the list of the doctors on staff. Moreover, some of the best recommendations for a prenatal doctor oftentimes come from friends, family, or one's general physician. It's worth asking around.
How to Prepare for First Prenatal Visit?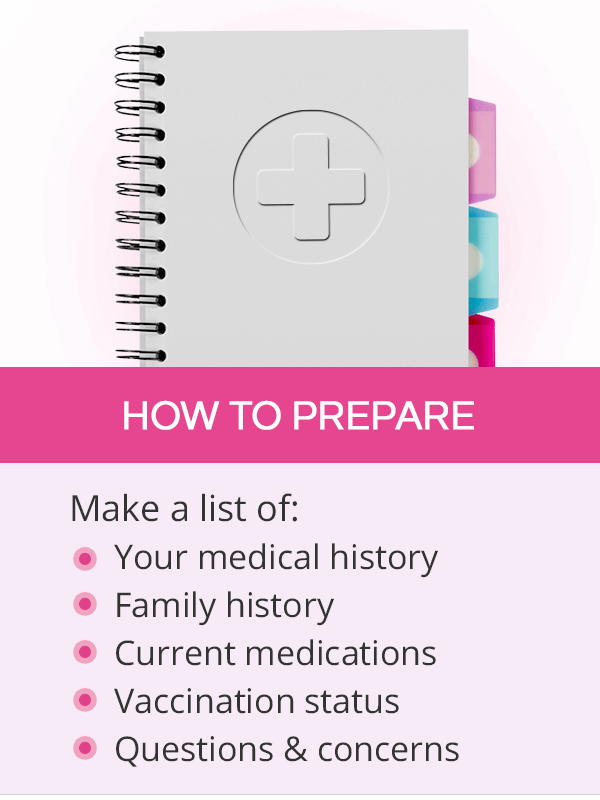 As a prospective mother is awaiting her first prenatal appointment, it is a good idea to dedicate this time to collecting the necessary information that will be reviewed and discussed with the doctor. Information worth taking note of include the following:
One's health information, like menstrual cycle patterns, past surgeries, previous pregnancies, chronic diseases, dental problems, allergies to medications, etc.
Diseases that run in one's and partner's family
Current medications, including over-the-counter drugs and herbal supplements
Vaccinations, recent travels abroad, possible work hazards
A woman is also likely to have a number of first prenatal visit questions and concerns. It is worth writing them down to ensure they are addressed during the appointment.
What to Expect at First Prenatal Visit?
The first pregnancy appointment is a very comprehensive check-up, consisting of counseling, a physical exam, and initial diagnostic tests, all aimed at ensuring healthy pregnancy development. As such, a woman should allot more time for this visit and go prepared to make the most out of it.
Counseling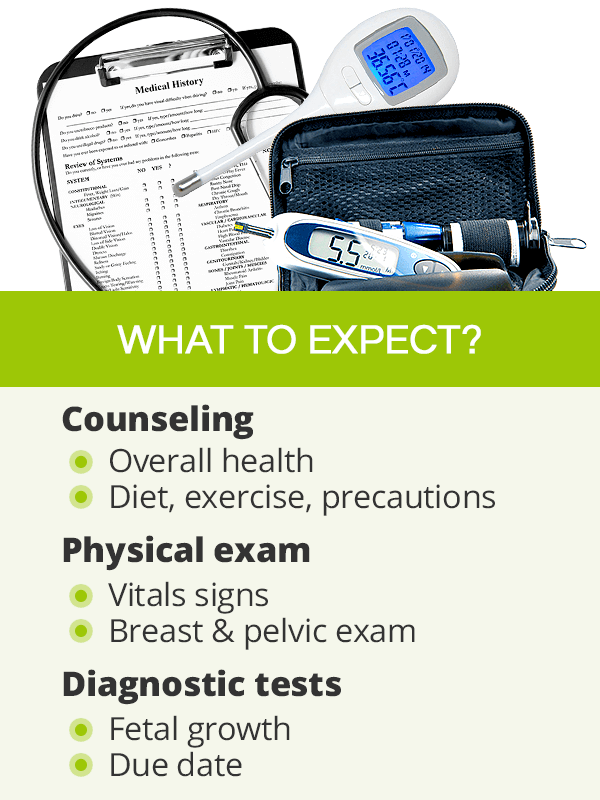 If a woman has met with her doctor before getting pregnant during a preconception check-up, the majority of the following aspects would have already been discussed. Nevertheless, the doctor's main points of focus during first pregnancy visit might be the following:
A woman should also be instructed on what symptoms are considered abnormal and what symptoms require an immediate medical attention as well as how to contact the doctor in case of urgent concerns.
Physical Exam
After sitting down and compiling a woman's medical history, the pregnancy doctor will perform a medical and gynecological exam to assess her overall health and check the status of her pregnancy. This might include the following:
Vital signs, like blood pressure, pulse, and respiration as well as weight and height
Breast exam
Pelvic exam
Diagnostic Tests
The first prenatal visit would not be complete without a series of medical tests that will help the doctor get a full picture of a woman's health status and fetal development. The tests offered are as follows:
Pregnancy test, both urine and blood
Pap smear to rule out cervical cancer, human papillomavirus (HPV), and other vaginal infections
Standard blood work and urine test to determine Rh factor and blood type and rule out anemia, hepatitis B, rubella, diabetes, etc.
Screening for sexually transmitted diseases (STDs)
Transvaginal ultrasound to rule out an ectopic pregnancy and confirm the accuracy of the LMP due date; if done after the 6th week of gestation, it can also detect fetal heartbeat
Key Takeaways
The first prenatal appointment, which is scheduled around the eighth week of gestation, is not only comprehensive and thorough, but also quite memorable to most aspiring mothers as it is when the first signs of the growing baby can be detected by a pregnancy specialist. During a prenatal appointment, a woman undergoes a physical exam and various tests to assess her and her baby's health and rule out complications. She is also encouraged to review and improve her lifestyle habits and start prenatal vitamins so that she can give her baby the best care possible. After this first prenatal visit until the 28th week, a woman will meet with her pregnancy doctor on a monthly basis to monitor her health and fetal development. As she gets closer to her due date, the frequency of prenatal visits will increase to two weeks and then every week in the last month before childbirth.
Sources
American College of Obstetricians and Gynecologists. (2017). Routine Tests During Pregnancy. Retrieved June 26, 2019 from https://www.acog.org/~/media/For%20Patients/faq133.pdf?dmc=1&ts=20120612T2343414674
American Pregnancy Association. (2016). Your First Prenatal Visit. Retrieved June 26, 2019 from https://americanpregnancy.org/planning/first-prenatal-visit/
Eunice Kennedy Shriver National Institute of Child Health and Human Development. (2017). What happens during prenatal visits? Retrieved June 26, 2019 from https://www.nichd.nih.gov/health/topics/preconceptioncare/conditioninfo/prenatal-visits
March of Dimes. (2011). Your first prenatal care checkup. Retrieved June 26, 2019 from https://www.marchofdimes.org/your-first-prenatal-care-checkup.aspx
Mayo Clinic. (2018). Prenatal care: 1st trimester visits. Retrieved June 26, 2019 from https://www.mayoclinic.org/healthy-lifestyle/pregnancy-week-by-week/in-depth/prenatal-care/art-20044882
Medline Plus. (2018). Prenatal care in your first trimester. Retrieved June 26, 2019 from https://medlineplus.gov/ency/patientinstructions/000544.htm
Office on Women's Health. (2019). Prenatal care and tests. Retrieved June 26, 2019 from https://www.womenshealth.gov/pregnancy/youre-pregnant-now-what/prenatal-care-and-tests
Planned Parenthood. (n.d.). What Happens at a Prenatal Care Check-Up Appointment? Retrieved June 26, 2019 from https://www.plannedparenthood.org/learn/pregnancy/prenatal-care/what-happens-prenatal-care-appointments