Menopause and Exercise: Benefits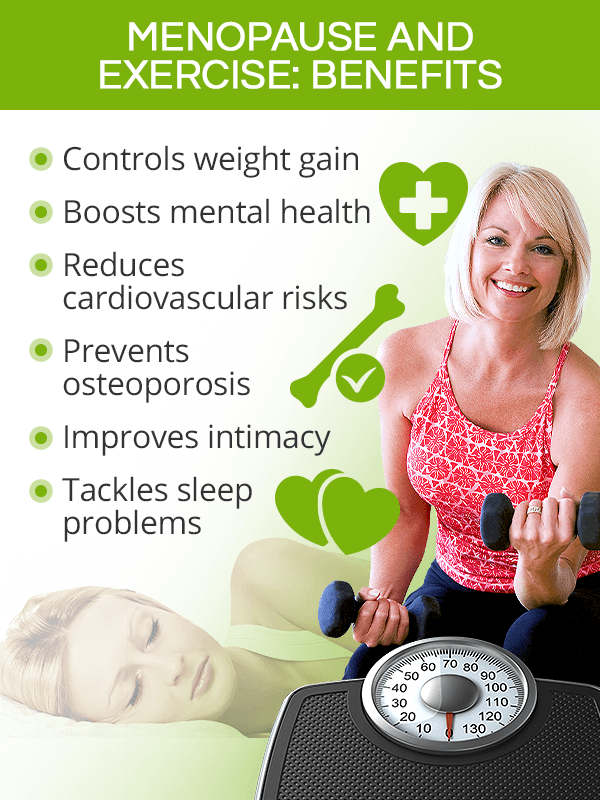 Menopause is a time in women's life when their bodies and minds are going through numerous, mostly unfamiliar changes. Many of those changes that trigger unpleasant menopause symptoms can be offset with regular exercise.1
Best Menopause Workouts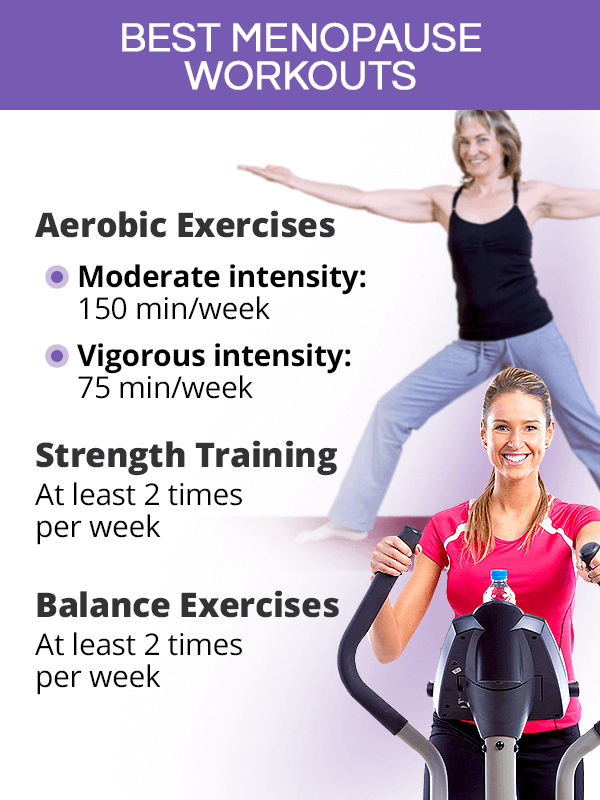 Similar to menopause diet, there is no one workout that will fit all women's needs. Instead, women are encouraged to experiment with several types of sports to find one that they enjoy. This will make the regimen more likely to stick.

It is also key to remember that each workout should start with a few minutes of warm-up to prepare the muscles and joints. Doing a few stretches after a workout can also speed up muscle recovery and prevent post-exercise soreness.
The best menopause exercise plan should consist of a combination of the following three types of workouts:
Aerobic Exercise

According to the official recommendations, women should opt for 150 minutes of moderate or 75 minutes of vigorous aerobic exercise per week.2 This can be divided into half-an-hour workouts, five days a week.
Cardio workouts are beneficial because they help women prevent weight gain or lose weight, if necessary. Because such exercises also raise heart rate and oxygen flow, they help strengthen the heart and improve lung capacity.
Some of the best low-impact aerobic exercises for menopause are swimming, biking, gardening, dancing, and brisk walking.
Strength-Training Exercise
Besides cardio workouts, middle-aged women are advised to complement their menopause workouts with strength-training exercises at least twice per week.2
Benefits of strength-training workouts include stimulating fat burning, increasing muscle and bone strength, and improving pelvic floor muscles. For optimal safety, women should opt for low- to moderate-intensity strength training.
Some of the best examples include lifting weights, working with resistance bands, and doing squats or yoga.
Balance Exercises
Balance exercises will take the least amount of time out of women's schedules, but they are equally crucial as the other types. Going for a few minutes a day is all that it takes to enjoy their benefits long into the postmenopausal years.
Balance-promoting workouts do exactly what their name suggests: they promote balance, coordination, and stability. This can dramatically decrease the risk of falls and fractures, which, in turn, will help prolong women's lives.
Great examples of this type of menopause workout include standing on one leg for a few seconds, while maintaining balance or standing up and sitting down from a chair, without pushing oneself up with one's hands.
The Worst Menopause Workouts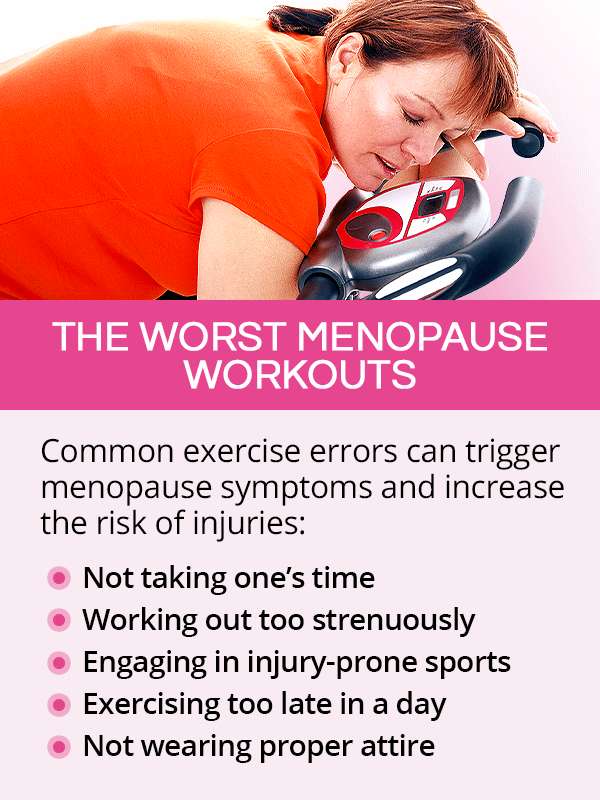 Rather than specific types exercises to avoid during menopause, women oftentimes do not reap benefits from being physically active because of a handful of incorrect practices. They include the following:
Not taking one's time when starting a new menopause exercise plan can result in accidental injuries. Instead, women new to exercise should start slow and gradually build up according to their own endurance levels.

Engaging in strenuous or injury-prone workouts - such as heavy lifting or step aerobics - can actually put a lot of strain on women's joints, bones, and muscles. By that, they may lead to fractures and other injuries.

Exercising too late in the day, such as right before bedtime, can disturb women's sleep as well as trigger night sweats. While there is no perfect exercise time for all women, doing so earlier during the day is likely to be more beneficial.

Not wearing proper workout attire or exercising in poorly ventilated spaces can be unsafe or exacerbate hot flashes. Forgetting proper hydration can also make menopause workouts unbeneficial or even dangerous.
Key Takeaways
When creating the right menopause workout plan, there is no one-size-fits-all solution. Women are encouraged to listen to their bodies and adjust their workouts according to their needs and abilities. Staying physically active can bring numerous benefits to their midlife health, ranging from managing weight gain and boosting mood to preventing osteoporosis and heart disease. The best exercises for menopause combine aerobics (e.g., brisk walking) with strength-training (e.g., resistance bands) and balance workouts (e.g., maintaining stability while standing on one foot). To stay safe and reap the most benefits out of menopause exercises, women are advised to take their time when starting with a new regimen, not engage in strenuous workouts, avoid exercising too late in the day, and wear proper attire.
Sources
CDC. (2021). Benefits of Physical Activity. Retrieved April 20, 2021 from https://www.cdc.gov/physicalactivity/basics/pa-health/index.htm
CDC. (2020). Physical Activity. Retrieved April 20, 2021 from https://www.cdc.gov/physicalactivity/basics/adults/index.htm
Johns Hopkins Medicine. (n.d.). Exercising for Better Sleep. Retrieved April 20, 2021 from https://www.hopkinsmedicine.org/health/wellness-and-prevention/exercising-for-better-sleep
Mayo Clinic. (2019). Exercise: 7 benefits of regular physical activity. Retrieved April 20, 2021 from https://www.mayoclinic.org/healthy-lifestyle/fitness/in-depth/exercise/art-20048389
Mayo Clinic. (2019). Fitness tips for menopause: Why fitness counts. Retrieved April 20, 2021 from https://www.mayoclinic.org/healthy-lifestyle/womens-health/in-depth/fitness-tips-for-menopause/art-20044602
Medline Plus. (2017). Benefits of Exercise. Retrieved April 20, 2021 from https://medlineplus.gov/benefitsofexercise.html
The North American Menopause Society. (n.d.). Fitness after 40: Building the Right Workout for a Better Body. Retrieved April 20, 2021 from https://www.menopause.org/for-women/menopauseflashes/exercise-and-diet/fitness-after-40-building-the-right-workout-for-a-better-body
Footnotes:
Journal of Mid-Life Health. (2011). Exercise beyond menopause: Dos and Don'ts. Retrieved April 20, 2021 from https://www.ncbi.nlm.nih.gov/pmc/articles/PMC3296386/
American Heart Association. (2021). American Heart Association Recommendations for Physical Activity in Adults and Kids. Retrieved April 20, 2021 from https://www.heart.org/en/healthy-living/fitness/fitness-basics/aha-recs-for-physical-activity-in-adults