About Menopause Symptoms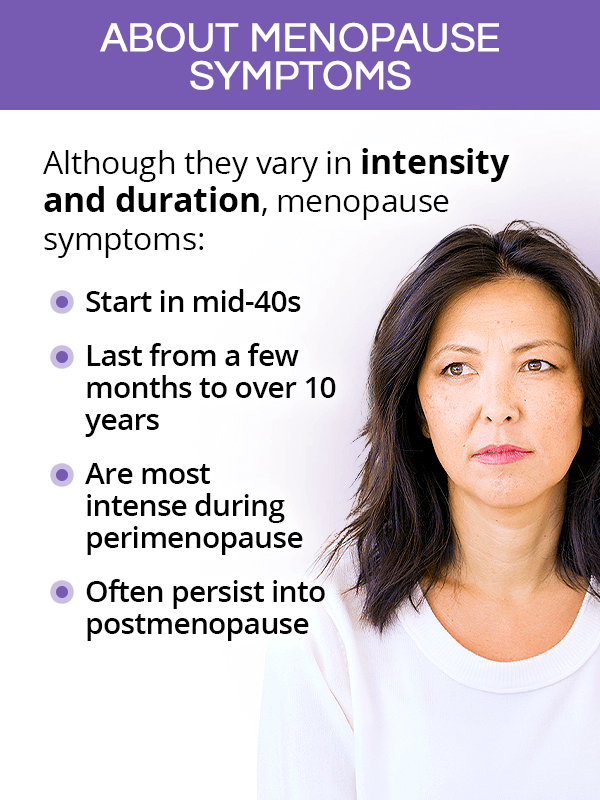 Virtually all middle-aged women experience some menopause symptoms, but their type, duration, and intensity can vary to a significant extent.
When do Menopause Symptoms Start?
The first symptoms start as a woman enters perimenopause, or the years leading up to her menopause date. For reference, menopause is said to have been reached 12 months after not having a menstrual period.1
Since the average age of menopause in the United States is 51, perimenopause symptoms typically begin in a woman's mid-40s.2
However, in the case of early menopause or premature menopause, women may experience transitional symptoms much sooner.
How Long Do Menopause Symptoms Last?
The most intense symptoms happen during perimenopause, which can last from a few months to over 10 years.3
However, some symptoms are likely to persist into postmenopause (the years following menopause), yet usually with a lesser severity.
For instance, studies have shown than 60% of postmenopausal women struggle with hot flashes for up to seven years, while 15% still experiences them for 15 years or more.4
Most Common Menopause Symptoms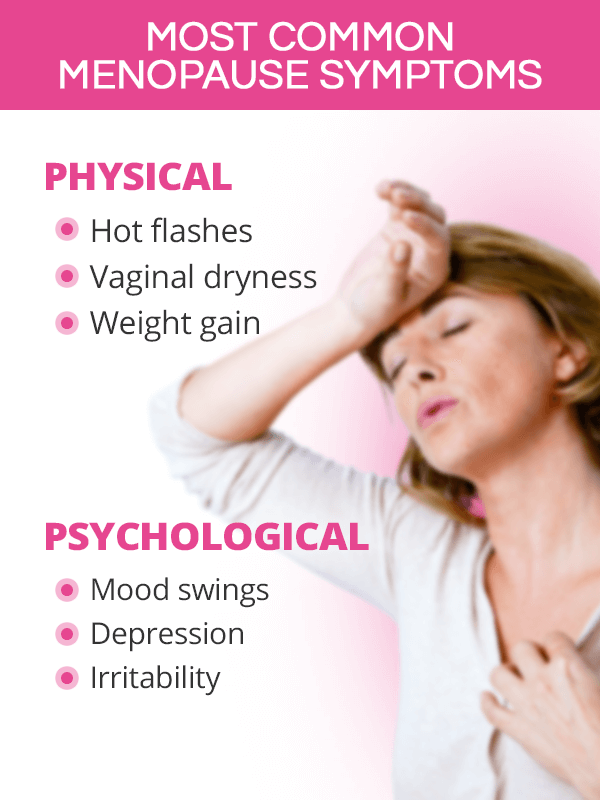 There are over 30 symptoms associated with menopause, some of which are more common and better understood than others.
Menopause symptoms can be roughly categorized into physical and psychological.
Physical Menopause Symptoms
Psychological Menopause Symptoms
Causes of Menopause Symptoms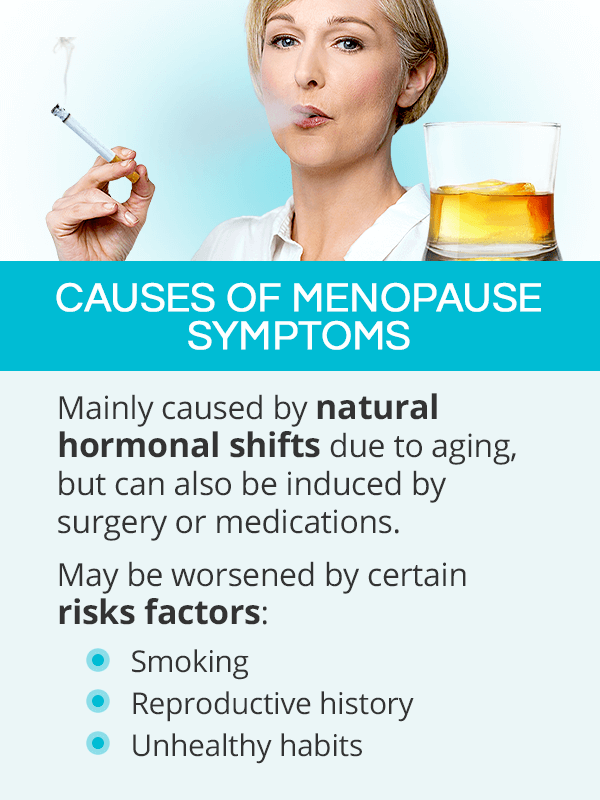 Menopause symptoms are mainly caused by hormonal changes typical to the midlife transition, whether it be due to natural or induced causes. Additionally, they are several risk factors that may affect their intensity, frequency, and duration.
Natural Causes of Menopause Symptoms
As ovaries begin to naturally run out of eggs in women's mid-40s, the levels of hormones they produce - estrogen and progesterone - begin to fluctuate erratically.
Since these hormones serve both reproductive and non-reproductive functions in the body, their imbalance can trigger a variety of discomforts. Once there are no more eggs left in the ovaries, estrogen and progesterone levels remain consistently low throughout postmenopause, causing some of the symptoms to persist.
Induced Causes of Menopause Symptoms
Menopause symptoms can also have induced causes. With surgical menopause, when ovaries are removed in a procedure called bilateral oophorectomy, women experience intense and immediate symptoms.
On the other hand, with medication- or radiotherapy-induced menopause, symptoms may appear in a few weeks or months.
Menopause Symptoms Risk Factors
In addition to the hormonal changes that bring about menopause symptoms, certain risk factors may make them appear sooner, last longer, and worsen their intensity. They include the following:5,6,7,8
Smoking. Studies have shown that smoking lowers estrogen levels, causing menopause symptoms to begin one or two years sooner than they normally would. It can also make some of the symptoms worse.

Family history. Oftentimes, women's menopausal discomforts are similar to those experienced by their close relatives, such as their mother and sisters.

Reproductive factors. Onset of menopause symptoms may be affected by certain women's reproductive histories, lifetime menstrual patterns, breastfeeding duration, and more.

Lifestyle habits. Women who were physically active and had been throughout their adolescence and adulthood tend to start experiencing menopause symptoms at a later age.
Menopause Symptoms Relief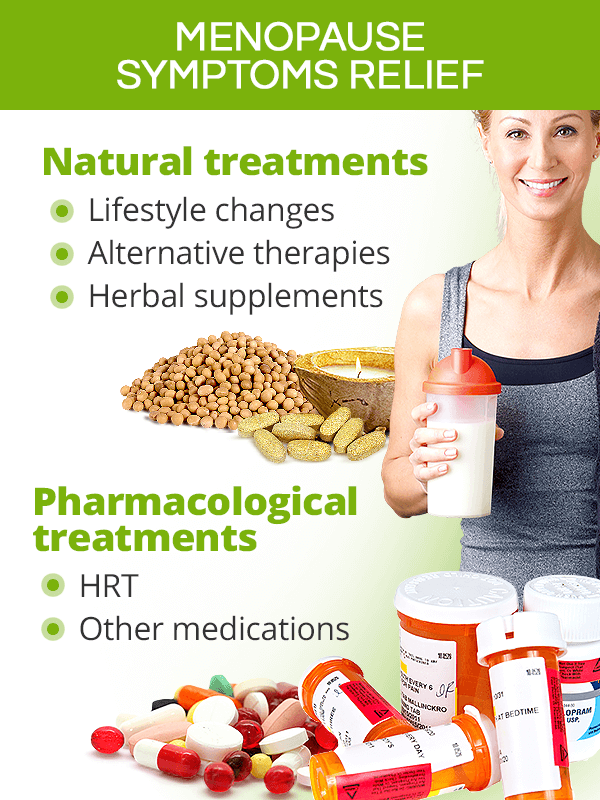 Since menopause cannot be prevented nor stopped, menopause treatments are oriented towards relieving the severity and intensity of the symptoms as well as helping women decrease potential health risks.

Natural Treatments for Menopause Symptoms
Women are encouraged to put emphasis on a variety of natural treatments for menopause symptoms before considering pharmacological options. They may include the following:
Pharmacological Treatments for Menopause Symptoms
In some cases, women may need to be prescribed menopause medications to help relieve severe symptoms or lower the risk of potentially serious complications. They are as follows:
Hormone replacement therapy (HRT) is an effective way of relieving menopause symptoms. However, it is generally reserved for severe symptoms because its use has been linked to serious side effects and increased health risks.9

Other medications - such as antidepressants, allergy medications, or osteoporosis drugs - can help relieve specific menopause symptoms, depending of their nature as well as women's health status.
Key Takeaway
Every woman's journey through the midlife transition is different, and that also includes the discomforts she will experience. Perimenopause symptoms typically start in the mid-40s and can last for over a decade, with some continuing into postmenopause. Affecting women physically and psychologically, symptoms include hot flashes, vaginal dryness, loss of libido, depression, sleep problems, and more. They are mainly caused by natural hormonal shifts due to aging, but can have induced causes and be affected by various risk factors. Luckily, menopause symptoms can be relieved both naturally and pharmacologically, depending on their severity and women's medical needs.
Sources
BMC Women's Health. (2015). Prevalence of menopausal symptoms among mid-life women: findings from electronic medical records. Retrieved March 22, 2021 from https://bmcwomenshealth.biomedcentral.com/articles/10.1186/s12905-015-0217-y
Harvard Health Publishing. (2015). Menopause-related hot flashes and night sweats can last for years. Retrieved March 22, 2021 from https://www.health.harvard.edu/blog/menopause-related-hot-flashes-night-sweats-can-last-years-201502237745
JAMA Internal Medicine. (2008). Persistent Hot Flushes in Older Postmenopausal Women. Retrieved March 22, 2021 from https://jamanetwork.com/journals/jamainternalmedicine/fullarticle/414566
Journal of Preventive Medicine & Public Health. (2015). Effects of Smoking on Menopausal Age: Results from the Korea National Health and Nutrition Examination Survey, 2007 to 2012. Retrieved March 22, 2021 from https://www.ncbi.nlm.nih.gov/pmc/articles/PMC4542296/
Maturitas. (2020). Comparison of various menopausal symptoms and risk factor analysis in Korean women according to stage of menopause. Retrieved March 22, 2021 from https://www.maturitas.org/article/S0378-5122(20)30288-7/fulltext
Maturitas. (2009). Epidemiology of risk factors and symptoms associated with menopause in Spanish women. Retrieved March 22, 2021 from https://pubmed.ncbi.nlm.nih.gov/19010615/
Mayo Clinic. (2019). Fitness tips for menopause: Why fitness counts. Retrieved March 22, 2021 from https://www.mayoclinic.org/healthy-lifestyle/womens-health/in-depth/fitness-tips-for-menopause/art-20044602
Mayo Clinic. (2020). Menopause. Retrieved March 22, 2021 from https://www.mayoclinic.org/diseases-conditions/menopause/symptoms-causes/syc-20353397
Medical Science Monitor. (2018). Epidemiology and Risk Factors of Menopause Syndrome Among Uyghur, Han, and Kazak Women in Xinjiang, China. Retrieved March 22, 2021 from https://www.ncbi.nlm.nih.gov/pmc/articles/PMC6298176/

The North American Menopause Society. (n.d.). Stress: Getting Serious About Solutions. Retrieved March 22, 2021 from https://www.menopause.org/for-women/menopauseflashes/mental-health-at-menopause/stress-getting-serious-about-solutions
Footnotes:
Cleveland Clinic. (2019). Menopause, Perimenopause and Postmenopause. Retrieved March 22, 2021 from https://my.clevelandclinic.org/health/diseases/15224-menopause-perimenopause-and-postmenopause
Mayo Clinic. (2020). Menopause. Retrieved March 22, 2021 from https://www.mayoclinic.org/diseases-conditions/menopause/symptoms-causes/syc-20353397
Harvard Health Publishing. (2020). Perimenopause: Rocky road to menopause. Retrieved March 22, 2021 from https://www.health.harvard.edu/womens-health/perimenopause-rocky-road-to-menopause
Journal of Obstetrics and Gynaecology Canada. (2014). Vasomotor Symptoms. Retrieved March 22, 2021 from https://www.jogc.com/article/S1701-2163(15)30460-6/pdf
Menopause. (2009). Dietary and lifestyle predictors of age at natural menopause and reproductive span in the Shanghai Women's Health Study. Retrieved March 22, 2021 from https://www.ncbi.nlm.nih.gov/pmc/articles/PMC2615483/
Turkish Journal of Obstetrics and Gynecology. (2015). Factors affecting age of onset of menopause and determination of quality of life in menopause. Retrieved March 22, 2021 from https://www.ncbi.nlm.nih.gov/pmc/articles/PMC5558404/
Maturitas. (2008). Risk factors for onset of menopausal symptoms. Results from a large cohort study. Retrieved March 22, 2021 from https://www.hal.inserm.fr/inserm-01148002/document
American Journal of Obstetrics and Gynecology. (2020). Obesity, smoking, and risk of vasomotor menopausal symptoms: a pooled analysis of eight cohort studies. Retrieved March 22, 2021 from https://www.sciencedirect.com/science/article/abs/pii/S0002937819313705
The Lancet. (2019). Type and timing of menopausal hormone therapy and breast cancer risk: individual participant meta-analysis of the worldwide epidemiological evidence. Retrieved March 22, 2021 from https://www.thelancet.com/journals/lancet/article/PIIS0140-6736(19)31709-X/fulltext