At What Age Does Menopause Start?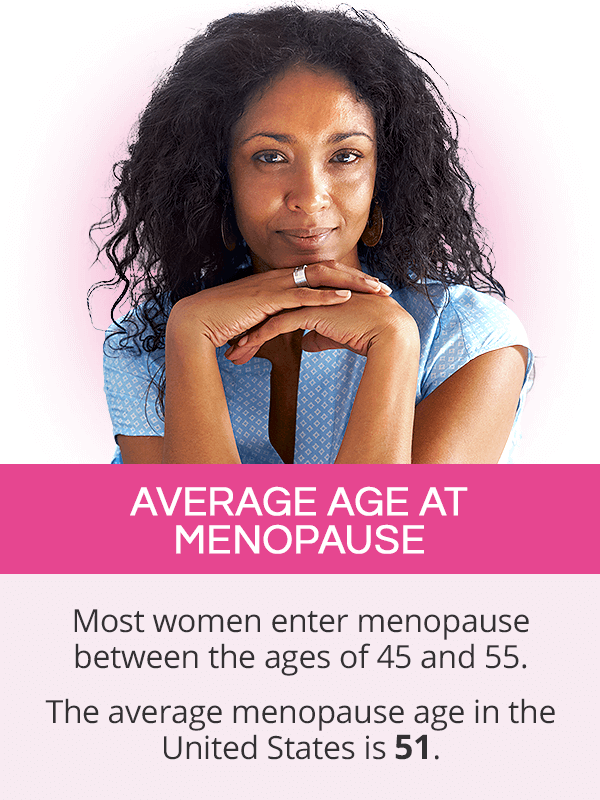 When asking at what age does menopause start, most women refer to the onset perimenopause. While the terms menopause and perimenopause are often used interchangeably, they signify two distinct stages in a woman's reproductive life.
The majority of women enter natural menopause between the age of 45 and 55, with the average age of menopause in the United States being 51.1 The term means women have gone 12 months in a row since their last period.
Before that last period, however, most experience a range of menopause symptoms, marking their entry into perimenopause. This menopause-preceding stage can last from a few months to over 10 years.2
Keep in mind that after menopause, some symptoms, such as hot flashes or vaginal dryness, may still continue into the 60s or 70s.
Menopause at Early Age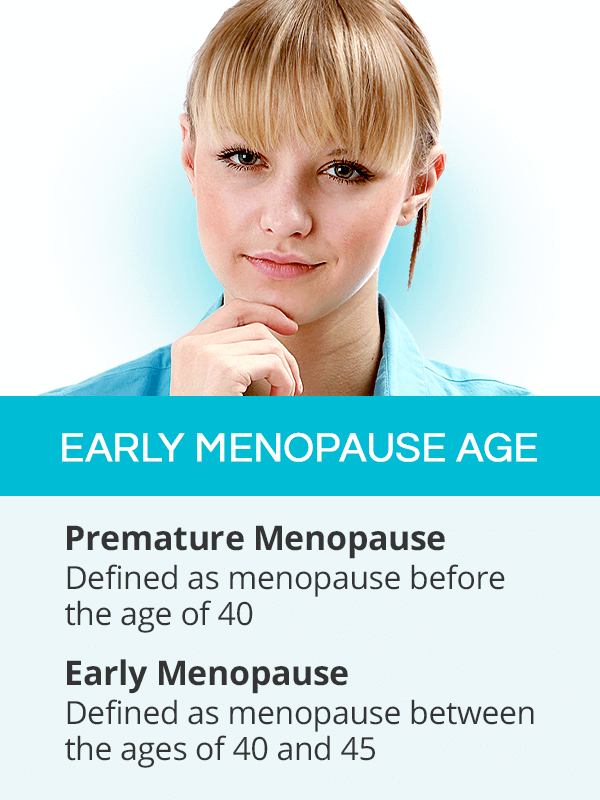 Although not common, it is possible for women to enter menopause at an earlier age. This can happen for a variety of causes, including both natural and induced ones.
Premature or Early Menopause

There are slight differences in terminology when it comes to menopause that occurs outside of the 45 to 55 age range:3
Induced Menopause
Menopause at early age can also be due to a number of medical or surgical causes. Referred to as induced menopause, it occurs as a consequence of chemotherapy, radiation therapy, or ovary removal.
Menopause at Late Age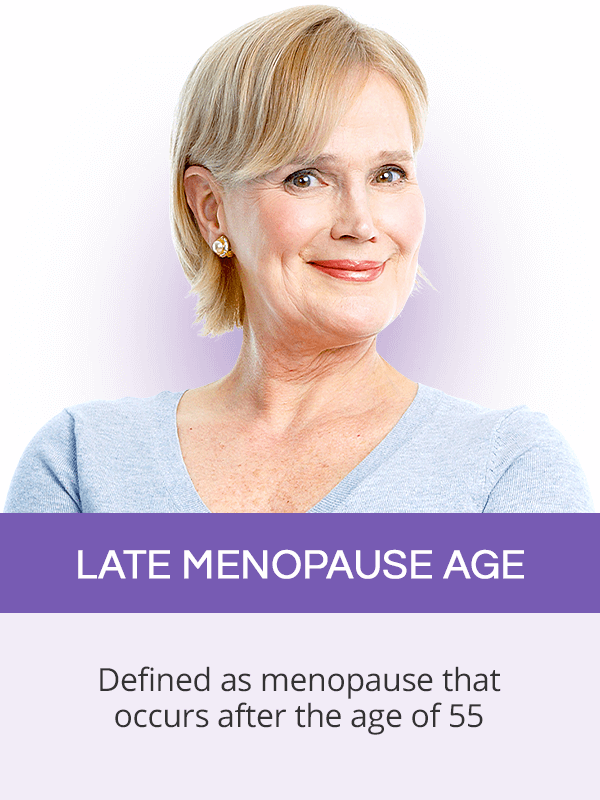 It is also not uncommon for women to have long reproductive lives and enter menopause later than at the average age of 51.
In fact, it is estimated that between 2 to 5% of women experience late-onset menopause, defined as one that occurs after the age of 55.4 While there is no set latest age, the majority of women will become postmenopausal by their early 60s.
Interestingly, late-onset menopause has been linked to a number of health benefits, including lower risk of cardiovascular disease and lower overall mortality.5
Factors that Influence Menopause Age
As far as science is concerned, there is no reliable way to determine for sure at what age does menopause start. However, several studies have identified certain factors that may help predict its onset.6,7,8
An early menopause age has been linked to family history (i.g. having a close relative that has gone through menopause early) as well as various chronic conditions, like thyroid disorders. Additionally, smoking for more than 28 years has been tied to a shorter reproductive span and early menopause.
Conversely, late menopause age is most commonly related to a genetic predisposition, having given birth to several children, and leading a healthy lifestyle, including engaging in regular exercise throughout life and consuming fruits protein, carbohydrates, and tea.
Key Takeaways
As they approach early mid-life years, women start to anticipate the upcoming changes and become curious at what age does menopause start. A great majority will reach this life stage sometime between the ages of 45 and 55, after not having periods for 12 months in a row. However, for several years before their last menses, they are likely to be plagued by a wide range of menopause symptoms, such as hot flashes. This stage, medically known as perimenopause, can last from a few months to over 10 years before women are actually confirmed menopausal.
A small percentage of women will enter menopause outside of the average age range. This includes premature (before the age of 40) or early (before the age of 45) menopause as well as late menopause (one that occurs after the age of 55). While it is not possible to know a woman's menopause age ahead of time, some factors may help predict it, such as family history, lifestyle habits, and chronic conditions.
Sources
Eunice Kennedy Shriver National Institute of Child Health and Human Development. (2016). Menopause: Condition Information. Retrieved January 19, 2021 from https://www.nichd.nih.gov/health/topics/menopause/conditioninfo/default
Mayo Clinic. (2020). Menopause. Retrieved January 19, 2021 from https://www.mayoclinic.org/diseases-conditions/menopause/symptoms-causes/syc-20353397
Medline Plus. (2021). Menopause. Retrieved January 19, 2021 from https://medlineplus.gov/ency/article/000894.htm
Menopause. (2008). Earlier age at menopause, work, and tobacco smoke exposure. Retrieved January 19, 2021 from https://pubmed.ncbi.nlm.nih.gov/18626414/
National Institute on Aging. (2017). What Is Menopause? Retrieved January 19, 2021 from https://www.nia.nih.gov/health/what-menopause
Office on Women's Health. (2019). Menopause. Retrieved January 19, 2021 from https://www.womenshealth.gov/menopause
Footnotes:
American College of Obstetricians and Gynecologists. (2020). The Menopause Years. Retrieved January 19, 2021 from https://www.acog.org/womens-health/faqs/the-menopause-years
Cleveland Clinic. (2019). Menopause, Perimenopause, and Postmenopause. Retrieved January 19, 2021 from https://my.clevelandclinic.org/health/diseases/15224-menopause-perimenopause-and-postmenopause
Cleveland Clinic. (2019). Premature and Early Menopause. Retrieved January 19, 2021 from https://my.clevelandclinic.org/health/diseases/21138-premature-and-early-menopause
Sammarco, Angela. Women's Health Issues Across the Life Cycle. Boston: Jones & Bartlett Leaning, 2016. Available through Google Books
Epidemiology. (2005). Age at menopause, cause-specific mortality and total life expectancy. Retrieved January 19, 2021 from https://pubmed.ncbi.nlm.nih.gov/15951675/
International Journal of Obesity and Related Metabolic Disorders. (2002). The effects of body mass index on age at menopause. Retrieved January 19, 2021 from https://pubmed.ncbi.nlm.nih.gov/12080450/
Menopause. (2009). Dietary and lifestyle predictors of age at natural menopause and reproductive span in the Shanghai Women's Health Study. Retrieved January 19, 2021 from https://www.ncbi.nlm.nih.gov/pmc/articles/PMC2615483/
Turkish Journal of Obstetrics and Gynecology. (2015). Factors affecting age of onset of menopause and determination of quality of life in menopause. Retrieved January 19, 2021 from https://www.ncbi.nlm.nih.gov/pmc/articles/PMC5558404/
Menopause. (2017). Ages at menarche and menopause and reproductive lifespan as predictors of exceptional longevity in women: The Women's Health Initiative. Retrieved January 19, 2021 from https://journals.lww.com/menopausejournal/Citation/2017/01000/Ages_at_menarche_and_menopause_and_reproductive.7.aspx