A certain level of estrogen is needed for a woman's body to function properly and, when levels are too low, it can greatly affect the body's performance. Drops in estrogen levels can indicate that menopause is on its way; these declines can indicate a range of other possible hormonal conditions. The first step towards treatment is to understand that there is an abnormality in estrogen levels. Read below to learn more about the symptoms of low estrogen levels and other conditions that can cause them.
Symptoms of Low Estrogen Levels
When low estrogen levels strike, what results are many of the most typical symptoms that women may associate with menopause, such as hot flashes or night sweats. Because symptoms of low estrogen levels can be quite subtle and vary widely, women may not immediately recognize that their problem is low levels of estrogen. The list below contains some of the most frequently experienced symptoms of low estrogen, particularly in menopausal women.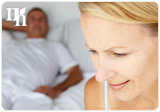 Hot flashes
Night sweats
Anxiety
Vaginal dryness
Loss of libido
Mood swings
These symptoms are most likely to occur during pregnancy or other periods of hormonal change. While these symptoms are often linked to normal hormonal cycles and fluctuations, there are other more serious conditions that can indicate low estrogen levels in women, including osteoporosis.
Conditions That Indicate Low Estrogen Levels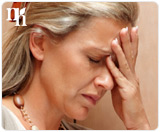 In addition to the most widely experienced symptoms outlined above, there are a number of health conditions that one might not normally equate with low estrogen levels; these conditions could also be an indication that estrogen production within the body is not up to normal quantities. These conditions can be divided into both physical and psychological symptoms of low estrogen levels.
Conditions of Low Estrogen Levels
Physical Conditions


Atherosclerosis
Headaches and migraines
Vaginal infection
Fatigue
Hot flashes
Night sweats
Joint pain
Vaginal dryness
Dry skin
Loss of libido
Thinning tissues
Rapid heartbeat
Bloating
Lower back pain
Mental Conditions


Depression
Panic attacks
Low self esteem
Mood swings
Memory lapses
Low estrogen levels may or may not be the primary cause of the above conditions but they can certainly be warning signs of a lack of estrogen.
Other Symptoms of Low Estrogen Levels
Less common symptoms of low estrogen levels include: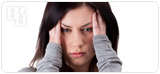 Difficulty concentrating
Thinning hair
Weight gain
Arthritis
Low estrogen levels may cause the symptoms above. Keep reading to know how to treat low estrogen levels and symptoms.