Menopause is the time of a woman's life when her body passes from fertility to infertility. The signal of this moment is the cessation of the menstrual cycle, which is considered to be 12 months after a woman's last period. But what causes this transition? How do you know when this transition is going to take place? Read on to learn about menopause symptoms, which foretell the arrival of this moment, and low estrogen levels, which cause the symptoms.
Menopause Symptoms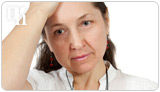 In the time leading up to the moment of the menopausal transition, a woman may experience a number of unpleasant and undesirable symptoms. The most common of these are hot flashes, night sweats, vaginal dryness, mood swings, loss of libido, and fatigue, but other symptoms may appear as well.
What Is Estrogen?
The culprit behind these bothersome menopause symptoms is the hormone estrogen. A hormone is a chemical messenger that is transported in the bloodstream and regulates or triggers various changes that take place in a woman's body throughout the stages of her reproductive life, as well as other processes in the body.
Estrogen is often referred to as the "female hormone", as it is responsible, along with progesterone, for most of the changes that take place in the reproductive system. It plays a key role during puberty, menstruation, pregnancy, and menopause.
How Does Low Estrogen Cause Menopause Symptoms?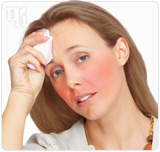 During menopause, the level of estrogen is in a state of flux as it travels around the body and triggers the various changes that happen during the menopausal transition. The levels of estrogen fluctuate and eventually fall into decline. It is this change in estrogen levels that cause the menstrual cycle to stop. The resulting shortage of estrogen also effects other functions, which may result in uncomfortable menopause symptoms.
In other words, a side effect of the changes in the body's natural level of estrogen manifests as the symptoms that are experienced by a menopausal woman. It is, therefore, low levels of estrogen that cause the symptoms of menopause, such as hot flashes, night sweats, vaginal dryness, and loss of libido.
However, estrogen is not only influential during menopause; it is also possible to suffer estrogen deficiency and excess during other periods of hormonal fluctuation, like pregnancy and before menstruation. For more information on the role of estrogen in the body, its activity during menopause, and the symptoms of low estrogen, click on the link below.