When progesterone levels surge, what results is a plethora of symptoms most typically accredited to mid-life changes. However, these symptoms can occur at any age.
Continue reading to discover some telltale indications of this hormonal imbalance before untreated symptoms develop into more grave illnesses and disorders.
Symptoms of High Progesterone Levels
Women may not immediately recognize that the underlying cause is the presence of high progesterone levels as symptoms can be varied and subtle. For women taking HRT products with progesterone, these symptoms may be exhibited due to a buildup of the hormone stored within the fat.
Physical Symptoms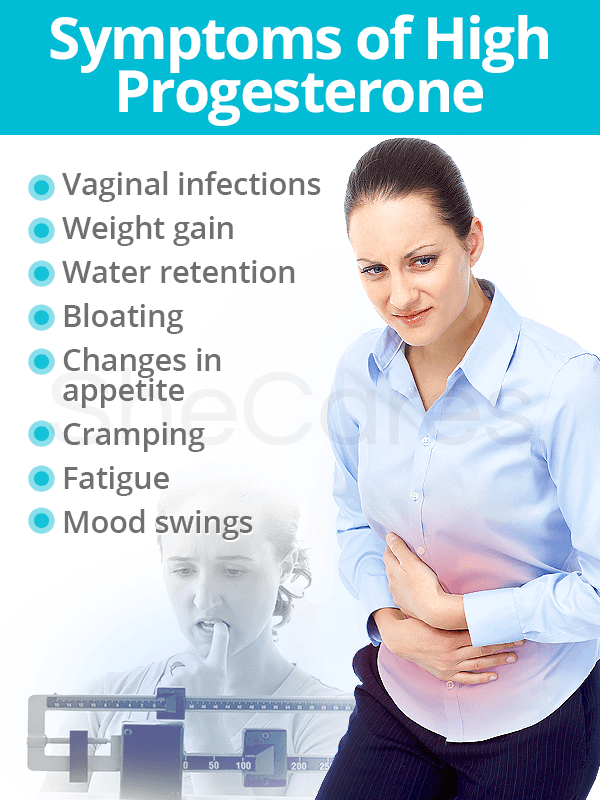 Bloating, indigestion, and upset stomach
Acne and oily skin

Cramping
Changes in appetite

Vaginal infections

Water retention

Increased PMS symptoms
Psychological Symptoms
Insomnia or drowsiness
Fatigue

Mood swings

Depending upon the length of time symptoms prevail, more side effects may evolve. Less common physical conditions include allergies; allergic reactions; diarrhea; constipation; irregular periods; hair loss; vomiting; nausea; hirsutism; and blurred vision.
Signs of High Progesterone Levels
In addition to the most widely experienced symptoms outlined above, there are a number of signs that one might not normally equate with high progesterone levels.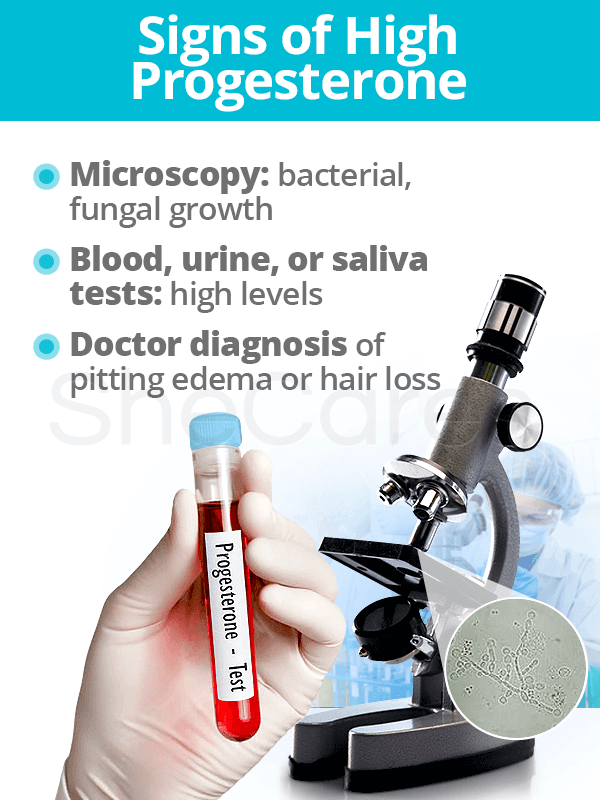 These medical signs - paralleled with aforementioned symptoms - are measurable criteria that are usually assessed and observed by a physician. They help formally diagnose a hormonal imbalance with unhealthy fluctuations of progesterone levels.
Vaginal infection (Positive microscopy results showing bacterial or fungal growth)
Water retention (Pitting edema as confirmed by doctor)
Hair loss (Diagnosed by doctor through widening part, or male-patterned baldness)
High levels of progesterone shown by blood tests

In all cases, women should be proactive with maintaining hormonal balance before the onset of more serious conditions.
Continue reading to learn more about various progesterone tests used to confirm the underlying cause behind hormonal imbalance symptoms.
Sources
Carlson, K.J. et al. (2004). The New Harvard Guide to Women's Health. Massachusetts: Harvard University Press. Available from Google Books.
Conrad, C. (2005). A Woman's Guide to Natural Hormones. New York: Penguin Group. Available from Google Books.
Cleveland Clinic. (n.d.). Bioidentical Hormones. Retrieved October 18, 2019, from https://my.clevelandclinic.org/health/articles/bioidentical-hormones
Davey, J.D. & Dzugan, S. (2015). The Menopause Cure and Hormonal Health. UK: Matador. Available from Google Books.
Project AWARE. (2008). What Hormones are Used in HRT? Retrieved October 18, 2019, from https://www.project-aware.org/Managing/Hrt/whathormones.shtml