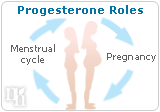 Many women associate progesterone strictly with fertility and pregnancy. However, similar to estrogen, progesterone plays an active role in the physical and psychological well-being of all women, contributing to the general health of more than just the female reproductive system.
Continue reading to learn more about the function of progesterone as well as the various side effects generated in the body from an imbalance.
Progesterone Roles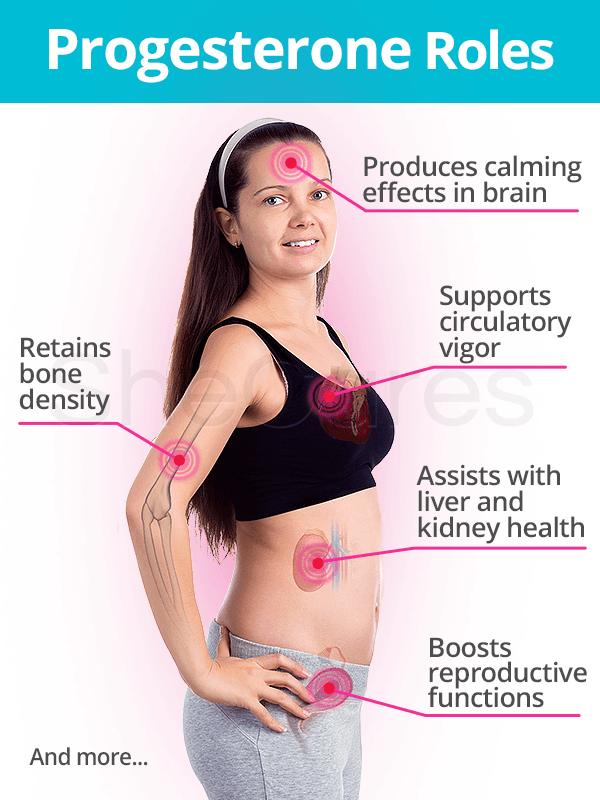 Progesterone affects a variety of different organs, including the breasts; ovaries; vagina; uterus; brain; bones; cardiovascular and immune systems; kidneys; and liver.
The range of tasks that progesterone does in the body include:
Promoting overall wellness of the reproductive tract
Producing calming effects in the brain
Helping retain bone density
Supporting cardiovascular health
Modulating immune system activity
Assisting in liver and kidney functions
And more critical functions.
For more on the purpose of progesterone and symptoms provoked from unhealthy fluctuations of levels, continue reading.
Effects of Progesterone in the Female Body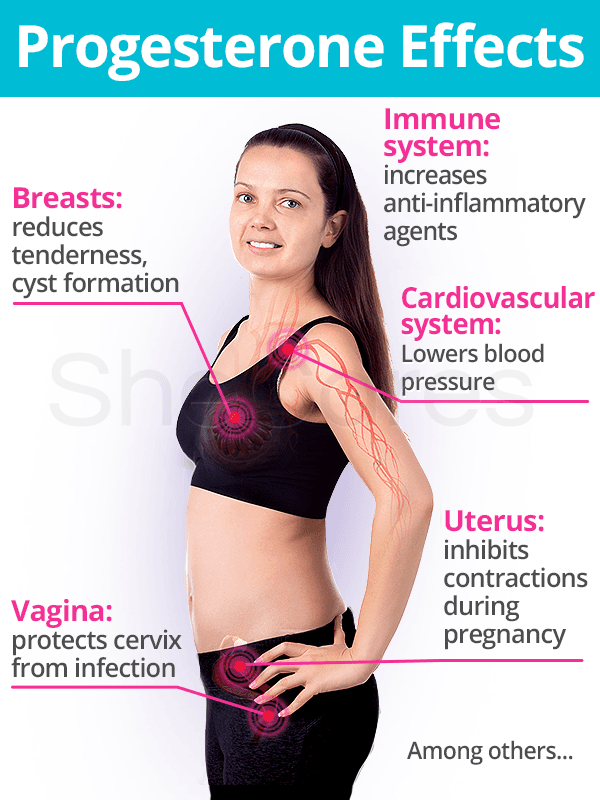 The effects of progesterone within a healthy hormonal range are experienced throughout a woman's entire body:
Breasts
Progesterone helps reduce breast tenderness and inhibit the formation of cysts. It also prepares the breasts for milk production throughout the course of the pregnancy and helps prevent the onset of cancer by counteracting effects of excessive estrogen.
Ovaries
While a woman is pregnant, high levels of progesterone inhibit ovulation. In non-pregnant women, healthy progesterone levels helps shed the endometrial lining each month. As an added benefit, that prevents the onset of ovarian cancer.
Vagina
During the luteal phase of the menstrual cycle, the release of progesterone causes small volumes of thick cervical mucus to be secreted that is impenetrable to sperm. This increased viscosity also protects the cervix from ascending infection at the time of implantation.
Uterus
Progesterone increases endometrial receptivity for embryo implantation. Once implanted, the hormone maintains pregnancy by inhibiting contractions. Moreover, progesterone functions to decrease the risk of endometrial cancer in postmenopausal women on estrogen therapy.
Brain
Progesterone binds to brain cell receptors and metabolizes allopregnanolone in brain tissues, producing calming, anti-anxiety, and possible memory-enhancing effects. The hormone also protects the brain from damage and promotes repair after injury by encouraging the growth and repair of the myelin sheath that protects the nerve fibers.
Bones
A pivotal role of progesterone is in maintaining bone mass with antiresorptive measures. The function of progesterone and estrogen together increases bone mineral density and reduces the risk of fracture. Moreover, progesterone activates osteoblasts to increase new bone formation.
Cardiovascular system
Progesterone has been proven to lower blood pressure and inhibit coronary hyperactivity. Moreover, the hormone helps relax smooth muscle cells to widen blood vessels, regulating blood clotting.
Immune system
In general, progestogens - the class of steroid hormones to which progesterone belongs - modulate inflammation, immunity, and autoimmunity through direct actions in immune system cells. Progesterone, specifically, increases levels of anti-inflammatory agents.
Kidneys and liver
Also, progesterone functions to maintain bodily homeostasis and assist with sodium excretion in the urine through action of the kidneys. Progesterone also aids in stabilizing levels of copper and zinc in the body to promote liver health while regulating cellular oxygen levels.
Possible Effects of High Progesterone Levels
In the case of imbalances, high progesterone levels can wield many of the same effects as low progesterone levels. Nevertheless, excessive amounts of the hormone prompt various symptoms in the body, including:
Breasts
During estrogen dominance, metabolic pathways may send progesterone immediately into production of more estrogen. Correcting this imbalance with exogenous supplementation can lead to high progesterone levels, causing breast tenderness.
Vagina
In non-pregnant women, excess progesterone reduces and thickens vaginal secretions while also engendering dryness, itchiness, and swelling.
Uterus
High progesterone levels can also result in a scantier, longer menstrual period with abnormal spotting between cycles.
Brain
Excess progesterone can cause drowsiness or insomnia, headaches, migraines, and depression. Women may also experience anxiety and changes in appetite among other symptoms.
Bones
Women who suffer from high progesterone levels may also experience joint pain with accompanied muscle aches.
Cardiovascular system
With a buildup of progesterone in fatty tissues, hormone receptor sites can eventually be rendered nonfunctional. This can cause an over stimulatory effect by the unopposed estrogen in the body and induce heart attack-like symptoms.
Immune system
Symptoms of high progesterone levels can include allergies that might cause hives, rashes, and other skin conditions.
Possible Effects of Low Progesterone Levels
Side effects of low progesterone levels are more common than those of high progesterone levels due to a condition known as estrogen dominance. The following are subsequent side effects that can occur with insufficient amounts of the crucial hormone:
Breasts
In perimenopause, progesterone levels can sometimes be shadowed by dominating estrogen levels, causing tender and cystic breasts. Raising these levels can help reduce pain, swelling, and cyst formation.
Ovaries
Too much estrogen with low progesterone levels can lead to ovarian cysts, which can also be a symptom of polycystic ovarian syndrome (PCOS).
Vagina
Often times, when estrogen levels dominate those of progesterone, vaginal dryness will occur. Low progesterone levels can also invoke abnormal vaginal bleeding, sometimes triggered by the onset of endometrial cancer.
Uterus
Low progesterone levels can cause luteal phase defect, in which there is an improper endometrial lining for embryo implantation, leading to infertility or miscarriage. Moreover, low progesterone levels can lead to frequent, heavy periods - or none at all - while heightening the risk of contracting endometrial cancer.
Brain
Studies have shown that lower levels of progesterone are linked to high levels of anxiety. Accordingly, some women are known to experience mood swings associated with low levels of progesterone during the menopausal transition and during post-partum depression.
Bones
Because a key role of estrogen and progesterone together is to increase bone density, low progesterone levels may be associated with bone loss, especially in premenopausal females.
Cardiovascular system
Postmenopausal women have exhibited a significantly lower incidence of cardiovascular deaths when progesterone is combined with estrogen in treatment. Moreover, women were found to have significantly higher HDL cholesterol levels, indicating a more favorable effect on blood lipids, when using bioidentical progesterone instead of the synthetic alternative.
Immune system
The thyroid hormone is responsible for stimulating cell activity in the immune system, and excessive estrogen with low progesterone levels inhibits this activity. When the body becomes worn out by the resulting imbalance, immune and circulatory systems weaken.
As can be seen from the numerous progesterone benefits, it is understandable as to why maintaining healthy hormonal levels is instrumental.
With abnormal hormonal fluctuations, various signs and symptoms will ensue until the underlying condition is cured. However, there are periods within a woman's reproductive life in which progesterone fluctuates drastically due to natural circumstances.
Keep reading to learn more about progesterone fluctuations through life for a heightened awareness of how to take better control of hormonal health.
Sources
Aschenbrenner, D. S. & Venable, S.J. (2009). Drug Therapy in Nursing. Philadelphia: Lippincott Williams & Wilkins. Available from Google Books.

Carp, H.J. (Ed.). (2015). Progestogens in Obstetrics and Gynecology. Switzerland: Springer International Publishing. Available from Google Books.
Chiras, D.D. (2015). Human Biology. Massachusetts: Jones & Bartlett Learning. Available from Google Books.
Coad, J. & Dunstall, M. (2005). Anatomy and Physiology for Midwives. United Kingdom: Elsevier. Available from Google Books.
Crockett, L. (2009). Healing Our Hormones, Healing Our Lives. UK: John Hunt Publishing Ltd. Available from Google Books.
Cutillo, D.M. (2012). The Hormone "Shift": How to Resolve Issues with your Mood, Weight & Health. Indiana: Balboa Press. Available from Google Books.
Davey, J.D. & Dzugan, S.A. (2017). The Cholesterol Puzzle: The Hormone Connection. United Kingdom: Matador. Available from Google Books.
Hobbs, C. & Keville, K. (2007). Women's Herbs, Women's Health. Tennessee: Book Publishing Company. Available from Google Books.
Hormone Health Network. (n.d.). What is Progesterone? Retrieved September 20, 2017, from http://www.hormone.org/hormones-and-health/hormones/progesterone
Matzuk, M. et al. (Eds.). (2001). Transgenics in Endocrinology. New Jersey: Humana Press. Available from Google Books.
Seifert-Klauss, V. & Prior, J.C. (2010). Progesterone and Bone: Actions Promoting Bone Health in Women. Journal of Osteoporosis, 2010: 845180. doi: 10.4061/2010/845180
Thomas, P. & Pang, Y. (2013). Protective actions of progesterone in the cardiovascular system: potential role of membrane progesterone receptors (mPRs) in mediating rapid effects. Steroids, 78(6), 583-588. doi: 10.1016/j.steroids.2013.01.003
Women in Balance Institute: National University of Natural Medicine. (n.d.). Progesterone and the Nervous System/Brain | Progesterone & Cardiovascular Health. Retrieved September 20, 2017, from https://womeninbalance.org/resources-research/progesterone-and-the-nervous-systembrain/ | https://womeninbalance.org/resources-research/progesterone-cardiovascular-health/