After menopause, the body naturally produces ¼ of the regular amount of progesterone. This change can greatly affect a woman's body physically and the way she feels. Most symptoms are heaviest after menopause, but can be experienced at anytime according to the woman's genetics.
Keep reading to find more about progesterone therapy.
What Is Progesterone?
Progesterone and estrogen go hand in hand. Each month due to the estrogen in a woman's body the lining of the uterus builds up and prepares for pregnancy. When the ovary is not fertilized, progesterone comes into play and sheds the lining. This is the menstrual period.
Progesterone therapy is used to balance out levels with estrogen and is almost always accompanied with estrogen in small doses.
Progesterone Therapy: Good or Bad Idea?
Balancing out the hormone levels with progesterone can have great benefits. Many women feel that their life is on hold when out of balance or after menopause.
Progesterone treatment has been found to be beneficial:
Restored sex drive

Natural antidepressant
Protects against fibrocystic breasts
Normalized blood sugar, zinc and copper levels
Facilitates thyroid hormone action

Normalized blood clotting

Decreased breast cancer risk

Helps use fat for energy

Improved sleep patterns

Elimination of depression after child birth

Natural diuretic
While all of these benefits have been found, there also can be negative side effects.
Negative Side Effects
While for some women progesterone therapy treatment works great for them, some women feel side effects from the added hormones.
Here is a list of some of the most common side effects,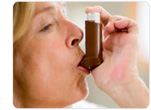 Insomnia

Asthma
Breast tenderness
Fluid retention
Epilepsy
Migraine
Cardiac and renal dysfunction
Depression

Nausea
Cancer
Keep reading to find out the forms of treatment of progesterone therapy.
Treatment for Progesterone Therapy
Progesterone has to be dissolved in oil which allows for a few different ways to administer progesterone levels.
Here is a list of the forms of progesterone hormone treatment.
Tablets - Normally gIve a quick release, but are not suitable for long term use injection - very effective at treating emergencies such as epileptic, migraine, or asthmatic attacks, but not for long term use
Creams - creams varying from under 1% to 10% in strength, which are an effective, slow release form

Suppositories

Oral capsules
Besides these methods, it is important to remember that the condition of the body ditates much of the success and failure of the treatments. Exercising and eating a helthy diet are key in maintaining the body and mind. Staying relaxed and taking time for yourself are important while your body is going through a stressful time.
Also some alternative medicines have been known to help women relax. St. John's wart and black cohosh are two natural remedies that have been known to help women balance their hormone levels.
If you feel that something is wrong or have not seen a doctor to check your hormone levels, it is time to see your medical practitioner. Your doctor can help you find out what is going on in your body.
For more information on progesterone therapy, click on this link.