During menopause, women's hormone levels may fluctuate a great deal. This fluctuation may cause them to experience either an excessive amount or a deficiency of the hormone progesterone. Women may have low progesterone levels for a variety of different reasons, both naturally and externally induced. There are many unpleasant side effects of low progesterone levels that women may experience. One of the most common symptoms of low progesterone is weight gain. How do low levels of progesterone cause weight gain? How can this condition be treated?
Keep reading to discover the answers to these questions.
Causes of Low Progesterone Levels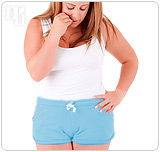 Low progesterone levels occurred naturally during menopause, can cause an extremely frustrating symptom, weight gain. Furthermore, low progesterone levels during menopause may be caused by:
Poor diet

Lack of exercise

Chronic stress

Water retention
All of these factors can lead women to suffer from low progesterone levels, and subsequent weight gain. Though often physically and emotionally uncomfortable to deal with, women who are experiencing low progesterone do not have to give up hope, as there are a variety of treatment options currently available.
Keep reading to learn more about how to lose weight gained by progesterone imbalance.
Treatments for Low Progesterone Levels
The most highly recommended treatments for low progesterone levels are natural treatments.
One of the best weight loss methods is maintaining a healthy diet. Incorporate plenty of fresh fruits and vegetables and whole grains into your diet. Decrease your consumption of refined sugars, caffeine, and foods that are high in fat or sodium. Drink at least eight glasses of water a day. These lifestyle changes can be difficult, and they require a great deal of self-discipline, but if you dedicate yourself to making a change, the benefits of healthy eating will present themselves in the form of weight loss.
Low progesterone weight gain can also be controlled by implementing a regular exercise routine in your life. It is recommended to exercise for 30 minutes a day, five days a week. Pick an activity that you enjoy, like swimming or jogging, or take an aerobics or self-defense class. Even brisk walking through your neighborhood can get your heart rate up enough to induce gradual weight loss.
Losing weight induced by high progesterone levels is best done under the supervision of a healthcare professional, especially when a woman has an excessive amount of weight to lose. Talk to your doctor about your lifestyle changes and dieting plans, and they may suggest combining alternative therapies with certain medications. Click here for more information about low progesterone weight gain and treating the adverse signs and symptoms of progesterone imbalance.