After menopause, women face an increased risk of developing osteoporosis due to dropping levels of estrogen. As a result, many women use estrogen replacement therapy to prevent the onset of osteoporosis and all of the other undesirable side effects that come with and after menopause. Among the many benefits estrogen replacement therapy users receive is the positive effect it has on strengthening postcranial bone density, which eventually may lead to osteoporosis. Similarly, a survey has been conducted to determine the relationship of estrogen replacement therapy and the improvement of postcranial bone density.
Osteoporosis is connected with tooth loss. It is presumed that one result of estrogen deficiency is oral bone loss. A examination was performed that revealed that tooth loss was more prevalent in females with osteoporosis and lower bone mineral density than those without. Survey members with osteoporosis were also more likely to use dentures and experience tooth loss than those without. Thus the assumption that bone loss leads to tooth loss in postmenopausal women, with an added consequence of oral bone loss was created.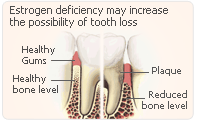 Osteoporosis is often caused by estrogen deficiency. Scientific findings also imply that estrogen deficiency may increase the possibility of tooth loss in comparison to estrogen sufficiency. After reviewing the results of three large observational studies, the potential beneficial effect of estrogen replacement therapy on the dental health of postmenopausal women was verified. Estrogen replacement therapy users had a higher number of teeth and lower cases of denture use or tooth loss than non estrogen replacement therapy patients.
One hundred and thirty five postmenopausal women between the ages of 41 to 70 participated in this analysis. Each participant had no evidence of periodontal disease prior to the study. They were randomly prescribed estrogen replacement therapy of the placebo drug.
After three years of treatment there was a noticeable increase of alveolar bone mass and alveolar crest height in estrogen replacement therapy users. Overall results from this study show the dental attachment apparatus is made stronger by estrogen replacement therapy in postmenopausal women.
Estrogen replacement therapy is not just the answer to relief from hot flashes, night sweats, loss of libido, and vaginal dryness in postmenopausal women. It is serves in the prevention of osteoporosis and weak bones. This survey, conducted on 135 postmenopausal women receiving either estrogen replacement therapy or a placebo drugs goes to prove that estrogen replacement therapy has a positive effect not only of the prevention of osteoporosis, but also on tooth loss.