The majority of hormonal problems that a woman experiences during menopause, regarding estrogen, are due to a dominance of this hormone. It is important to remember that there is also a chance of deficiency if your lifestyle allows it.
Leading a balanced life is important to balancing hormones, but estrogen deficiency is something that needs to be addressed because it can have serious repercussions on the body. These serious illnesses come with many symptoms and you need to know how to deal with this. Continue reading for more information about recognizing estrogen deficiency.
Top 6 Symptoms of Estrogen Deficiency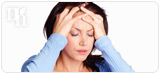 Headaches. Headaches are caused by many things, but one of the main reasons for them is a lack of estrogen in the body. Duration and severity can vary from woman to woman, but it's worth monitoring if they are persistent.

Fatigue. Do you sleep, but don't feel refreshed? Are you tired at unusual times? Then, you are likely to be suffering from fatigue. This is a very common symptom of a lack of estrogen.
Joint pain. Menopause, and an estrogen deficiency, can lead to muscle stiffness and joint pain. The best thing to do to deal with swelling, stiffness, and joint pain is to see your doctor.

Poor memory. Considering that your hormones have such a strong relationship with your brain, a poor memory, memory lapses, and difficulties concentrating are normal signs of an estrogen deficiency.

Depression. Depression and mood swings are very common during menopause. It is the hormonal fluctuations that give you a boost and then bring you back down. Coming in many forms, depression is a worrying effect of menopause and can strain many relationships. Although it can also be confused with tiredness, emotional ups and downs need to be evaluated.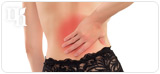 Lower back pain. Yet another symptom of an estrogen deficiency, back pain is a well-known problem of maturity in general. However, it is normal for menopausal women to suffer from them more than other groups of people.
More about Estrogen Deficiency
These are the six biggest symptoms that can be linked to an estrogen deficiency. However, there are many more. Symptoms can vary between each woman and other problems include hot flashes, chills, dry skin, and weight gain. Once you have recognized the symptoms of an estrogen deficiency, it is time to rectify them. This can be done through diet, lifestyle changes, and natural supplements. Click on the following link for more information in the different treatments towards estrogen imbalance.