Since the body often starts producing less estrogen during the menopause transition, many women resort to estrogen replacement medications. These medications are capable of relieving hot flashes and vaginal dryness, itching, or burning, as well as preventing osteoporosis. When choosing an estrogen medication, consider the effectiveness, application method, and side effects.
It is always recommended that the use of hormone replacement therapy be with doctor supervision.
Estrogen Creams
There are several brands of estrogen cream approved by the Food and Drug Administration (FDA). These estrogen creams include the hormone estradiol, which is the most potent form of estrogen. Estrogen cream should be applied in the morning each day for relief.
How to use estrogen creams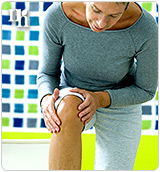 Make sure your body is clean and completely dry.
Sit in a comfortable position and have two pouches of estrogen cream available.
Cut or tear across the marks near the top of one of the pouches to open.
Place the pouch on top of your left thigh with the opening facing your knee and hold the end of the pouch with one hand.
Use the forefinger of your other hand to push all of the cream out of the pouch and onto your thigh.
Use one or both hands to rub the cream into your whole thigh and calf for three minutes until it is entirely absorbed.
Repeat the above steps using a new pouch of estrogen cream on your right thigh and calf.
Allow your skin to completely dry and cover it with clothing.
Wash your hands thoroughly with soap and water.
Estrogen Rings
Estrogen rings are beneficial for treating menopause symptoms occurring in and around the vagina. The body absorbs the estrogen through the vaginal ring to prevent vaginal dryness, itching, and burning, and also to increase lubrication. Once the ring is inserted, you shouldn't be able to feel it. Like all forms of estrogen therapy, estrogen rings require a doctor's prescription. Minor side effects can include mild nausea, stomach cramps, or bloating. If you are experiencing more serious side effects, call your doctor.
Estrogen Gels
Estradiol is the most common form of estrogen in estrogen gels and is FDA-approved to alleviate moderate to severe hot flashes. Most estrogen gels are cool and clear and should be applied to a smaller area of the upper thigh every day. Only apply the gel onto your skin yourself, and be careful to avoid getting gel in your eyes. Also, do not smoke or go near open flames until the gel dries, as it is flammable.
Estrogen Tablets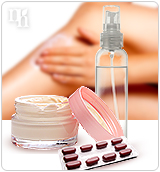 Many FDA-approved estrogen tablet brands are available. Typically, estrogen tablets include progestin, which is a form of progesterone that is used in these formulations to reduce the risk of uterine cancer in women who still have their uterus. However, other potential risks are still possible for some women, such as increased chances of blood clots, heart attacks, strokes, or breast cancer. The tablet is typically taken orally once a day with or without food.
Other types of estrogen medications include patches, sprays, and vaginal suppositories. The best way to know what type of estrogen medication to take is to talk with your doctor and educate yourself on the benefits and side effects of estrogen replacement therapy.
Side Effects of Estrogen Replacement
Estrogen supplies may cause side effects. Tell your doctor if any of these symptoms are severe or do not go away:
Breast pain or tenderness
Migraine
Nausea
However, these are not all the possible side effects of estrogen supplies. The Women's Health Initiative (WHI) study of estrogen alone reported increased risks of stroke and deep vein thrombosis (DVT) in postmenopausal women.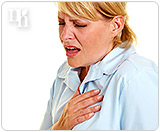 For example, estrogen rings should not be used for the prevention of cardiovascular disease. Although, estrogen gels have demonstrated a range of minor side effects. Consult your doctor if you notice changes in weight or hair growth, or cramps.
Some side effects of estrogen can be serious, such as breast lumps, chest pain, vision changes, numbness or weakness, severe stomach pain, swelling, or unusual or heavy vaginal bleeding, if you experience any of them, call your doctor immediately.
Natural Sources of Estrogen
Because of the risk of these side effects, many women look for alternative sources of estrogen replacement. Phytoestrogens are botanical compounds that act like natural estrogen in a woman's body. However, they may still carry side effects, though typically less severe than those from estrogen medications. Keep reading to learn more about estrogen treatments and other ways to increase estrogen levels.