A popular choice among women going through menopause are bioidentical hormones. They are widely assumed to be a safe, "natural" option when treating menopause symptoms. However, in recent years, the medical community has spotted certain disadvantages to their use, including an assorted amount of risks and side effects. Continue reading for more about bioidentical hormones side effects and risks for a synopsis of potential consequences resulting from the therapy's use.
Bioidentical Hormones Risks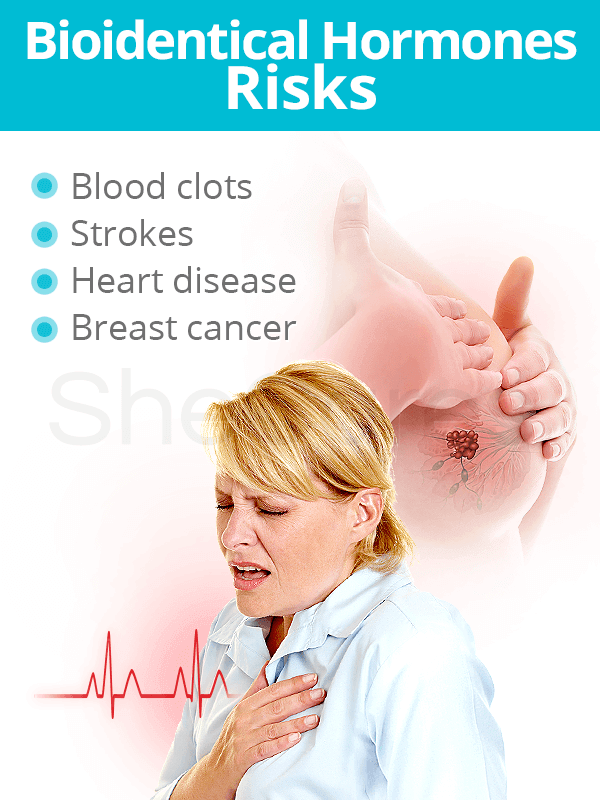 Although the risks of traditional hormone replacement therapy (HRT) have been widely discussed in the last years, there is still little scientific information about the risks of bioidentical hormone replacement in women.
Nevertheless, it has been established that women who take any type of hormones, or hormone therapy (HT), whether synthetic or bioidentical, are at a greater risk of health conditions such as:
Blood clots
Strokes
Heart disease
Gallbladder disease
Breast cancer
Moreover, women should avoid hormone therapy if they have had:
Breast, ovarian, or endometrial cancer
Blood clots in the legs or lungs
Stroke
Liver disease
Unexplained vaginal bleeding
Also, the use of bioidentical hormones is not considered necessary for those who entered perimenopause after the age of 45 and are not bothered by its symptoms. Instead, these women should talk to their healthcare providers about lifestyle changes that could reduce the risk of postmenopause symptoms and complications.
Furthermore, the prescription of bioidentical hormones is not recommended long-term until reliable, consistent data regarding safety and efficacy of extended use is available.
Bioidentical Hormones Side Effects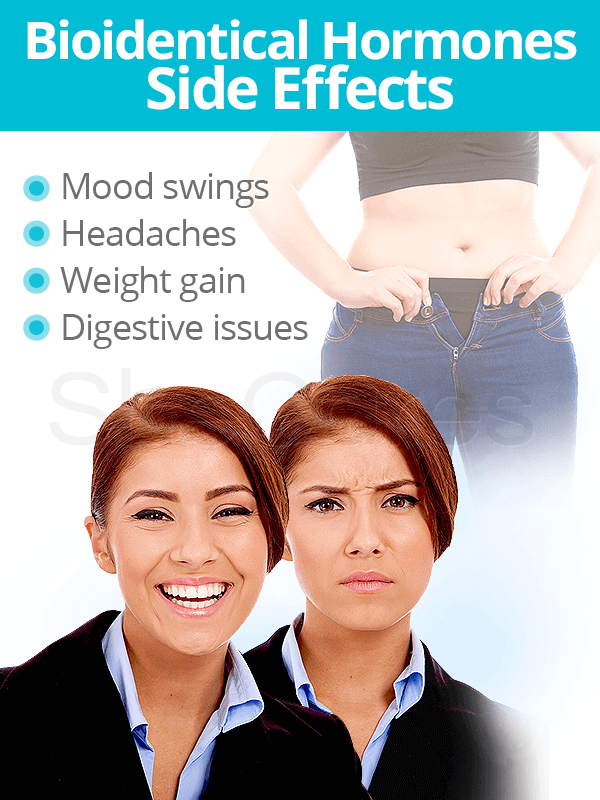 Bioidentical hormone therapy side effects will vary depending upon the type of hormone taken during the replacement therapy.
Nevertheless, there are a common side effects shared among them all, including:
Breast tenderness
Abdominal cramps
Digestive issues
Spotting
Vision changes
Tiredness
And more
It is reported that many side effects occur when the first dose is administered as the body is adjusting to the introduction of hormones. Many side effects will improve with time, but if not, report them to your doctor as the dose may need to be changed.
Also, if receiving a shot or applying a cream, patch, or gel, it is not uncommon to itch or turn red where the hormone was administered.
Alternatives to Bioidentical Hormones
After thoroughly reviewing the side effects and risks of bioidentical hormone replacement therapy, many women may wish to pursue other safer alternative treatments for overall well-being. For a better understanding, click on the following link to learn more about alternatives to bioidentical hormone replacement therapy for a hormonally healthier, happier you.
Sources
Cleveland Clinic. (2014). Bioidentical Hormones. Retrieved June 3, 2019, from https://my.clevelandclinic.org/health/articles/15660-bioidentical-hormones
Harvard Health Publishing. (2018). Bioidentical hormones: Help or hype? Retrieved June 3, 2019, from https://www.health.harvard.edu/womens-health/bioidentical-hormones-help-or-hype
Mayo Clinic. (2018). Hormone therapy: Is it right for you? Retrieved June 3, 2019, from https://www.mayoclinic.org/diseases-conditions/menopause/in-depth/hormone-therapy/art-20046372