About Stress in Pregnancy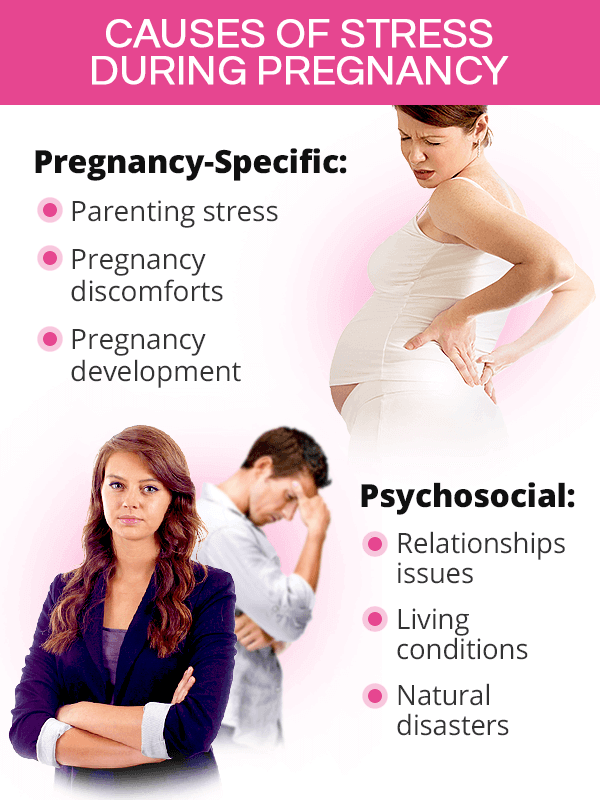 Before diving deeper into the effects of stress on pregnancy and the ways to manage it effectively, let's take a quick look at what is stress, why it is important, and what causes it.
What is Stress?
Stress is the body's reaction when faced with difficulty, change, or danger. Also called the "fight-or-flight response," it triggers the release of the stress hormone, cortisol, which helps the body take appropriate action.1
By design, stress is a natural and positive mechanism that keeps people alert and regulates glucose metabolism, blood pressure, immune functions, and more.
However, continuous or severe stress that is not properly released keeps cortisol levels elevated, which disrupts endocrine, nervous, and immune functions and can have negative effects on the human body.
What Causes Stress in Pregnancy?
Besides occasional life events that can happen to all women, expectant mothers can experience additional stressors, like:2
Pregnancy-Specific Stressors
Psychosocial Stressors
Relationship problems: domestic violence, divorce, partner's illness, etc.
Living conditions: housing, financial instability, work load, or safety issues
Natural disasters: hurricanes, earthquakes, floods, etc.
Effects of Stress on Pregnancy
Studies have shown direct and indirect negative effects of various stressors on mother and baby's health during pregnancy as well as later in life.1, 2, 3, 4, 5, 6, 7
Effects of Stress on the Mother
Experiencing prolonged or severe stress during pregnancy has been associated with a number of detrimental effects on a pregnant woman's health, including the following:
Heart disease
Appetite changes
Overuse of alcohol, smoking, or illicit drugs
Poor postpartum care (breastfeeding, mother-infant interactions, etc.)
Effects of Stress on the Baby
Maternal stress during pregnancy has been found to increase the risk of certain pregnancy complications, many of them with far-reaching and long-lasting effects on a child's future physical and psychological health:
Low birth weight
Unplanned C-section
Cognitive and memory impairment
Behavioral or temperament issues
Affective disorders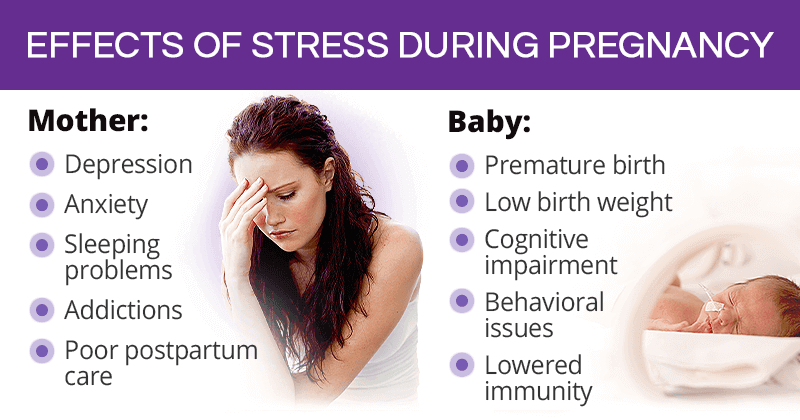 Managing Stress during Pregnancy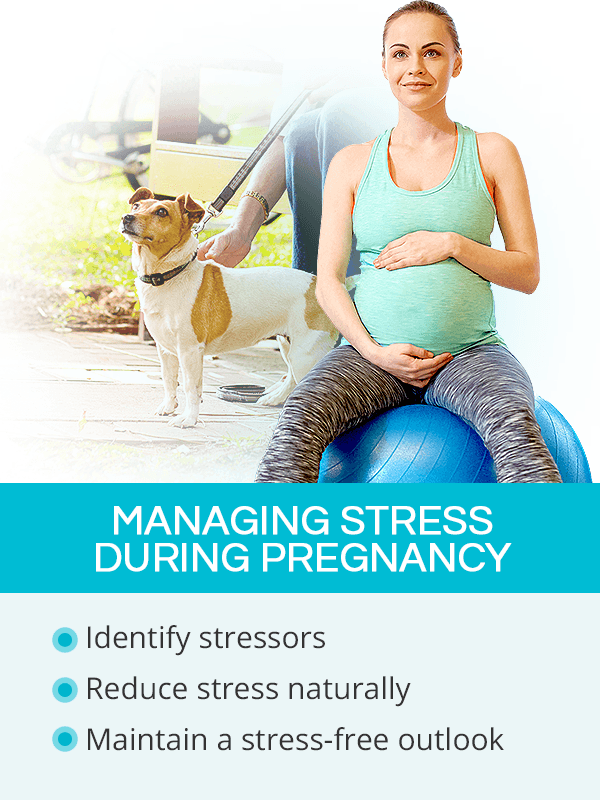 While certain sources of stress during pregnancy cannot be predicted, other stressors can be eliminated with proper management techniques, which might include the following approaches:
Identifying Stressors during Pregnancy
Managing stress during pregnancy often starts with identifying one's sources of stress and finding the right approaches to handle them.
Start by becoming aware of your body's reactions to various situations, people, thoughts, or environments.

Try to notice a pattern between various triggers to stress in pregnancy.

Put an effort into eliminating major stressors from your life, whether it be through having an honest conversation with a co-worker, finding better or safer housing, asking your employer for some time off, or leaving an abusive relationship.
Reducing Stress during Pregnancy
Although specific techniques of stress management in pregnancy will depend on its cause, there are a number of effective approaches to reduce cortisol levels in the body and find relief.
Keep up with regular, moderate-level intensity exercise while pregnant as it can trigger the release of "happy hormones," bring down cortisol levels, and relieve pregnancy discomforts.

Give relaxation techniques a try, including mindfulness meditation, prenatal yoga, prenatal massages, and deep breathing exercises. They can help you relieve stress and prevent the mind from filling with anxious thoughts.

If you are stressed about becoming a parent, start a pregnancy diary to let those anxious thoughts, concerns, and doubts flow out of your mind. Then, try to read them as if they were written by someone else, while simultaneously trying to distance yourself from them.

If stress in pregnancy is due to common discomforts, like insomnia or back pain, discuss treatment options with your doctor.

If you notice symptoms of depression, such as sadness or apathy, ask your doctor for help right away.
Maintaining a Stress-Free Outlook
To help the body stay strong and immune to the negative effects of excess stress in pregnancy, consider implementing the following recommendations:
Keep a healthy pregnancy diet filled with immunity-boosting and brain-protecting foods, such as those rich in vitamin C or omega-3 fatty acids.

Create a support network to help you get through your pregnancy; it could be friends and family as well as local support groups.

Surround yourself with beauty and positivity by reading uplifting literature, spending time outdoors, and engaging in a hobby.
Key Takeaways
As studies continue to investigate the relationship between stress and pregnancy, one thing is known for certain: experiencing excessive or severe stress while pregnant can have far-reaching, detrimental consequences on both mother and child's health. It has been shown to compromise pregnancy outcomes, increasing the risk of premature birth and low birth weights as well as impairing child's development later on in life, including lowered immunity, compromised cognitive functions, and behavioral problems. While certain stressful situations in life cannot be foreseen, some sources of stress during pregnancy can be effectively eliminated with a number of management techniques, including identifying the stressors, instilling stress-relief techniques, and maintaining a stress-free outlook for an optimally safe pregnancy and healthy children.
Sources
Annual Review of Psychology. (2011). Psychological Science on Pregnancy: Stress Processes, Biopsychosocial Models, and Emerging Research Issues. Retrieved September 2, 2019 from https://www.annualreviews.org/doi/10.1146/annurev.psych.031809.130727
American Journal of Obstetrics & Gynecology. (2001). When stress happens matters: Effects of earthquake timing on stress responsivity in pregnancy. Retrieved September 2, 2019 from https://www.ajog.org/article/S0002-9378(01)74193-2/abstract
Archives of women's mental health. (2009). Mother's stress, mood and emotional involvement with the infant: 3 months before and 3 months after childbirth. Retrieved September 2, 2019 from https://www.ncbi.nlm.nih.gov/pubmed/19259772/
Early Human Development. (2010). Anxiety disorders before birth and self-perceived distress during pregnancy: associations with maternal depression and obstetric, neonatal and early childhood outcomes. Retrieved September 2, 2019 from https://www.ncbi.nlm.nih.gov/pubmed/20547016
European Journal of Public Health. (2012). Psychosocial stress during pregnancy is related to adverse birth outcomes: results from a large multi-ethic community-based birth cohort. Retrieved September 2, 2019 from https://academic.oup.com/eurpub/article/23/3/485/541030
Journal of Psychosomatic Obstetrics & Gynecology. (2004). Measuring the ups and downs of pregnancy stress. Retrieved September 2, 2019 from https://pdfs.semanticscholar.org/a8fc/f05ca8128ba62afd9228a2a6d6a7f3827b64.pdf
March of Dimes. (2012). Stress and pregnancy. Retrieved September 2, 2019 from https://www.marchofdimes.org/pregnancy/stress-and-pregnancy.aspx
Paediatric and Perinatal Epidemiology. (2008). Physical and mental health outcomes of prenatal maternal stress in human and animal studies: a review of recent evidence. Retrieved September 2, 2019 from https://www.ncbi.nlm.nih.gov/pubmed/18782252
Proceedings of the National Academy of Sciences of the United States of America. (2012). Maternal cortisol over the course of pregnancy and subsequent child amygdala and hippocampus volumes and affective problems. Retrieved September 2, 2019 from https://www.pnas.org/content/109/20/E1312
University of California San Francisco. (2017). Stress in Pregnancy Linked to Changes in Infant's Nervous System, Less Smiling, Less Resilience. Retrieved September 2, 2019 from https://www.ucsf.edu/news/2017/11/409146/stress-pregnancy-linked-changes-infants-nervous-system-less-smiling-less
Footnotes:
Mayo Clinic. (2019). Stress management: Know your triggers. Retrieved September 2, 2019 from https://www.mayoclinic.org/healthy-lifestyle/stress-management/in-depth/stress-management/art-20044151
American Journal of Epidemiology. (2009). Stress pathways to spontaneous preterm birth: the role of stressor, psychological distress, and stress hormones. Retrieved September 2, 2019 from https://www.ncbi.nlm.nih.gov/pubmed/19363098/
Current Opinion in Psychiatry. (2015). Anxiety, depression and stress in pregnancy: implications for mothers, children, research, and practice. Retrieved September 2, 2019 from https://www.ncbi.nlm.nih.gov/pmc/articles/PMC4447112/
Development and Psychopathology. (2017). Effects of pre- and postnatal maternal stress on infant temperament and autonomic nervous system reactivity and regulation in a diverse, low-income population. Retrieved September 2, 2019 from https://www.cambridge.org/core/journals/development-and-psychopathology/article/effects-of-pre-and-postnatal-maternal-stress-on-infant-temperament-and-autonomic-nervous-system-reactivity-and-regulation-in-a-diverse-lowincome-population/D99A544835C9E33E91D2A66066AAD7DE
Epidemiology. (2000). Maternal life event stress and congenital anomalies. Retrieved September 2, 2019 from https://www.ncbi.nlm.nih.gov/pubmed/10615840/
Journal of Child Psychology and Psychiatry, and Allied Disciplines. (2003). Maternal antenatal anxiety and behavioural/emotional problems in children: a test of a programming hypothesis. Retrieved September 2, 2019 from https://www.ncbi.nlm.nih.gov/pubmed/14531585/
Journal of Child Psychology and Psychiatry, and Allied Disciplines. (2007). Antenatal maternal stress and long-term effects on child neurodevelopment: how and why? Retrieved September 2, 2019 from https://www.ncbi.nlm.nih.gov/pubmed/17355398
Journal of Child Psychology and Psychiatry, and Allied Disciplines. (2011). Prenatal maternal stress programs infant stress regulation. Retrieved September 2, 2019 from https://www.ncbi.nlm.nih.gov/pubmed/20854366/
Obstetrics Medicine. (2013). Effects of prenatal stress on pregnancy and human development: mechanisms and pathways. Retrieved September 2, 2019 from https://www.ncbi.nlm.nih.gov/pmc/articles/PMC5052760/
Further Readings:
American Psychological Association. (2018). The consequences of stress during pregnancy. Retrieved September 2, 2019 from https://www.apa.org/monitor/2018/06/stress-pregnancy
BMC Psychiatry. (2017). Music interventions to reduce stress and anxiety in pregnancy: a systematic review and meta-analysis. Retrieved September 2, 2019 from https://bmcpsychiatry.biomedcentral.com/articles/10.1186/s12888-017-1432-x