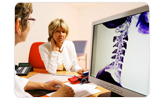 A premenopausal woman was experiencing some symptoms that were unexplainable to the doctors. After her medical history and hormone levels were reviewed the doctors performed a few test to determine the source of her illness. The patient had acute primary hyperparathyroidism and osteoporosis. The outcome of her test results and hormone levels led to her undergoing a parathyroidectomy all of which is described in this review.
Patients with primary hyperparathyroidism feel symptoms of fatigue, depression, and poor memory in relation with serum parathyroid hormone levels. Primary hyperparathyroidism is a disorder that affects more women than men, often during the first ten years following menopause. Acute primary hyperparathyroidism however presents more severe symptoms and life threatening hypocalcaemia. Because only 48 cases were know in a 13 year time span ( 1974 - 1987 ), this condition is considered very rare.
Osteopenia is commonly found in patients who have primary hyperparathyroidism. Osteopenia is a condition in which bone mineral density is less than it should be, affecting the hip more than the spine. Some think it a precursor to osteoporosis yet not all patients with osteopenia will develop osteoporosis.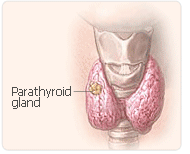 Presently doctors are not sure if patients with primary hyperparathyroidism will show improvement in osteopenia after undergoing a successful parathyroid surgery. This premenopausal woman that had acute primary hyperparathyroidism and severe osteoporosis showed a significant improvement of body mass index after undergoing a successful parathyroidectomy.
The 37 - year – old premenopausal women described symptoms of fatigue, bone pain, slowed mentation, depression, decreased appetite, nausea, constipation and weight loss. Yet no doctor could identify the cause of her symptoms.
Procedure
At admission her serum sodium, potassium, chloride and carbon dioxide as well as hormone levels were reviewed. She underwent a neck biopsy upon which three parathyroid glands were found normal. She was also given oral calcium and ergocalciferol therapy. Her bone density was measure at her neck and her spine using a dual energy x-ray.
The premenopausal woman was asked to maintain her calcium and vitamin D regimen and do exercise daily. A year after the bone densitometry was performed the patient showed dramatic progress.
Eventually the patient began to notice a slow improvement in her energy and a decrease of bone pain.
The patient that was studied in this article showed a significant improvement in osteoporosis after her parathyroidectomy. Her example may help put to rest some of the controversy concerning this issue.