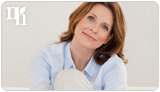 Hormone replacement therapy (HRT) is used to introduce outside hormones into the body when natural production wanes. This condition, known as hormonal imbalance, affects many women throughout their lives, pushing them to use one of the types of hormone replacement therapy available.
In the following section, women will be able to find information about the most relevant research on hormone replacement therapy, the most common and uncommon side effects of HRT, and other conditions related to its use.
About Side Effects of HRT
Until 2002, HRT was the most popular and convenient way to treat menopausal symptoms and other hormone imbalances. That year, however, a landmark study by the Women's Health Initiative (WHI) found that introducing foreign hormones into a woman's body carries a certain degree of risks and can cause many side effects.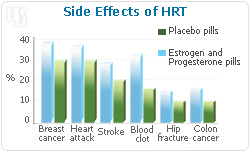 Prior to 2002, little was known about these possible side effects and the dangers of HRT. However, this large study showed a connection between HRT usage and breast cancer, heart attacks, and stroke. The study followed more than 16,000 women over five years. About 50% of the women were given a placebo and 50% were given a combination of progestin and estrogen HRT. The result showed a statistically significant association with breast cancer, heart disease, and strokes in the women who took HRT. Therefore, it has been recommended that women who decide to use HRT do so for only a short time and at the lowest possible dosage in order to reduce the risks associated with this treatment.
Common Side Effects of HRT
Possible side effects of HRT include: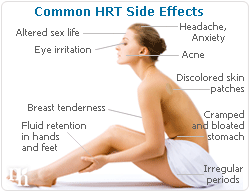 Headache
Nausea
Cramped or bloated stomach
Diarrhea
Changes in weight and appetite
Altered sex life
Anxiety
Acne
Fluid retention resulting in swollen hands and feet
Irregular periods
Breast tenderness, enlargement, or discharge
Eye irritation
Discolored skin patches
Other less common but potentially more upsetting side effects are loss of appetite or extreme fatigue. Additionally, there are certain contraindications that make the use of HRT dangerous for women.
Uncommon Side Effects of HRT
There are also other more severe side effects that can result from HRT. However, these are rare and affect only a very small percentage of women. They include:
Uncommon HRT Side Effects
Double vision
Extreme abdominal pain
Jaundice
Depression
Unexplained vaginal bleeding
Lack of appetite
Irritated skin
Extreme fatigue
Fever
Discolored urine or stool
Side Effects of Prolonged HRT Use
If used for prolonged periods of time, HRT increases the risk of serious adverse effects such as:
Side Effects of Prolonged HRT Use
Breast cancer
Stroke
Pulmonary embolism
Cardiovascular disease
Uterine cancer
Blood clotting
Gallstones
Increased blood pressure
HRT and Other Conditions
With regard to other risks associated with HRT, this treatment has been known to worsen existing conditions, including:
HRT and Other Conditions
Undiagnosed vaginal bleeding
Liver disease
Pregnancy
Coronary artery disease
Venous thrombosis
Headaches
History of breast cancer
History of uterine fibroids
Active gallbladder disease
Now that the side effects of HRT have been explained, women might want to explore less risky possibilities to treat hormonal imbalance. Keep reading to learn about natural hormone replacement therapy.