Hormone replacement therapy (HRT) used to be the most traditional way to treat the hormonal imbalance of menopause until HRT side effects started being revealed by the medical world. Keep reading to learn about common and uncommon hormone replacement therapy side effects as well as serious health conditions arising from its prolonged use.
Common HRT Side Effects
The most common adverse reactions associated with HRT include, but are not limited to: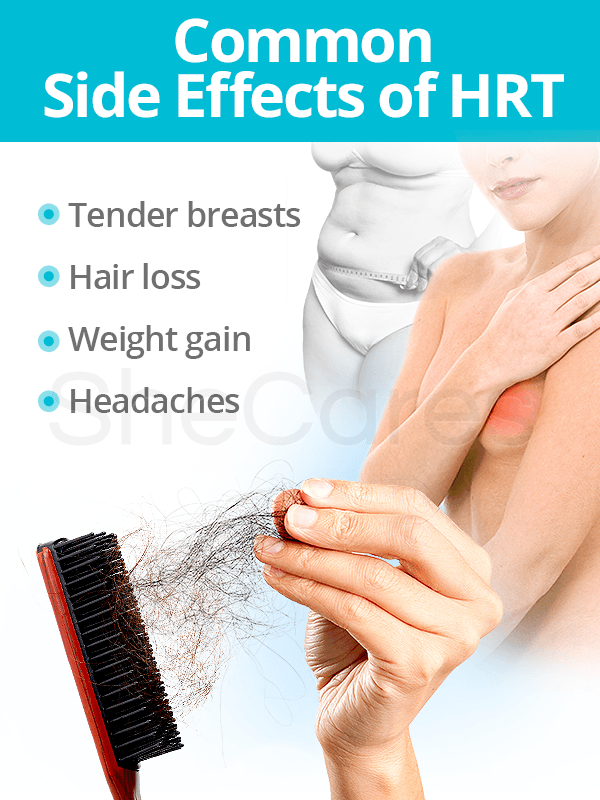 Depending upon the type of HRT used, particularly the specific hormones implemented, these common side effects of HRT for menopause will vary from woman to woman.
Also, it is commonly accepted that hormone replacement side effects are worse at the beginning of treatment. They tend to allay after a few weeks or months of usage.
Uncommon HRT Side Effects
There are also other more severe side effects that can result from HRT. They include: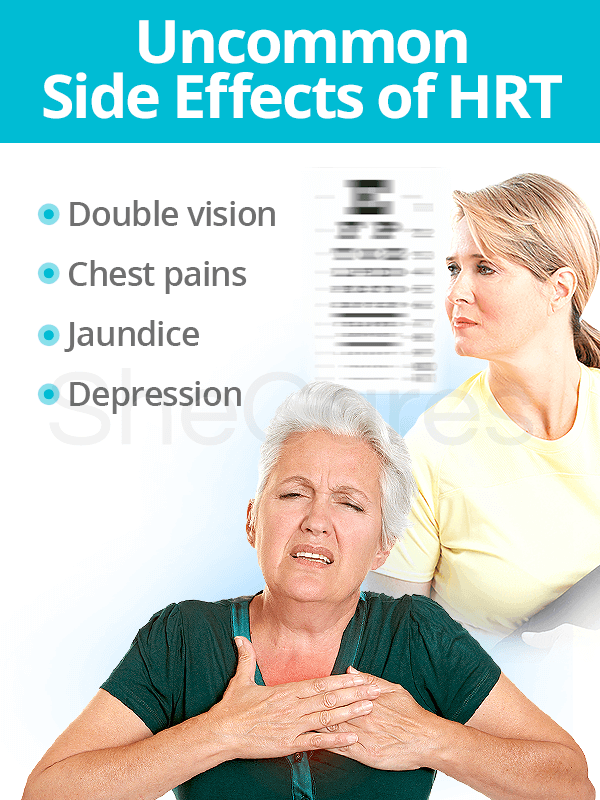 Double vision
Shortness of breath
Chest pains
Coughing
Swollen or painful legs
Extreme abdominal pain
Jaundice
Lack of appetite
Irritated skin
Fever
Discolored urine or stool
Even though these are rare and affect only a very small percentage of women, they warrant the need for immediate medical attention.
Also, women exhibiting said hormone replacement therapy side effects should discontinue treatment right away until further notice by their doctor.
Side Effects of Prolonged HRT Use
HRT is recommended in short-term, low-dose measures for alleviating menopause symptoms because of the scientifically verified risk of introducing exogenous hormones into the body for extended periods of time.
A recent study from Oxford University scientists found that the use of HRT increases the risk of breast cancer by a third, and women remain at an increased risk more than 10 years after discontinuation of the treatment.
Prolonged use of HRT can also increase the risk of developing other serious health conditions, such as:
Uterine or ovarian cancer
Deep vein thrombosis (DVT)
Stroke
Pulmonary embolism
Cardiovascular disease
Blood clots
Gallstones
Now that the side effects of HRT have been explained, women might want to explore less risky options to treat the hormonal imbalance at fault for their bothersome menopause symptoms. Keep reading to learn about natural hormone replacement therapy.
Sources
Cancer Research UK. (2017). Side effects of hormone therapy in women. Retrieved September 16, 2019, from https://www.cancerresearchuk.org/about-cancer/cancer-in-general/treatment/hormone-therapy/side-effects-women
National Cancer Institute. (2018). Menopausal Hormone Therapy and Cancer. Retrieved September 16, 2019, from https://www.cancer.gov/about-cancer/causes-prevention/risk/hormones/mht-fact-sheet
NHS. (2016). Side effects: Hormone replacement therapy (HRT) | Study suggests HRT carries higher risk of breast cancer than thought. Retrieved September 16, 2019, from https://www.nhs.uk/conditions/hormone-replacement-therapy-hrt/side-effects/ | https://www.nhs.uk/news/cancer/study-suggests-hrt-carries-higher-risk-breast-cancer-thought/