The ending of reproductive functions results in fluctuations of key hormones, primarily estrogen and progesterone. As such, many menopausal women look to hormone replacement therapy (HRT) as a means to treat the hormonal imbalance at fault for troublesome symptoms.
Continue reading to learn more about menopause hormone replacement therapy, including what it is alongside treatment benefits and risks.
Hormone Replacement Therapy during Menopause
Hormone replacement therapy works by replacing the body's hormones to boost low levels caused by ovarian failure during menopause.
HRT is most commonly prescribed as a combination of estrogen and progesterone for perimenopausal women.
However, the treatment can also be administered as estrogen alone or in combination with testosterone depending on a woman's health status, including if she has had a hysterectomy.
Moreover, there are various types of HRT available for treating an estrogen, progesterone, or testosterone hormone deficiency, including tablets, implants, creams, sprays, and patches.
Women should speak to their doctor when deciding which type of therapy to follow.
Benefits of Menopause Hormone Therapy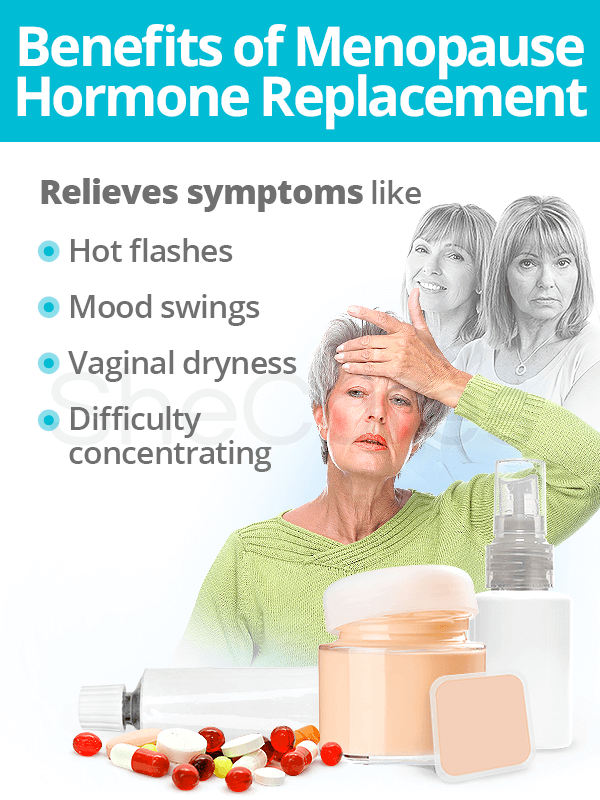 Menopause hormone therapy is recommended to relieve symptoms of perimenopause, including:
Burning tongue
Sleep problems
And many more
Hormone replacement during menopause is also prescribed in order to address long-term physiological changes and serious health conditions that result from declining hormone levels, such as:
Bone loss (osteoporosis)
Heart disease and stroke
Pelvic floor weakness
Among others
Most women use HRT for three to five years before reassessing its overall effectiveness with their physician. Nevertheless, its use does procure certain dangers.
Risks of Menopause Hormone Therapy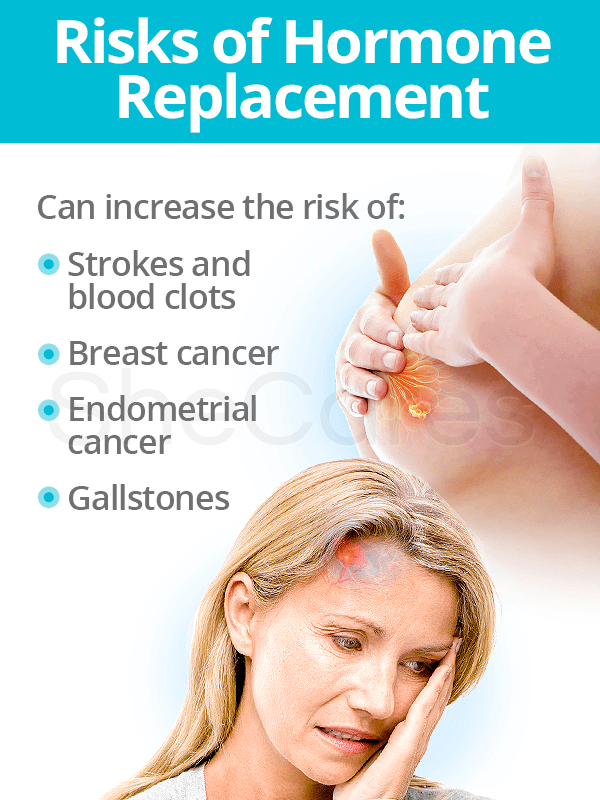 Without a doubt, substituting synthetic hormones for natural ones can produce a range of side effects and carry many risks.
When used for a prolonged period, HRT can increase the risk of strokes, blood clots, and heart attacks; breast, endometrial, and ovarian cancer; deep vein thrombosis (DVT); gallstones; and more.
As such, HRT is recommended in short-term, low-dose measures for alleviating menopause symptoms.
To have a more complete understanding of the risks involved with pursuing HRT, continue reading about the side effects of hormone replacement therapy.
Sources
National Cancer Institute. (2018). Menopausal Hormone Therapy and Cancer. Retrieved September 16, 2019, from https://www.cancer.gov/about-cancer/causes-prevention/risk/hormones/mht-fact-sheet
NHS. (2016). Side effects: Hormone replacement therapy (HRT) | Study suggests HRT carries higher risk of breast cancer than thought. Retrieved September 16, 2019, from https://www.nhs.uk/conditions/hormone-replacement-therapy-hrt/side-effects/ | https://www.nhs.uk/news/cancer/study-suggests-hrt-carries-higher-risk-breast-cancer-thought/
The North American Menopause Society. (n.d.). Hormone Therapy: Benefits & Risks. Retrieved September 16, 2019, from http://www.menopause.org/for-women/menopauseflashes/menopause-symptoms-and-treatments/hormone-therapy-benefits-risks