Women are subject to unexpected hormonal variations throughout the course of their lives, from puberty to postmenopause. Once they have an in-depth understanding of hormones, it is easy to see how a hormonal imbalance can affect the entire body.
Continue reading to learn all about hormonal imbalance, including causes, symptoms, signs, and more so that you can be on your way to optimal health in no time.
About Hormonal Imbalance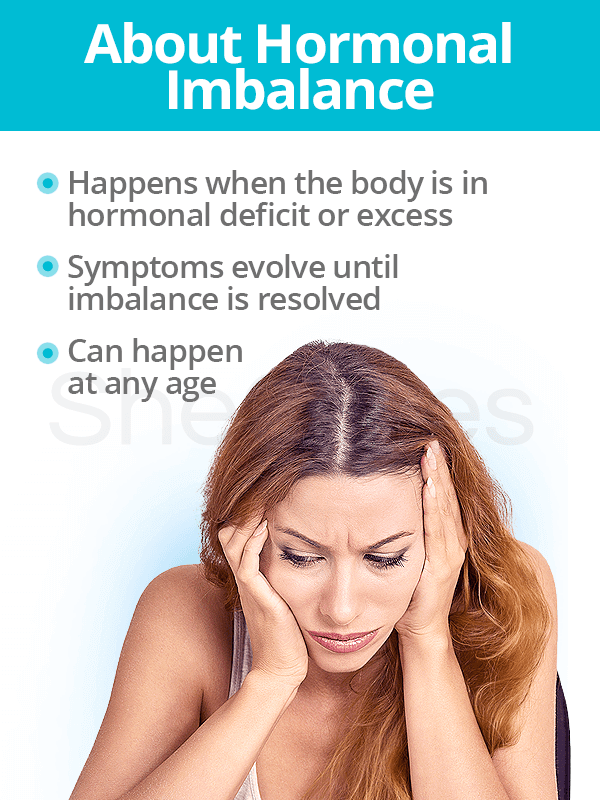 Hormonal imbalance occurs when the body produces too much or too little of a certain hormone or group of hormones. Because hormones interact with every cell of the body, an uncalled for increase or decrease of one can easily cause illness and discomfort.
In women, hormonal imbalance is most commonly caused by abnormal levels of reproductive hormones, such as estrogen, progesterone, or testosterone. This can lead to symptoms characteristic of premenstrual syndrome (PMS), premenstrual dysphoric disorder (PMDD), menstrual disorders, perimenopause, etc.
However, it is key to keep in mind that hormone levels vary on a daily basis, depending on a woman's age, stage in the menstrual cycle, and other factors. Also, although hormonal imbalance often occurs during times of reproductive significance, it can arise at any age.
Causes of Hormone Imbalance
Hormonal imbalance can be caused by a multitude of factors as there are hundreds of hormones and hormone-like substances as well as glands that can be affected.1
Some of the most common causes of hormonal imbalance in women are outlined below: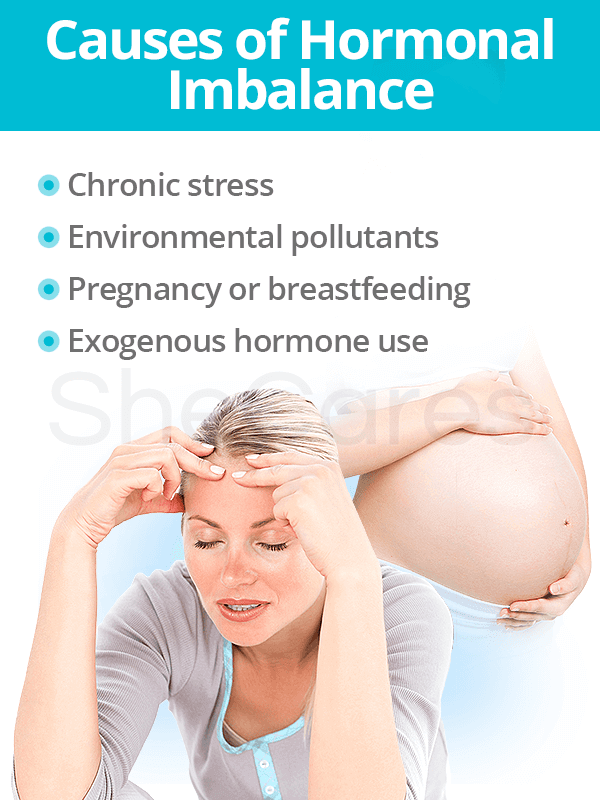 Chronic stress
Obesity
Diabetes
Medications
Tumors
Genetics
Poor diet lacking essential vitamins, minerals, and other nutrients
Eating disorders
Environmental pollutants
Unhealthy habits, like extreme exercise; smoking; excess caffeine and alcohol; illicit drugs; etc.
Xenoestrogens from cosmetics, plastics, chemicals, etc.
Thyroid disorders, namely hyper- or hypothyroidism as well as nodules
Pituitary or adrenal gland conditions (inflammation, surgery)
Autoimmune diseases
Chemotherapy
Hysterectomy (with or without oophorectomy)
Perimenopause
Polycystic ovary syndrome (PCOS)
Premature or early menopause
Exogenous hormone use [birth control, hormone replacement therapy (HRT), or bioidentical hormones]

Hormonal Imbalance Symptoms
As hormones regulate almost, if not, all key functions of a woman's body, an imbalance can create a whole host of problems.
While it is true that each woman's hormonal experience is unique, we have listed some of the most frequently experienced symptoms of hormonal imbalance in women below.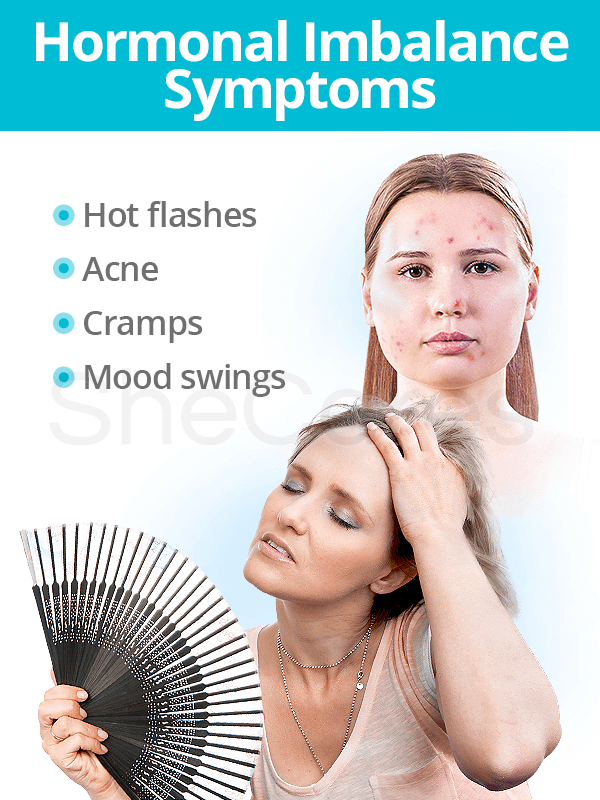 Facial hair growth
Dry or oily skin
Tender or fibrocystic breasts

For women who second guess if their symptoms are indicative of hormonal irregularities, there are several signs of hormonal imbalance that can be considered.
Signs of Hormonal Imbalance
As opposed to more noticeable symptoms, medical signs are measurable criteria that are usually assessed by a physician.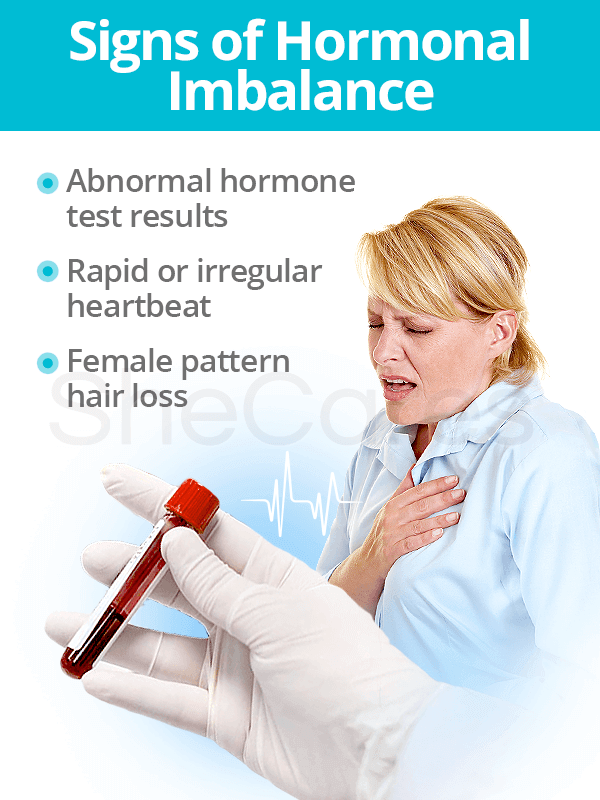 The following medical signs will most likely be taken into account by a physician when diagnosing hormonal imbalance:
Abnormal hormone test results
Low red blood cell count or hemoglobin
Rapid or irregular heartbeat
Abnormal bone density reading
Widening part and thinning hair at the scalp (female pattern hair loss)
Losing more than 80 mL of blood during a period2
Fluctuating blood pressure
Recurrent miscarriages
Hormonal Imbalance Treatments
Although the aftermath of hormonal imbalance can be distressing, there is a wide range of treatment options available, a combination of which can help women get back up and on their feet in no time. Check out our comprehensive guide to hormonal imbalance treatments today for a healthier and more vibrant you!

Sources
Hormone Health. (n.d.). 10 warning signs you may have a hormonal imbalance (and what to do about it). Retrieved December 18, 2019, from https://hormonehealth.co.uk/blog/10-warning-signs-you-may-have-a-hormonal-imbalance-and-what-to-do-about-it/?cn-reloaded=1
Memorial Care. (2018). These Are the Causes of Hormonal Imbalance & How to Treat Them. Retrieved December 18, 2019, from https://www.memorialcare.org/about/pressroom/media/these-are-causes-hormonal-imbalance-how-treat-them-2018-06-22
Northwell Health. (2018). 11 unexpected signs of hormonal imbalance. Retrieved December 18, 2019, from https://www.northwell.edu/obstetrics-and-gynecology/fertility/expert-insights/11-unexpected-signs-of-hormonal-imbalance
Women in Balance Institute: National University of Natural Medicine. (n.d.). Causes of Hormonal Imbalance. Retrieved December 18, 2019, from https://womeninbalance.org/seventh-woman/causes/

Footnotes:

The Pituitary Foundation. (n.d.). Your hormones. Retrieved December 18, 2019, from https://www.pituitary.org.uk/information/hormones/
Warrilow, G. et al. (2004). Quantification of menstrual blood loss. The Obstetrician & Gynaecologist, 6, 88-92. doi: 10.1576/toag.6.2.88.26983