With over 200 hormones and hormone-like substances being present in the human body, it is not uncommon for hormonal imbalance to occur in some way, shape, or form, especially hormonal deficiencies.1
Continue reading to learn more about low hormone levels symptoms so that you can take action sooner rather than later for optimal hormonal health.
Symptoms of Low Hormones in Females
Low hormone levels symptoms can be broken down into physical and psychological. They include, but are not limited to:
Physical symptoms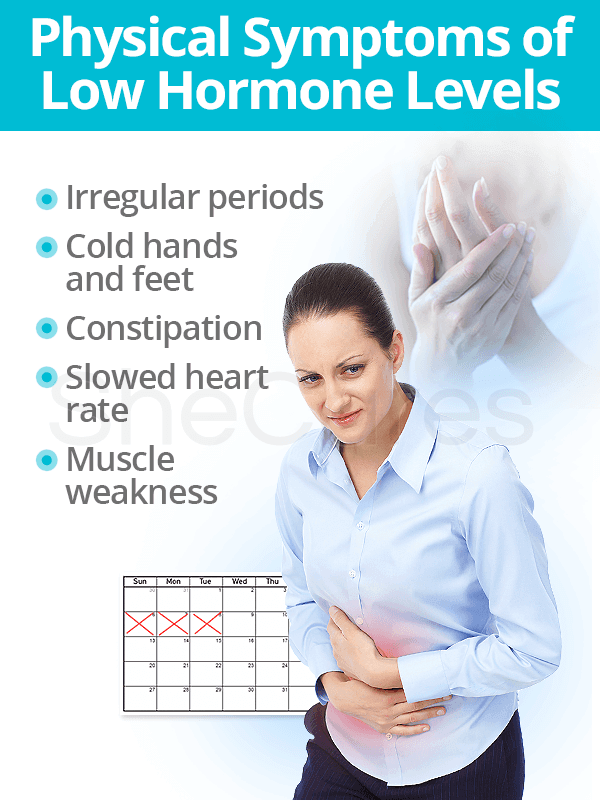 Headaches and migraines
Bloating and water retention
Cold hands and feet
Breast discharge
Hair loss
Pelvic pain
Constipation
Slowed heart rate
Joint pain
Muscle weakness
Psychological symptoms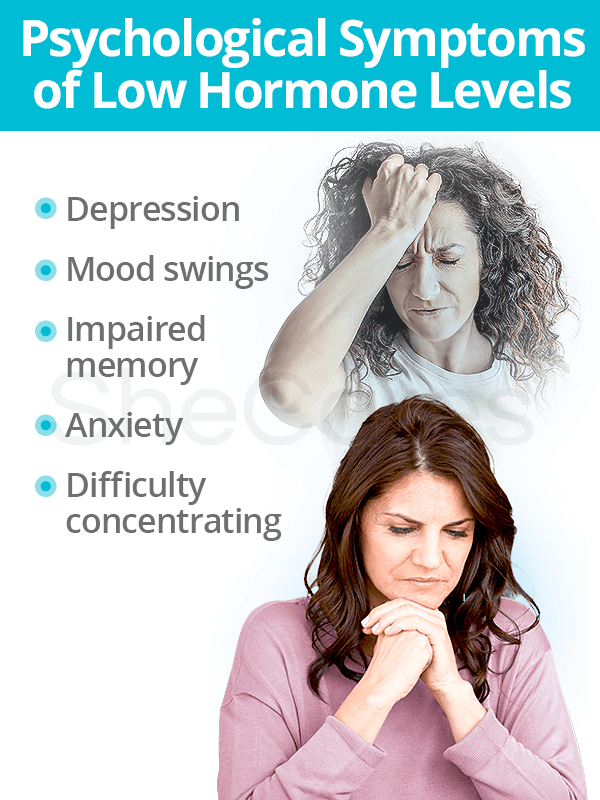 If women find themselves suffering from the aforementioned symptoms, they should visit their medical practitioner in order the run appropriate diagnostic testing.
Without a doubt, the signs and symptoms of low hormone levels in females can also be indicative of other diseases and illnesses.
Fortunately, there are a variety of treatment options for women who suffer from the symptoms of low hormone levels or any other hormonal imbalance.
Discover more about hormonal imbalance treatments to finally indulge in a symptom-free life by clicking on the previous link.
Sources
Endocrine Society. (2019). Progesterone and Progestins. Retrieved December 9, 2019, https://www.hormone.org/your-health-and-hormones/glands-and-hormones-a-to-z/hormones/progesterone
Healthy Women. (2017). Could You Have Low Estrogen? | Low Progesterone Symptoms. Retrieved December 9, 2019, from https://forevher.healthywomen.org/overview-diagnosis/could-you-have-low-estrogen/ | https://www.healthywomen.org/content/article/low-progesterone-symptoms
Mayo Clinic. (2018). Hypothyroidism (underactive thyroid): Symptoms & causes. Retrieved December 9, 2019, from https://www.mayoclinic.org/diseases-conditions/hypothyroidism/symptoms-causes/syc-20350284
National University of Natural Medicine: Women in Balance Institute. (n.d.). Do You Have a Hormone Imbalance? Retrieved December 6, 2019, from https://womeninbalance.org/seventh-woman/do-you-have-a-hormone-imbalance/
Northwell Health. (2018). 11 unexpected signs of hormonal imbalance. Retrieved December 6, 2019, from https://www.northwell.edu/obstetrics-and-gynecology/fertility/expert-insights/11-unexpected-signs-of-hormonal-imbalance
Footnotes:
The Pituitary Foundation. (n.d.). Your hormones. Retrieved December 9, 2019, from https://www.pituitary.org.uk/information/hormones/