There are hundreds of hormones and hormone-like substances controlling every bodily function in the human body.1 As such, when the finely orchestrated hormonal patterns are out of tune, an imbalance can occur, bringing with it a manifestation of symptoms that can easily ruin one's daily life.
Find out symptoms of high hormone levels in women below so that you can confidently put the next foot forward in seeking treatment for optimal relief.
Symptoms of High Hormones in Women
High hormone symptoms are divided into physical and psychological, and they can consist of the following:
Physical symptoms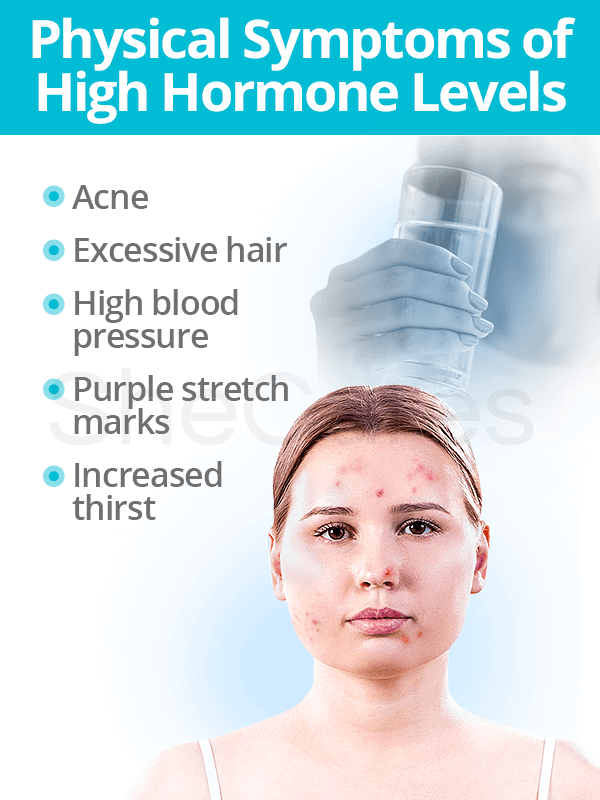 Excessive hair (hirsutism)
Flushed or round face
Female-pattern hair loss or thinning
High blood pressure
Increased frequency of urination
Increased thirst
Purple stretch marks
Enlarged clitoris
Changes in breast size
Increased muscle mass
Oily skin
Brown and velvety skin patches (acanthosis nigricans)
Vision changes

Psychological symptoms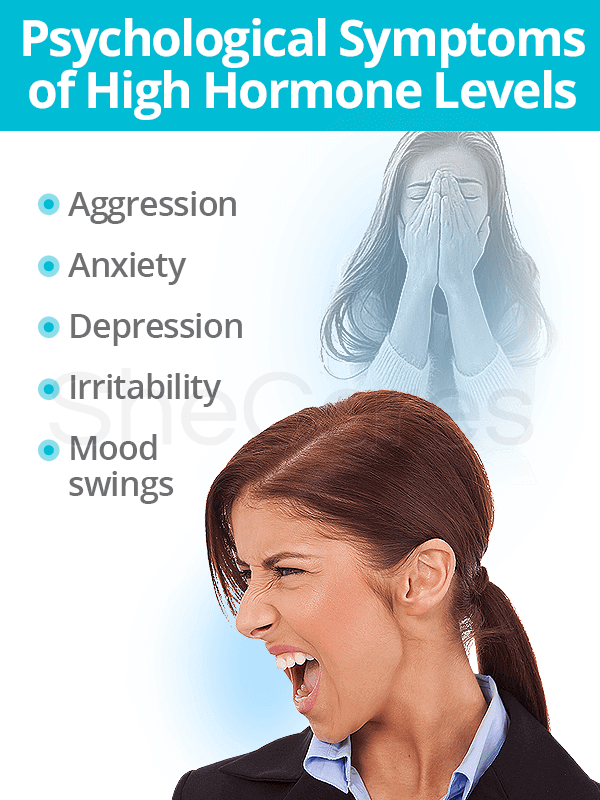 If women find themselves struggling with any unusual symptoms, they should consult their doctor as only he or she will be able to run appropriate diagnostic testing. Also, it is important to keep in mind that these high hormone symptoms can be suggestive of other health problems and diseases.
Luckily, there are a wide diversity of treatment options available for women who suffer from hormonal imbalance, including high hormone levels. Read all about viable hormonal imbalance treatments to finally enjoy the tranquility of a symptom-free life by clicking on the previous link.
Sources
Cleveland Clinic. (n.d.). Sexual Hormone Disorders: Descriptions. Retrieved December 17, 2019, from https://my.clevelandclinic.org/health/diseases/17464-sexual-hormone-disorders-descriptions
Healthy Women. (2018). Signs of High Testosterone in Women. Retrieved December 17, 2019, from https://www.healthywomen.org/content/article/signs-high-testosterone-women
National Institute of Diabetes and Digestive and Kidney Diseases. (2018). Insulin Resistance & Prediabetes. Retrieved December 17, 2019, from https://www.niddk.nih.gov/health-information/diabetes/overview/what-is-diabetes/prediabetes-insulin-resistance
National University of Natural Medicine: Women in Balance Institute. (n.d.). Do You Have a Hormone Imbalance? Retrieved December 17, 2019, from https://womeninbalance.org/seventh-woman/do-you-have-a-hormone-imbalance/
The North American Menopause Society. (n.d.). Changes in Hormone Levels. Retrieved December 17, 2019, from https://www.menopause.org/for-women/sexual-health-menopause-online/changes-at-midlife/changes-in-hormone-levels
Northwell Health. (2018). 11 unexpected signs of hormonal imbalance. Retrieved December 17, 2019, from https://www.northwell.edu/obstetrics-and-gynecology/fertility/expert-insights/11-unexpected-signs-of-hormonal-imbalance
Society for Endocrinology. (2019). Cortisol. Retrieved December 17, 2019, from https://www.yourhormones.info/hormones/cortisol/

Footnotes:

The Pituitary Foundation. (n.d.). Your hormones. Retrieved December 17, 2019, from https://www.pituitary.org.uk/information/hormones/