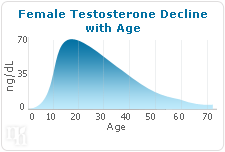 Over the past few years, the seriousness of a testosterone deficiency in women has been acknowledged by the medical community, since it has been found that menopausal women occasionally experience low testosterone levels.
More information about the causes, symptoms, and effects of low testosterone levels is detailed below.
Causes of Low Testosterone Levels
Identifying causes of low testosterone is key to avoid further drops in testosterone levels. The most common causes of low testosterone levels are:
Natural causes of low testosterone levels
Progesterone deficiency. Testosterone production relies on sufficient levels of progesterone; thus, a progesterone deficiency can result in low testosterone levels.
Natural aging. As ovarian production of testosterone declines with age, the burden of production falls on the adrenal glands, which struggle and are typically unable to maintain adequate levels.
Induced causes of low testosterone levels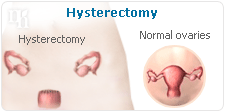 Pharmaceuticals or surgical procedures. Induced low testosterone levels are so named because they result from pharmaceutical treatments and surgical procedures like hysterectomy, chemotherapy, and the use of birth control pills. Since they impact on the source of hormone production, hormonal levels may be dramatically diminished.
Stress. It is known that stress has a physical impact on the body. Decreased testosterone production might be one of its consequences.
Click on the following link to learn more about the causes of low testosterone levels.
Symptoms of Low Testosterone Levels
The main symptoms and signs related to low testosterone can be classified according to the categories below.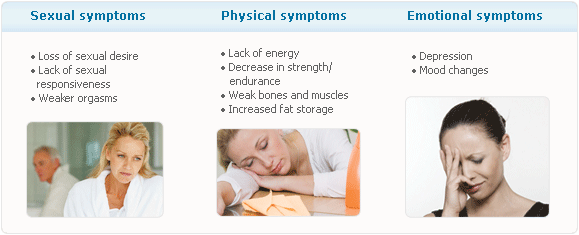 Low testosterone levels are commonly problematic for menopausal women. Testosterone production drops steadily - by as much as five percent annually - over the years, eventually halving itself at age forty (versus age twenty).
For more detailed information about the consequences of decreased testosterone levels in women, continue reading about the symptoms of low testosterone levels.