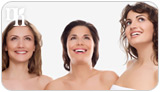 Normal is a very subjective word; "normal" hormone levels vary from woman to woman. As an individual, your normal hormone levels are those without which your body is unable to function correctly. Instead, it is more important that your hormone levels are balanced.
Hormones help to regulate many body's functions, such as the menstrual cycle and fluid retention. However, the correct regulation of these physical processes relies on a delicate balance of hormones like testosterone, estrogen, and progesterone. During periods of great hormonal change, such as menopause, this delicate balance is disrupted, causing menopausal symptoms. Read on to learn how you can tell if you have hormonal imbalance.
Hormone Levels
Your body is controlled by hormones; however, when your hormone levels become imbalanced, as can happen during perimenopause, you may experience physical and emotional symptoms such as hot flashes, night sweats, loss of libido, mood swings, irregular periods, and vaginal dryness. You may also be feeling irritable, depressed, fatigued, and have trouble sleeping.
If you are experiencing any of these symptoms, it is probable that you have hormonal imbalance. This could be a sign of a number of conditions, including menopause. While you can not reverse the effects of a condition like menopause there are ways that you can combat your chemical imbalances and reduce the effects of your symptoms; all you need is a bit of knowhow. Read on to learn more.
Correcting the Balance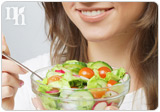 When trying to combat your symptoms, it is important that you aim to redress your hormone imbalance. One way to do this is to make sure you're eating correctly. A good diet for restoring hormones to balanced levels should include lots of water and lots of fruit and vegetables; you should also be avoiding foods and drinks high in caffeine, alcohol, and salt. Regular exercise may also help you to combat your symptoms. These healthy lifestyle changes can be complimented by alternative treatments or herbal medicines. However, if you're still suffering from unpleasant symptoms then you should consult your doctor, who may be able to prescribe you specific medication.
Click on the following link to read about targeted treatments for hormone imbalances.