Menopause can be a challenging time for women. Fluctuations in hormone levels can occur frequently for some women, leading to distressing physical and emotional symptoms. With this in mind, it is important to know how to check hormonal levels, and deal with it. One way of doing this is by using blood tests to diagnose hormonal imbalance.
Keep reading to discover the symptoms of menopause, and why a woman would use a blood test to diagnose a hormonal imbalance.
When Should Women Take a Blood Test for Hormonal Imbalance?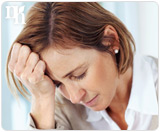 When women enter perimenopause, their bodies prepare to wind down reproductive activity by releasing fewer reproductive hormones. These hormones — estrogen and progesterone — decline unsteadily, leading to hormonal imbalance. Because of this, women begin to experience a range of unpleasant menopause symptoms, such as:
Loss of libido

Hot flashes
Night sweats

Vaginal dryness
Irregular periods
Irritability
Thus, it is important that women have a test for hormonal imbalance as soon as they believe they are not producing the correct quantities of estrogen, progesterone, or testosterone, to be able to treat the hormonal cause of these symptoms.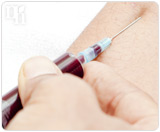 There are other tests available for hormonal imbalance, including saliva test and urine test. These options are attractive because women can order home kits and test for hormonal imbalance in privacy. However, for the most accurate results and best follow-up advice it is recommended that a woman have a blood test in a doctor's office.
What Happens during a Blood Test?
It is easy for menopausal women to have a blood test for hormonal imbalance, although they first need to discuss with their medical practitioner why they suspect they are experiencing hormonal imbalance.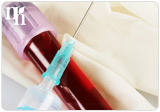 A blood test for hormonal imbalance is the same as a regular blood test, whereby a doctor or nurse will withdraw a test tube's worth of blood from the vein in your arm with a needle. Normally, the results from a blood test for hormonal imbalance can be returned quickly, but waiting time will depend on your doctor's office.
Results may show a deficiency or dominance in a certain hormone that is causing menopause symptoms. A doctor will then be able to advise you on what lifestyle changes, herbal supplements, or in extreme cases, medications, to take to restore your hormonal balance. For more information, click here for treatments of signs and symptoms of hormonal imbalance.