Who is a Fertility Specialist?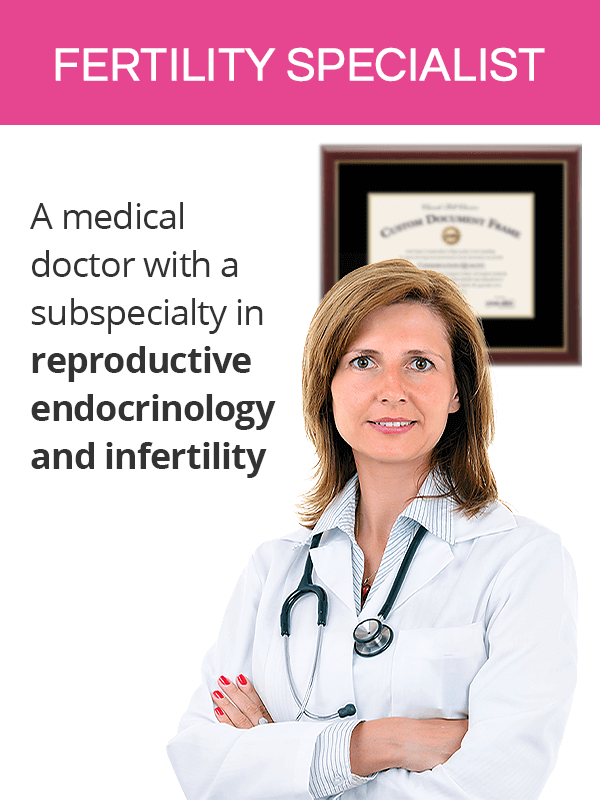 A fertility specialist is a medical doctor who has extensive knowledge and experience in human reproduction.
Becoming a fertility doctor requires a completion of four years of medical school followed by four-year specialty training in obstetrics and gynecology (OBGYN) and then a three-year sub-specialty in reproductive endocrinology and infertility, at last earning a title of a reproductive endocrinologist.
Fertility specialists see patients in their private offices or through associated fertility clinics.
What is a Fertility Clinic?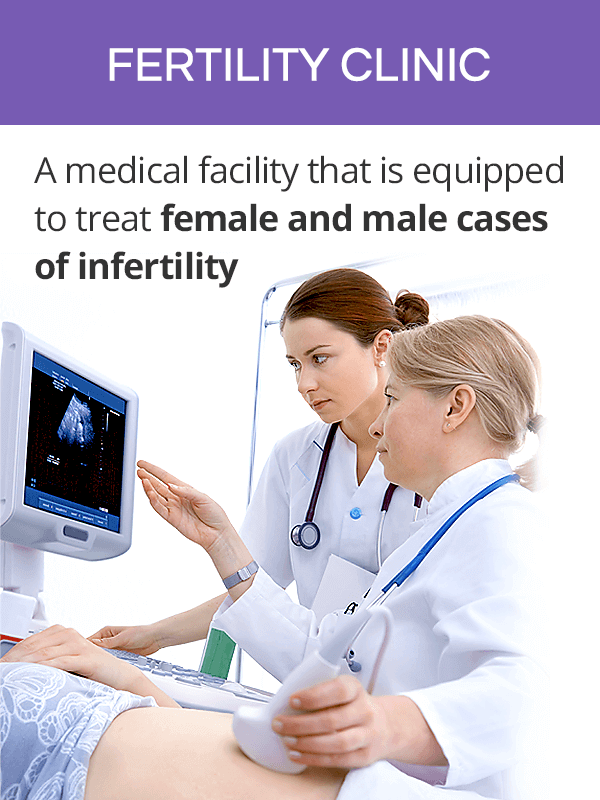 A fertility clinic is a medical facility, which specializes in helping couples struggling with infertility achieve pregnancy.
These reproductive health clinics can work independently or operate within larger medical facilities, such as hospitals.
Women are generally referred to take fertility medicine by their gynecologists or primary care physicians. Because fertility problems might concern both partners, fertility centers are equipped to evaluate and treat both male and female cases of infertility.
What Services are Offered at a Fertility Clinic?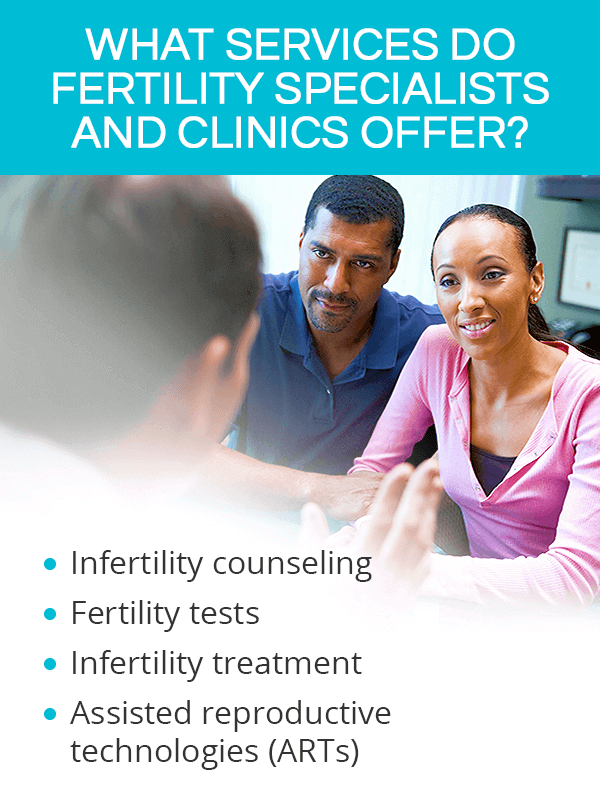 Couples typically go to a fertility clinic to find answers as to why they cannot get pregnant. Whether they will require services beyond an initial infertility consultation, such as a customized infertility treatment, depends on their specific case.
Insurance coverage for reproductive services depend on individual policies. To date, 15 out of the 50 states within the United States mandate insurance companies to cover infertility treatments.
When Should a Woman See a Fertility Doctor?
Because a woman's ability to have children is limited by her age and declines over time, seeking the help of a fertility specialist can help her make the most out of her reproductive potential. An appointment at a fertility treatment center is recommended when the following criteria are met:
How to Choose a Top Fertility Specialist and a Fertility Clinic?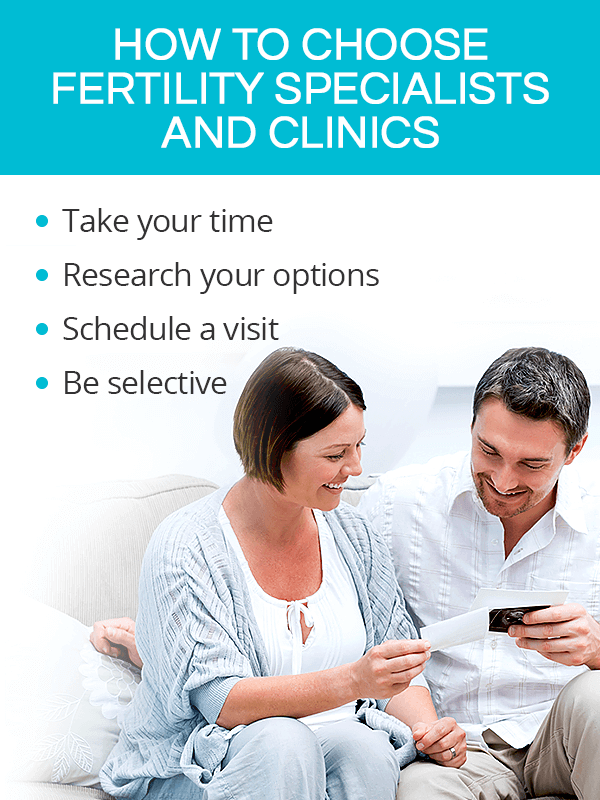 The best approach for finding a top reproductive clinic is to take one's time to research all options.
Doing Research
Nowadays, a simple internet search can result in an extensive list of fertility doctors and clinics by zip code. Numerous websites offer a fertility clinic locator along with the doctor's profiles listing their education, length of experience, professional affiliations, and customer ratings. Asking around for recommendations, including one's primary doctor, OBGYN, or friends and family, will enable a woman to get reliable, first-hand feedback.
Scheduling a Visit
Scheduling a pre-visit interview with a fertility doctor is another good idea to clear potential doubts. It is time to ask questions about their expertise and get to know the doctor before making the decision. Also, giving several fertility centers a call to ask about their appointment availability, services provided, financial coverage, and other administrative matters can help reduce a woman's options to the most appropriate ones.
Being Selective
Infertility evaluations and treatments are known to be expensive. So, caution is advised when choosing fertility specialists and a clinic that offer substantially cheaper services. If there is no verifiable information about the clinic or the doctors it employs nor legitimate customer reviews, the center is probably best to be avoided.
Top Fertility Clinics
Many couples travel a large distance to get top reproductive care at the best fertility clinics, such as Maryland's Shady Grove Fertility Reproductive Science Center, New York' New Hope Fertility Center, or Colorado Center for Reproductive Medicine.
Even if long-distance commuting is not in a couple's plans, it is worth researching these fertility institutes for self-education and comparison purposes. However, when verifying infertility centers' success rates, it is worth checking if they have any restrictions regarding infertility cases they accept as those concerning older women or those with advanced medical conditions potentially lower the statistics and are, therefore, rejected.
Key Takeaways
When fertility problems compromise a couple's chances of pregnancy, they often resort to finding help from fertility specialists at reproductive clinics. A fertility doctor is a reproductive endocrinologist who has extensive knowledge and experience concerning human reproduction. He or she is often affiliated with a fertility clinic, which specializes in enabling infertility-stricken couples to restore their chances of parenthood. As such, these fertility centers offer various services, including infertility counseling, specialized testing, treatment, and reproductive assistance. When choosing a fertility specialist and clinic, partners are advised to take time to do research and schedule a visit to make the best decisions concerning their reproductive health.
Sources
American Society of Reproductive Endocrinology and Infertility. (n.d.). Infertility. Retrieved December 18, 2018 from https://www.reproductivefacts.org/news-and-publications/patient-fact-sheets-and-booklets/documents/fact-sheets-and-info-booklets/infertility-an-overview-booklet/
CDC. (2018). Reproductive Health. Retrieved December 18, 2018 from https://www.cdc.gov/reproductivehealth/infertility/index.htm
Cleveland Clinic. (n.d.). Fertility Medical Center. Retrieved December 18, 2018 from https://my.clevelandclinic.org/departments/fertility
Stanford Children's Hospital. (n.d.). Fertility and Reproductive Health. Retrieved December 18, 2018 from https://www.stanfordchildrens.org/en/service/fertility-and-reproductive-health
University of California. (n.d.). Fertility and Reproductive Health Center. Retrieved December 18, 2018 from http://obgyn.ucla.edu/fertility