Quick Facts
Company Snapshot
www.valiup.com/
California-based
Less than 5 years in business
Customer support
443-579-7982
info@valiup.com
Effective for those suffering from PMS symptoms; results will vary
No clinical studies proving efficacy
Money-back guarantee
Price (via amazon.com): around $20 for a 1-month supply
How VALI Renew Works
Several adaptogenic herbs found in VALI Renew, such as schizandra berry and ashwagandha, help calm and soothe the nervous system in the weeks leading up to a woman's period. The other phytoestrogenic herbs found within have also been traditionally used to balance the body's hormone levels. Fortified with essential vitamins and minerals, this supplement can alleviate premenstrual symptoms of irritability, anxiety, cramps, mental fogginess, headaches, breast tenderness, and more.
VALI Renew Ingredients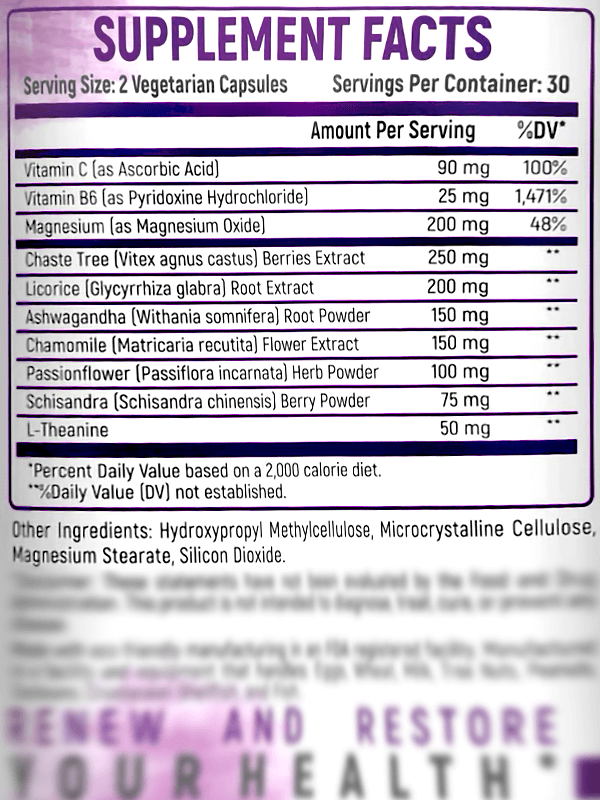 Main Ingredients
Vitamin C (from Ascorbic Acid) - required for the absorption of iron, wound healing, a healthy immune system, etc.
Vitamin B6 (from Pyridoxine HCl) - maintains normal nerve function, creates hemoglobin, breaks down proteins, and balances blood sugar
Magnesium (from Magnesium Oxide) - maintains normal muscle and nerve function, supports a healthy immune system, regulates blood glucose levels, and more vital roles
L-Theanine - amino acid that helps relax the mind without causing drowsiness
Schizandra (Schisandra chinensis) Berry Powder - adaptogenic herb that has a calming effect on mood, resolving PMS symptoms of mood swings, anxiety, irritability, etc.
Passion Flower (Passiflora incarnata) Powder - herb to support mental clarity and nervous system health
Chamomile (Matricaria recutitia) Flower Extract - herb believed to reduce tension that leads to PMS-related anxiety and irritability
Ashwagandha (Withania somnifera) Root Powder - adaptogenic herb that reduces oxidative stress and supports a healthy stress response
Licorice (Glycyrrhiza glabra) Root Extract - herb that is traditionally used to alleviate pain and cramps characteristic of dysmenorrhea
Chaste Tree (Vitex agnus castus) Berry Extract - phytoestrogenic herb that balances emotions and mood before and during menses
Other Ingredients
Hydroxypropyl Methylcellulose (vegetarian capsules), Microcrystalline Cellulose (plant fiber), Magnesium Stearate (vegetable source), Silica
This supplement is vegan as well as soy- and gluten-free.
VALI Renew Safety & Side Effects
VALI Renew Safety
Do not take if pregnant, nursing, or under 18 years old. Please consult with your doctor before use if suffering from a hormone-dependent medical condition. Do not use if the safety seal is broken or missing. Keep out of reach of children.
Side Effects of VALI Renew
There is no mention of short- or long-term side effects of VALI Renew. Use the supplement with caution and discontinue use if adverse reactions evolve.
VALI Renew Reviews
Amazon
(5 reviews – Average rating: 4.7 out of 5)
Extremely small sample pool from customers who purchased a 60-capsule bottle:
Positive reviews compliment the supplement for working against cramps, pain, and general discomforts of PMS.

Negative reviews are not present on Amazon.
No further sources of reviews present on any other reputable website.
Additional Information
Directions
Take one capsule two times daily with food. Store in a cool, dry place.
Where to Buy VALI Renew
VALI Renew can be purchased on the company website or through Amazon.
---
VALI® Renew is a registered trademark.

By Anita Myers, Expert Reviewer | Updated Jun 18, 2020
I am truly passionate about helping others find the path to better health, wellness, and spirituality through yoga. I blog at Anita's Wellness Journey.
Sources
Amazon, https://amzn.to/2ZquoaP
Chandrasekhar, K. et al. (2012). A Prospective, Randomized Double-Blind, Placebo-Controlled Study of Safety and Efficacy of a High-Concentration Full-Spectrum Extract of Ashwagandha Root in Reducing Stress and Anxiety in Adults. Indian Journal of Psychological Medicine, 34(3), 255-262. doi: 10.4103/0253-7176.106022
Nobre, A.C. et al. (2008). L-theanine, a natural constituent in tea, and its effect on mental state. Asia Pacific Journal of Clinical Nutrition, 17 (Suppl 1), 167-168. Retrieved April 12, 2019, from https://www.ncbi.nlm.nih.gov/pubmed/18296328
Pizzorno, J.E. & Murray, M.T. (2013). Textbook of Natural Medicine: Fourth Edition. Missouri: Elsevier Churchill Livingstone. Available from Google Books.