Quick Facts
Company Snapshot
www.bestnestwellness.com
Colorado-based
Less than 10 years in business
No money-back guarantee
Customer support
800-860-0602
M-F: 8 a.m. - 4 p.m. MST
hello@bestnestwellness.com
No clinical studies of the supplement proving satisfactory effects on ovulatory function
Effective for those trying to conceive naturally; results will vary
No money-back guarantee
Price (via bestnestwellness.com): $33 for a 30-tablet bottle
How Ready. Set. Go! Best Nest Women's Fertility Formula Works
Ready. Set. Go! Best Nest Women's Fertility Formula mixes the strength of vitamins, minerals, and traditional herbs to boost women's pre-pregnancy efforts. Among the ingredients of its proprietary blend are neural tube defect-preventing folate and ashwagandha scientifically studied for promoting good female reproductive function. Enhanced with vitamins necessary for fertility, such as vitamins E, D3, and C, this fertility supplement provides hopeful mothers with the nutrition they need to nourish not only themselves, but also their future babies.
Ready. Set. Go! Ingredients
Main ingredients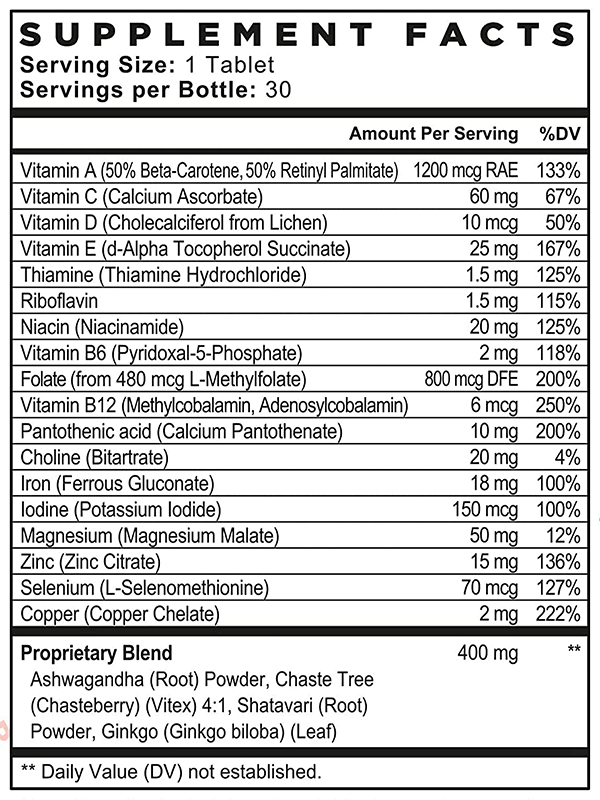 Vitamin A (Beta-Carotene) - essential for normal female reproductive function and embryonic events throughout pregnancy
Vitamin C - increases serum progesterone levels in women with luteal phase defect; dietary supplementation may reduce risk of birth defects
Vitamin D3 (Cholecalciferol) - found to improve insulin resistance in women with PCOS
Vitamin E (d-Alpha Tocopheryl Succinate) - antioxidant effects could improve endometrial response in women with unexplained infertility
Thiamin - scientifically found to lower the risk of ovulatory infertility
Riboflavin - decreases the risk of ovulatory infertility
Niacin - reduces the risk of ovulatory infertility
Vitamin B6 - reduces the risk of ovulatory infertility; important for enzyme function and protein metabolism
Folate (L-methylfolate) - mineral that positively influences oocyte quality and maturation, implantation, placentation, fetal growth, and organ development
Vitamin B12 (Methylcobalamin) - essential for cell reproduction; can reduce the risk of miscarriage
Pantothenic Acid - necessary for hormone and cholesterol production; produces, transports, and releases energy from fats
Iron (Ferrous Gluconate) - when taken alongside vitamin C, which increases its absorption, iron can help women regain or boost fertility
Iodine - regulates metabolism, bone growth, and brain development; deficiency could delay pregnancy efforts
Magnesium - regulates body temperature, protein synthesis, and nerve and muscle health; may reduce pregnancy complications such as fetal growth restriction and preeclampsia, or high blood pressure
Zinc - essential component of genetic material; deficiency can cause hormonal imbalance, reduced fertility, and increased miscarriage risk
Selenium - used to make antioxidants that protect your body from free radical damage; can prevent chromosomal breakage, which can cause birth defects and miscarriage
Copper - its imbalance can interfere with early pregnancy and fetal health
Choline - inadequate levels during pregnancy believed to negatively affect cognitive development, including neural tube and hippocampus growth
Red Clover Blossom Extract - phytoestrogenic herb traditionally used to regulate menstrual cycles to assist in fertility
Vitex Extract - phytoestrogenic herb added to help regulate ovulation
Ginkgo Biloba (Leaf) Extract - herb commonly believed to benefit brain function and act as an antioxidant
Ashwagandha Powder - traditional medicinal plant scientifically found to enhance sexual function and behavior in women
Shatavari Root Powder - phytoestrogenic herb traditionally used to regulate hormonal secretion, thus balancing moods
Other ingredients
Dicalcium Phosphate Dihydrate, Microcrystalline Cellulose, Croscarmellose Sodium, Stearic Acid, Vegetable Stearate, Silicon Dioxide and Vegetable Glaze
This supplement claims to not contain soy; yeast; fish/shellfish; sugar; preservatives; artificial colors and flavors; nuts; GMOs; gluten; or dairy/lactose.
Ready. Set. Go! Safety & Side Effects
Ready. Set. Go! Best Nest Women's Fertility Formula Safety
Consult your healthcare provider before use if you are pregnant, nursing, taking medications, or have a serious medical condition. Do not use if safety seal is broken or missing.
Side Effects of Ready. Set. Go! Best Nest Women's Fertility Formula
Best Nest Wellness does not openly mention any side effects that can be induced from taking their women's fertility formula. However, reviewers claim it may cause adverse reactions of irregular periods and nausea.
Ready. Set. Go! Reviews
Amazon
(140+ reviews - Average rating: 4.5 out of 5)
Reviews from customers who purchased a 30-tablet bottle:
Positive reviews admire Ready. Set. Go! for helping regulate menstrual cycles by promoting healthy ovulation to get pregnant within a few months of use.
Negative reviews mention the product didn't work for them and caused side effects of irregular ovulatory patters and nausea.
No further sources of reviews present on any other reputable website.
Additional Information
Directions

Take one tablet daily with or without food.
Where to Buy Ready. Set. Go! Best Nest Women's Fertility Formula
Ready. Set. Go! can be purchased from Amazon or through the company website.
--
Ready. Set. Go!™ is a registered trademark.

By Anita Myers, Expert Reviewer | Updated Jun 18, 2020
I am truly passionate about helping others find the path to better health, wellness, and spirituality through yoga. I blog at Anita's Wellness Journey.
Sources
Amazon, https://amzn.to/30eBfYg
American Medical Association. (2017). AMA backs global health experts in calling infertility a disease. Retrieved September 13, 2019, from https://www.ama-assn.org/delivering-care/public-health/ama-backs-global-health-experts-calling-infertility-disease

American Pregnancy Association. (n.d.). Treating Infertility With Herbal Medications. Retrieved September 13, 2019, from https://americanpregnancy.org/infertility/herbs/
Best Nest Wellness, https://www.bestnestwellness.com/products/ready-set-go-fertility
Chavarro, J.E. et al. (2008). Use of multivitamins, intake of B vitamins and risk of ovulatory infertility. Fertility and Sterility, 89(3), 668-676. doi: 10.1016/j.fertnstert.2007.03.089
Doost Azgomi, R.N. et al. (2018). Effects of Withania somnifera on Reproductive System: A Systematic Review of the Available Evidence. BioMed Research International, 2018, 4076430. doi: 10.1155/2018/4076430
Ebisch, I.M. et al. (2007). The importance of folate, zinc and antioxidants in the pathogenesis and prevention of subfertility. Human Reproduction Update, 13(2), 163-174. doi: 10.1093/humupd/dml054
Grzechocinska, B. et al. (2013). The role of vitamin D in impaired fertility treatment. Neuro Endocrinology Letters, 34(8), 756-762. Retrieved September 13, 2019, from https://www.ncbi.nlm.nih.gov/pubmed/24522025
Henmi, H. et al. (2003). Effects of ascorbic acid supplementation on serum progesterone levels in patients with a luteal phase defect. Fertility and Sterility, 80(2), 459-461. doi: 10.1016/S0015-0282(03)00657-5
Kaiser Permanente. (2015). Pantothenic Acid: Uses. Retrieved September 13, 2019, from https://wa.kaiserpermanente.org/kbase/topic.jhtml?docId=hn-2927004
Maheswari, A. et al. (2014). Vitamin A Deficiency and Female Fertility Problems: A Case Report and Mini Review of the Literature. Journal of Women's Health Care, 3(6), 317. doi: 10.4172/2167-0420.1000210
Mutalip, S.S.M. et al. (2018). Vitamin E as an Antioxidant in Female Reproductive Health. Antioxidants (Basel), 7(2), 22. doi: 10.3390/antiox7020022
National Institutes of Health. (2018). Iodine deficiency may reduce pregnancy changes, NIH study suggests. Retrieved September 13, 2019, from https://www.nih.gov/news-events/news-releases/iodine-deficiency-may-reduce-pregnancy-chances-nih-study-suggests
Zarean, E. & Tarjan, A. (2017). Effect of Magnesium Supplement on Pregnancy Outcomes: A Randomized Control Trial. Advanced Biomedical Research, 6, 109. doi: 10.4103/2277-9175.213879