Quick Facts
Company Snapshot
www.pinkstork.com
Florida-based
Money-back guarantee
Customer support
877-262-9684
customerhappiness@pinkstork.com
No clinical studies of the supplement proving favorable effects on fertility
Effective for those trying to conceive naturally; results will vary
Money-back guarantee (unspecified length of time)
Price (via amazon.com): $30 for a 60-capsule bottle
How Pink Stork Fertility Works
Pink Stork Fertility combines herbs like stinging nettle and ashwagandha; vitamins that include B12, D, and C; as well as essential minerals such as iron, zinc, and selenium together into a proprietary blend that helps balance hormones. Once the body is hormonally stable, women can enjoy having healthy ovulatory patterns, regular menstrual cycles, and reduced stress levels that are commonly experienced by women trying to conceive.
Pink Stork Fertility Ingredients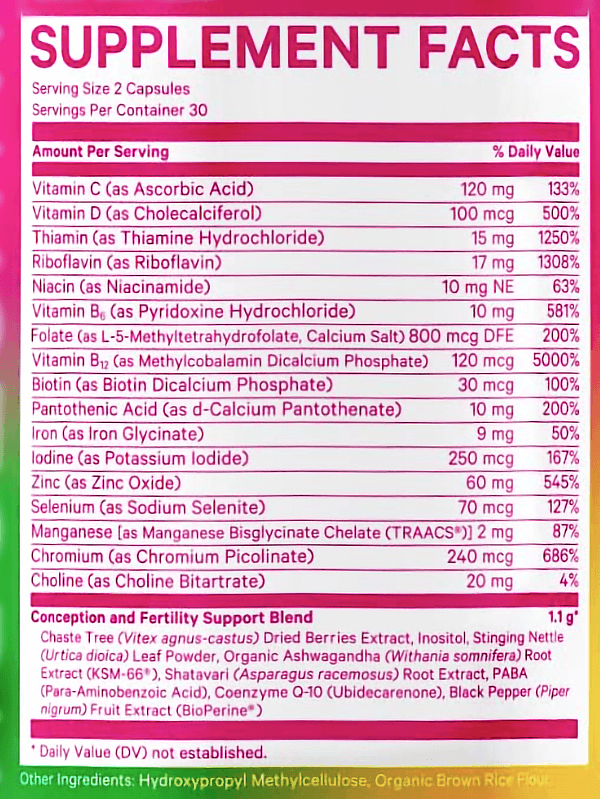 Main ingredients
Vitamin C (Ascorbic Acid) - helps trigger ovulation in women
Vitamin D (as Cholecalciferol) - helps build and maintain healthy bones and may help with weight management
Thiamin (as Thiamine Hydrochloride) - helps with the process of changing carbs into energy and supports nerve signal transmission
Riboflavin (Vitamin B2) - essential component of enzymes that assist in bodily energy production, cell function, and drug and fat metabolism
Vitamin B6 (as Pyridoxine Hydrochloride) - maintains normal nerve function, creates hemoglobin, breaks down proteins, and balances blood sugar
Folate (as (6S)-5- Methyltetrahydrofolic Acid) - mineral that positively influences oocyte quality and maturation, implantation, placentation, fetal growth, and organ development
Vitamin B12 (as Methylcobalamin Dicalcium Phosphate) - contributes to healthy brain and nervous system functioning
Biotin (Vitamin B7) - renowned for stimulating healthy hair and nail growth
Pantothenic Acid (as d-Calcium Pantothenate) - promotes conversion of protein, carbs, and fats into energy
Iron (as Iron Glycinate) - essential mineral for blood production and transfer of oxygen from the lungs to the tissues
Iodine (as Potassium Iodide) - supports healthy thyroid function
Zinc (as Zinc Oxide) - antioxidant mineral that plays an important role in ovulation
Selenium (as Sodium Selenite) - trace mineral that assists body to produce antioxidant enzymes
Manganese (as Manganese Bisglycinate) - mineral that is necessary for healthy ovulatory patterns
Chromium (as Chromium Picolinate) - mineral useful in PCOS in reducing insulin resistance and stimulating ovulation
Chaste Tree (Vitex agnus-castus) Berry Extract - phytoestrogenic herb added to help regulate ovulation
Myo-Inositol - belongs to the vitamin B complex group and is produced from glucose; encourages healthy insulin and testosterone levels
D-Chiro-Inositol - form of inositol claimed to increase pregnancy rates in infertile women
Coenzyme Q-10 - antioxidant that helps provide energy to cells
Black Pepper (Piper nigrum) Fruit Extract (95% Piperine) (Bioperine®) - causes an increase in the bioavailability of the other ingredients
Choline Bitartrate - essential nutrient necessary for lipid transport and metabolism, cell membrane signaling, and other physiological functions
Para-Amino Benzoic Acid - antioxidant that prevents free radical damage
Shatavari (Asparagus racemosus) Root Extract (40% Saponins) - phytoestrogenic herb traditionally used to regulate hormonal secretion, thus balancing moods
Stinging Nettle (Urtica dioica) Leaf - effects on fertility has yet to be scientifically studied, but has been shown to reduce inflammation in the body
Organic Ashwagandha (Withania somnifera) Root Extract (KSM-66®) - adaptogenic, Ayurvedic herb traditionally taken to improve sexual function and support healthy fertility in women
Other ingredients
Hydroxpropyl Methylcellulose (Vegetarian Capsule), Organic Rice Extract
This supplement does not contain gluten, GMOs, wheat, sugar/ sweeteners, flavors, colors, animal products, preservatives, artificial ingredients, fish, shellfish, soy, tree nuts, or peanuts.
Pink Stork Fertility Safety & Side Effects
Pink Stork Fertility Safety
Keep this product out of reach of children. Accidental overdose of iron-containing products is a leading cause of fatal poisoning in children under the age of 6. If an accidental overdose occurs, call a doctor or poison control center immediately.
Side Effects of Pink Stork Fertility
Pink Stork Fertility does not mention any side effects that can evolve from consuming these supplements. Nevertheless, women on Amazon mentioned adverse reactions of irregular periods, nausea, vomiting, and more.
Pink Stork Fertility Reviews
Amazon
(320+ reviews - Average rating: 4.1 out of 5)
Reviews from customers who purchased a 60-capsule bottle:
Positive reviews rave Pink Stork's fertility supplement for allowing them to conceive after various months or years of trying by balancing hormones and regulating ovulation.
Negative reviews blame the product for causing irregularities in their menstrual cycles and side effects of nausea, vomiting, anxiety, muscle cramps, and stomach aches, among others.
No further sources of reviews present on any other website.
Additional Information
Directions
Take two vegetarian capsules daily. There is no mention as to when women should discontinue use once pregnancy is confirmed. Consult the company.
Where to Buy Pink Stork Fertility
Pink Stork Fertility can be purchased from Amazon or from the company website.

By Anita Myers, Expert Reviewer | Updated Jun 18, 2020
I am truly passionate about helping others find the path to better health, wellness, and spirituality through yoga. I blog at Anita's Wellness Journey.
Sources
Amazon, https://amzn.to/2LEAzDQ
American Pregnancy Association. (n.d.). How to Get Pregnant Naturally. Retrieved June 20, 2019, from https://americanpregnancy.org/naturally/get-pregnant-naturally/
Chauhan, N.S. et al. (2014). A Review on Plants Used for Improvement of Sexual Performance and Virility. BioMed Research International, 2014, 868062. doi: 10.1155/2014/868062
Constantino, D. et al. (2009). Metabolic and hormonal effects of myo-inositol in women with polycystic ovary syndrome: a double-blind trial. European Review for Medical and Pharmacological Sciences, 13(2), 105-110. Retrieved June 20, 2019, from https://www.ncbi.nlm.nih.gov/pubmed/19499845
Ebisch, I.M. et al. (2007). The importance of folate, zinc and antioxidants in the pathogenesis and prevention of subfertility. Human Reproduction Update, 13(2), 163-174. doi: 10.1093/humupd/dml054
MedlinePlus. (2018). Zinc in diet. Retrieved June 20, 2019, from https://medlineplus.gov/ency/article/002416.htm
Pink Stork, https://pinkstork.com/product/fertility-2/
Regidor, P.A. & Schindler, A.E. (2016). Myoinositol as a Safe and Alternative Approach in the Treatment of Infertile PCOS Women: A German Observational Study. International Journal of Endocrinology, 2016, 9537632. doi: 10.1155/2016/9537632
Zheng, X. et al. (2017). Inositol supplement improves clinical pregnancy rate in infertile women undergoing ovulation induction for ICSI or IVF-ET. Medicine (Baltimore), 96(49), e8842. doi: 10.1097/MD.0000000000008842