Quick Facts
Company Snapshot
www.oneaday.com/
U.S. headquarters New Jersey-based
70+ years in business
Customer support
Call 1-800-800-4793 (Mon-Fri: 8am - 8pm EST)
Fill out form on website
Effective for women throughout the menopausal transition (peri- and postmenopause); Results will vary
No clinical research on company's site proving product efficacy
No money-back guarantee
Price (via Amazon): less than $20 for 50-tablet supply
How One A Day Women's Menopause Formula Works
One A Day Women's Menopause Formula has a variety of ingredients that work together to relieve menopause symptoms and positively influence overall health. For example, its soy isoflavones, which are potent phytoestrogens, help replenish the body of its lost estrogen, subsequently remedying the hormonal imbalance. Also, the extra added vitamins (such as A and D) supports healthy immune function, skin, bone health, and more.

One A Day Women's Menopause Formula Ingredients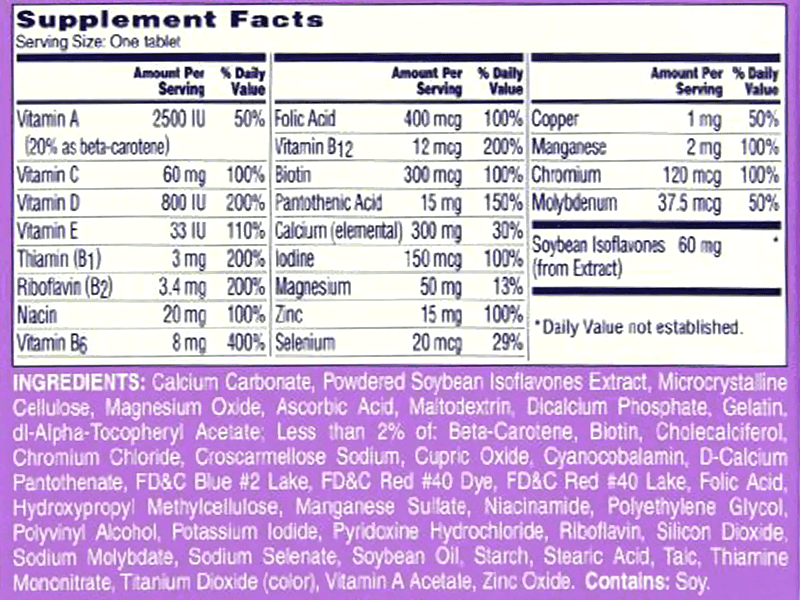 Main ingredients
Vitamin A - famously known to promote good vision
Vitamin C - necessary for the absorption of iron, a healthy immune system, wound healing, etc.
Vitamin D - helps build and maintain healthy bones
Vitamin E - antioxidant that prevents free radical damage
Vitamin B12 - encourages healthy brain and nervous system functioning
Vitamin B6 - known to maintain normal nerve function, create hemoglobin, break down proteins, and balance blood sugar
Thiamin (Vitamin B1) - helps with the process of changing carbs into energy and supports nerve signal transmission
Riboflavin (Vitamin B2) - essential component of enzymes that assist in bodily energy production, cell function, and drug and fat metabolism
Niacin (Vitamin B3) - assists the body to lower cholesterol and improve circulation
Folic Acid (Vitamin B9) - supports the body in making new cells
Biotin (Vitamin B7) - renowned for stimulating healthy hair and nail growth
Pantothenic Acid (Vitamin B5) - promotes conversion of protein, carbs, and fats into energy
Calcium - important mineral for bone health
Iodine - promotes normal thyroid function
Magnesium - maintains normal muscle and nerve function, supports a healthy immune system, regulates blood glucose levels, and more
Zinc - trace mineral necessary for a properly functioning immune system, wound healing, and more
Selenium - trace mineral that assists body to produce antioxidant enzymes
Copper - trace mineral that helps produce red blood cells
Manganese - mineral necessary for nerve and brain function
Chromium - aids in fat and carbohydrate metabolism
Molybdenum - helps break down amino acids and is a cofactor of enzymes
Soy isoflavones (from extract) - phytoestrogens that help alleviate psychological and physical symptoms of hormonal imbalance
Other ingredients
Calcium Carbonate, Powdered Soybean Isoflavones Extract, Microcrystalline Cellulose, Magnesium Oxide, Ascorbic Acid, dl-Alpha-Tocopheryl Acetate; Less than 2% of: Beta-Carotene, Biotin, Cholecalciferol, Chromium Chloride, Croscarmellose Sodium, Cupric Oxide, Cyanocobalamin, D-Calcium Pantothenate, FD&C Blue #2 Lake, FD&C Red #40 Dye, FD&C Red #40 Lake, Folic Acid, Hydroxypropyl Methylcellulose, Manganese Sulfate, Niacinamide, Polyethylene Glycol, Polyvinyl Alcohol, Potassium Iodide, Pyridoxine Hydrochloride, Riboflavin, Silicon Dioxide, Sodium Molybdate, Sodium Selenite, Stearic Acid, Talc, Thiamine Mononitrate, Titanium Dioxide (color), Vitamin A Acetate, Zinc Oxide.
This product does not contain gluten, wheat, or dairy and claims not to contain any artificial flavors or artificial sweeteners either.
One A Day Women's Menopause Formula Safety & Side Effects
One A Day Women's Menopause Formula Safety
This product is not recommended for women who are pregnant, nursing, or have a history of cancer. If you wish to use it anyways and have the aforementioned conditions, consult with a trusted medical healthcare professional first.
Side Effects of One A Day Women's Menopause Formula
The One A Day site mentions no side effects. Also, the product label has no information about side effects from short-term or long-term use either. However, users on Amazon mention side effects of headaches, dry mouth, increased appetite, and intestinal problems as well as increased occurrences of night sweats and hot flashes.
One A Day Women's Menopause Formula Reviews
Amazon
(5,500+ reviews - Average rating: 4.5 out of 5)
Positive reviews credit One A Day's product for relieving their menopausal symptoms of irritability, hot flashes, insomnia, night sweats, fatigue, and more. They also praise the supplement for being a multivitamin at the same time.
Negative reviews claim that the product simply didn't work and caused side effects of headaches, allergic reactions, and worsened symptoms. Various reviewers also mention health concerns from ambiguous ingredients added into the blend.
Additional Information
Directions
Take one tablet daily with food. Keep out of reach of children.
Where to Buy One A Day Women's Menopause Formula
One A Day Women's Menopause Formula can be purchased from Amazon or Walmart. When purchasing from the company website (www.oneaday.com), you will be directed to one of the two aforementioned retailers to complete the transaction. The supplement may be found available for purchase at pharmacies such as CVS and Rite Aid, too.

---
One A Day® is a registered trademark.

By Anita Myers, Expert Reviewer | Updated Apr 07, 2023
I am truly passionate about helping others find the path to better health, wellness, and spirituality through yoga. I blog at Anita's Wellness Journey.
Sources
Amazon, https://amzn.to/2Iu2O2W

MedlinePlus. (2018). Selenium in diet | Zinc in diet | Magnesium in diet. Retrieved April 7, 2023, from https://medlineplus.gov/ency/article/002414.htm | https://medlineplus.gov/ency/article/002416.htm | https://medlineplus.gov/ency/article/002423.htm
One A Day®, https://www.oneaday.com/vitamins/vitamins-for-women/womens-multivitamin-for-menopause