Quick Facts
Company Snapshot
www.amway.com/
Michigan-based
50+ years in business
Customer support
1-800-253-6500
M-F: 9 AM - 11 PM ET
Sat: 10 AM - 5 PM ET
customer.service@amway.com
Effective for those suffering from PMS symptoms; results will vary
No clinical studies proving efficacy
No money-back guarantee
Price (via amazon.com): around $40 for a 120-softgel bottle
How Nutrilite PMS Women's Health Works
Nutrilite PMS Women's Health contains evening primrose oil and borage oil, both of which are excellent sources of gamma-linoleic acid (GLA), one of the essential fatty acids. When combined with popular phytoestrogenic herbs traditionally used for PMS throughout the years, the GLA in this supplement can alleviate premenstrual symptoms of bloating, headaches, breast tenderness, depressed mood, irritability, and more.
Nutrilite PMS Women's Health Ingredients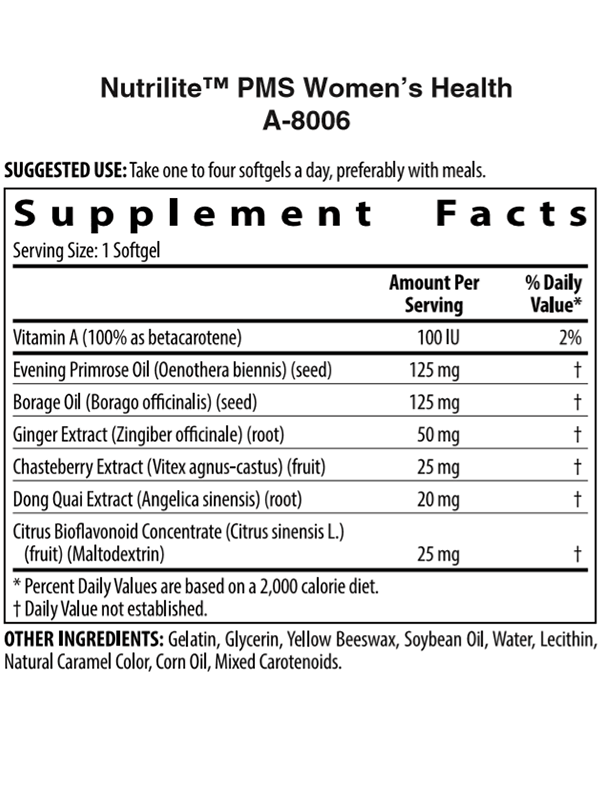 Main Ingredients
Vitamin A (betacarotene) - renowned for promoting good vision
Evening Primrose Oil (Oenothera biennis) (seed) - used for relief from breast pain
Borage Oil (Borago officinalis) (seed) - traditionally used for treating inflammation and relieving pain
Ginger Extract (Zingiber officinale) (root) - anti-inflammatory herb used for relieving pain before a period
Chasteberry Extract (Vitex agnus-castus) (fruit) - phytoestrogenic herb that balances emotions and mood before and during menses
Dong Quai Extract (Angelica sinensis) (root) - phytoestrogen added to help combat cramps, irregular periods, fatigue, and anemia from heavy flow
Citrus Bioflavonoid Concentrate (Citrus sinensis L.) (maltodextrin) - food additive
Other Ingredients
Gelatin, glycerin, yellow beeswax, soybean oil, water, lecithin, natural caramel color, corn oil, mixed carotenoids
Nutrilite PMS Women's Health Safety & Side Effects
Nutrilite PMS Women's Health Safety
Women who are pregnant, lactating, or with a hormone-sensitive condition should consult with a physician before taking. Keep out of reach of children.
Side Effects of Nutrilite PMS Women's Health
There is no mention of short- or long-term side effects on any verifiable website, nor is there mention of adverse reactions on Amazon due to so few reviews.
Nutrilite PMS Women's Health Reviews
Amazon
(10 reviews – Average rating: 3.2 out of 5)
Small sample pool from customers who purchased a 120-capsule bottle:
Positive reviews rave about the product helping relieve symptoms of cramps, dizziness, nausea, acne, and irritability.
Negative reviews degrade the supplement for being in poor condition (capsules melted together) and simply not working.
No further sources of reviews present on any other reputable website.
Additional Information
Directions
Take one to four tablets daily, preferably with meals.
Where to Buy Nutrilite PMS Women's Health
Nutrilite PMS Women's Health can be purchased online with Amway or through Amazon.
---
Nutrilite™ PMS Women's Health is a registered trademark.

By Anita Myers, Expert Reviewer | Updated Jun 18, 2020
I am truly passionate about helping others find the path to better health, wellness, and spirituality through yoga. I blog at Anita's Wellness Journey.
Sources
Amazon, https://amzn.to/2Umhta7
Amway, https://www.amway.com/Shop/Product/Product.aspx/Nutrilite-PMS-Women-s-Health?itemno=A8006
Filho, E.A.R. et al. (2011). Essential fatty acids for premenstrual syndrome and their effect on prolactin and total cholesterol levels: a randomized, double blind, placebo-controlled study. Reproductive Health, 8, 2. doi: 10.1186/1742-4755-8-2
Michigan Medicine. (2015). Evening Primrose Oil. Retrieved March 29, 2019, from https://www.uofmhealth.org/health-library/hn-2841007