Quick Facts
Company Snapshot
www.nutrabiogenesis.com/
Utah-based
15+ years in business
Customer support
1-800-227-1239
1-866-272-0500
M-F: 7:30 AM - 4:30 PM MST
Effective for those suffering from PMS symptoms; results will vary
No clinical studies proving efficacy
30-day money-back guarantee
Price (via amazon.com): around $40 for a 135-capsule bottle
How Biofem PMS Works

Biofem PMS contains standardized botanical extracts, vitamins, minerals, and amino acids that are designed to support healthy menstruation when taken during the luteal phase – second half – of the menstrual cycle and into the first few days of menstruation, or as prescribed by your doctor. By promoting healthy hormonal levels, PMS symptoms of mood swings, sleep problems, fatigue, breast tenderness, bloating, cramps, cravings, and more can be alleviated.
Biofem PMS Ingredients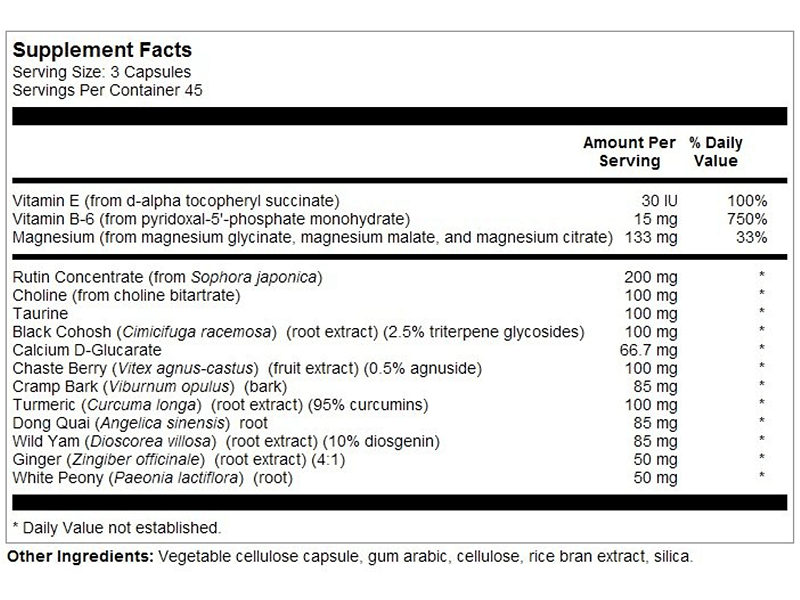 Main Ingredients
Vitamin E (from d-alpha tocopheryl succinate) - antioxidant that prevents free radical damage
Vitamin B-6 (from pyridoxal-5'-phosphate monohydrate) - enhances progesterone levels to reduce symptoms of irritability and fatigue
Magnesium (from magnesium glycinate, magnesium malate, and magnesium citrate) - maintains normal muscle and nerve function, supports a healthy immune system, regulates blood glucose levels, and more
Rutin Concentrate (from Sophora japonica) - antioxidant extracted from the medicinal herb Sophora japonica that helps prevent free radical damage
Choline (from choline bitartrate) - essential nutrient necessary for lipid transport and metabolism, cell membrane signaling, and other physiological functions
Taurine - amino acid taken to help liver detoxification of excess estrogens
Black Cohosh root extract (Cimicifuga racemosa) - phytoestrogenic herb scientifically proven to reduce PMS symptoms of anxiety, tension, and depression
Calcium D-Glucarate - calcium salt of D-glucaric acid that encourages healthy estrogen metabolism
Chaste berry fruit extract (Vitex agnus-castus) - phytoestrogenic herb that balances emotions and mood before and during menses
Cramp Bark (Viburnum opulus) - as its name suggests, this phytoestrogen is used to relieve menstrual cramps
Turmeric root extract (Curcuma longa) - curcumin, a bioactive compound found in turmeric, has anti-inflammatory and neurological effects
Dong Quai root (Angelica sinensis) - phytoestrogen added to help combat cramps, irregular periods, fatigue, and anemia from heavy flow
Wild Yam root extract (Diascorea villosa) - phytoestrogen believed to relieve various PMS symptoms
Ginger root extract (Zingiber officinale) - anti-inflammatory herb used for relieving pain before a period
White Peony root (Paeonia lactiflora) - herb traditionally used to relieve menstrual cramps
Other Ingredients
Vegetable cellulose capsule, gum arabic, cellulose, rice bran extract, silica
This supplement does not contain magnesium stearate or stearic acid.
Biofem PMS Safety & Side Effects
Biofem PMS Safety
Consult with your healthcare provider first before taking these supplements, especially if nursing. Do not use if you are pregnant. Discontinue use if adverse reactions occur upon consumption. Do not use if safety seal is broken or missing. Keep out of reach of children.
Side Effects of Biofem PMS
There is no mention of short- or long-term side effects on the Nutra BioGenesis website, nor is there mention of adverse reactions on Amazon due to so few reviews. However, our external research reveals that high doses of black cohosh can cause headaches, lightheadedness, uterine contractions, joint pain, slowed heart rate, lower blood pressure, and more. Black cohosh is not recommended for use more than six months at a time.
Biofem PMS Reviews
Amazon
(2 reviews – Average rating: 4.6 out of 5)
Just a couple reviews from customers who purchased a 135-capsule bottle:
Positive reviews are vague, mentioning that the product helps with PMS symptoms, but failing to mention which ones.
Negative reviews are not present on Amazon, possibly due to there being only two reviews online.
No further sources of reviews present on any other reputable website.
Additional Information
Directions
Take three capsules up to three times daily starting 10 days prior to menstruation. Continue taking the supplement through the third day of menstruation or as directed by your doctor. Store in a cool, dry place with the cap secured tightly.
Where to Buy Biofem PMS
Biofem PMS can be bought online directly from the company or through Amazon. It can also be purchased online from select retailers.
---
Nutra BioGenesis® Biofem PMS™ is a registered trademark.

By Anita Myers, Expert Reviewer | Updated Jun 18, 2020
I am truly passionate about helping others find the path to better health, wellness, and spirituality through yoga. I blog at Anita's Wellness Journey.
Sources
PubMed. (2002). Calcium-D-glucarate. Alternative Medicine Review: A Journal of Clinical Therapeutic, 7(4), 226-229. Retrieved March 22, 2019, from https://www.ncbi.nlm.nih.gov/pubmed/12197785
Amazon, https://amzn.to/2JDJ0z
Cancer Research UK. (2015). Black cohosh. Retrieved March 22, 2019, from http://www.cancerresearchuk.org/about-cancer/cancer-in-general/treatment/complementary-alternative-therapies/individual-therapies/black-cohosh
Central Family Practice, https://central-family-practice.myshopify.com/products/biofem-pms
National Institutes of Health. (2018). Choline. Retrieved March 22, 2019, from https://ods.od.nih.gov/factsheets/Choline-HealthProfessional/
Nutra Biogenesis, https://nutrabiogenesis.com/