Quick Facts
Company Snapshot
www.nestednaturals.com
Canada-based
Manufactured in the USA
Money-back guarantee
Customer support
1-866-992-3677
support@nestednaturals.com
Claimed efficacy for women going through the menopausal transition; results vary
No clinical research proving product effectiveness
Lifetime money-back guarantee
Price (via www.nestednaturals.com): $22 for a 60-capsule bottle
How Nested Naturals Menopause Care Works
Nested Naturals Menopause Care combines the potency of four herbs traditionally used and scientifically proven to relieve many of the symptoms of menopause. Dong quai's phytoestrogenic properties relieve women of estrogen-influenced symptoms, such as hot flashes and mood swings. Its chamomile content calms the mind for relaxed mood states and healthy sleeping patterns; milk thistle assists in detoxing the liver, and black cohosh is scientifically raved for its help in alleviating vasomotor symptoms, specifically hot flashes. Together, the herbs tackle perimenopause symptoms at their root cause, hormonal imbalance.
Nested Naturals Menopause Care Ingredients
Main ingredients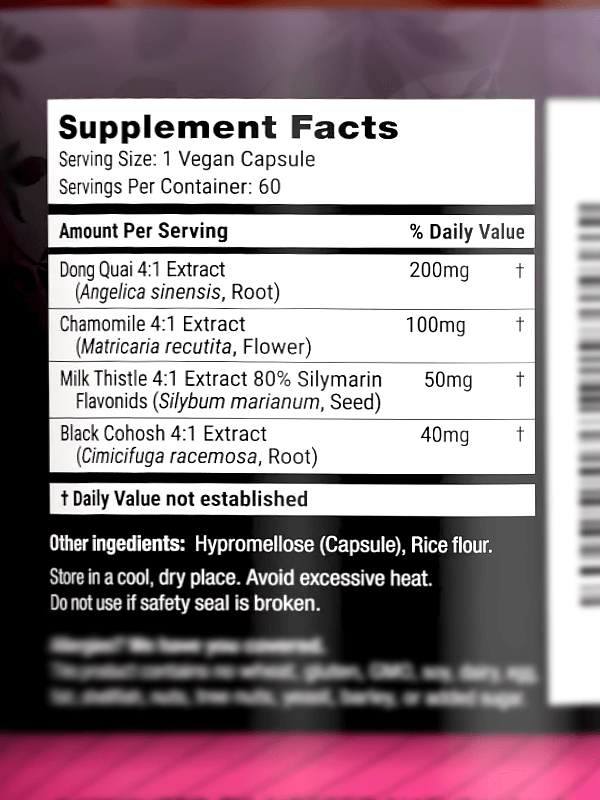 Dong Quai (Root Extract) (Angelica Sinensis) - phytoestrogenic herb traditionally used in Chinese medicine to treat menopausal symptoms and improves circulation
Chamomile (Flower Extract) - herb that encourages relaxation to calm anxiety and promote healthy sleep patterns1
Milk Thistle (Seed Extract) (Silybum Marianum) - antioxidant and anti-inflammatory herb supporting healthy liver function, which is necessary for hormonal balance2
Black Cohosh (Root Extract) (Cimicifuga Foetida) - scientifically proven to improve menopausal vasomotor symptoms, such as hot flashes3

Other ingredients
Rice Flour, Vegetable Cellulose (capsule)
These vegan supplements contain no wheat, gluten, GMO, soy, dairy, egg, fish, nuts, corn, yeast, shellfish or tree nuts.
Nested Naturals Menopause Care Safety & Side Effects
Nested Naturals Menopause Care Safety
Do not take this formula if you are taking prescription blood thinners. Also, some women may experience an increased sensitivity to sun exposure. Take extra care to protect yourself when outdoors, and avoid excessive heat. Consult your physician before use if pregnant, nursing, or have a serious medical condition. Do not use if safety seal is broken.
Side Effects of Nested Naturals Menopause Care
There are no side effects from taking this supplement mentioned on the company website. However, long-term use of black cohosh can cause liver damage and has been linked to a higher risk of developing uterine cancer and other hormone-dependent cancers.
Nested Naturals Menopause Care Reviews
Amazon
(360+ reviews - Average rating: 4.3 out of 5)
Reviews from customers who purchased a 60-capsule bottle:
Positive reviews claim Nested Naturals Menopause Care helped relieve them of various symptoms, including hot flashes, night sweats, mood swings, irritability, difficulty sleeping, anxiety, and more.
Negative reviews state the supplement caused symptoms of an upset stomach, bloating, hot flashes, allergic reactions, and more, aside from the fact that it didn't provide any relief.
No further sources of reviews present on any other reputable website. (Company website only has 7 listed.)
Additional Information
Directions

Take one capsule twice daily with water as needed. Store in a cool, dry place.
Where to Buy Nested Naturals Menopause Care
Nested Naturals Menopause Care can be purchased from Amazon or through the company website.
---
Nested Naturals® is a registered trademark.

By Anita Myers, Expert Reviewer | Updated Jun 18, 2020
I am truly passionate about helping others find the path to better health, wellness, and spirituality through yoga. I blog at Anita's Wellness Journey.
Sources
Amazon, https://amzn.to/2oFAGVV
Cancer Research UK. (2015). Black cohosh. Retrieved September 27, 2019, from https://www.cancerresearchuk.org/about-cancer/cancer-in-general/treatment/complementary-alternative-therapies/individual-therapies/black-cohosh
Memorial Sloan Kettering Cancer Center. (2019). Dong Quai. Retrieved September 27, 2019, from https://www.mskcc.org/cancer-care/integrative-medicine/herbs/dong-quai
Nested Naturals, https://nestednaturals.com/supplement/menopause-natural-care-supplement-to-relieve-hot-flashes/
Footnotes:
Srivastava, J.K. et al. (2010). Chamomile: A herbal medicine of the past with bright future. Molecular Medicine Reports, 3(6), 895-901. doi: 10.3892/mmr.2010.377
Federico, A. et al. (2017). Silymarin/Silybin and Chronic Liver Disease: A Marriage of Many Years. Molecules, 22(2), E191. doi: 10.3390/molecules22020191
Shams, T. et al. (2010). Efficacy of black cohosh-containing preparations on menopausal symptoms: a meta-analysis. Alternative Therapies in Health and Medicine, 16(1), 36-44. Retrieved September 27, 2019, from https://www.ncbi.nlm.nih.gov/pubmed/20085176