Quick Facts
Company Snapshot
www.progressivehealth.com/
Idaho-based
More than 20 years in business
Money-back guarantee
Customer support
888-482-6460
support@progressivehealth.com
7 AM - 7 PM EST
Effective for those suffering from PMS symptoms; results will vary
No clinical studies proving efficacy
180-day money-back guarantee
Price (via amazon.com): $9 for a 1-month supply
How Menstium Works
Several herbs found in Menstium have been used traditionally in Chinese medicine to relieve premenstrual maladies, such as chasteberry. The suppleent also contains the mineral magnesium, which has been scientifically found to reduce symptoms of bloating, breast tenderness, and weight gain during PMS. The ingredient list is rounded off with vitamins like B6, which is also studied to help allay symptoms of PMS.
Menstium Ingredients
Main Ingredients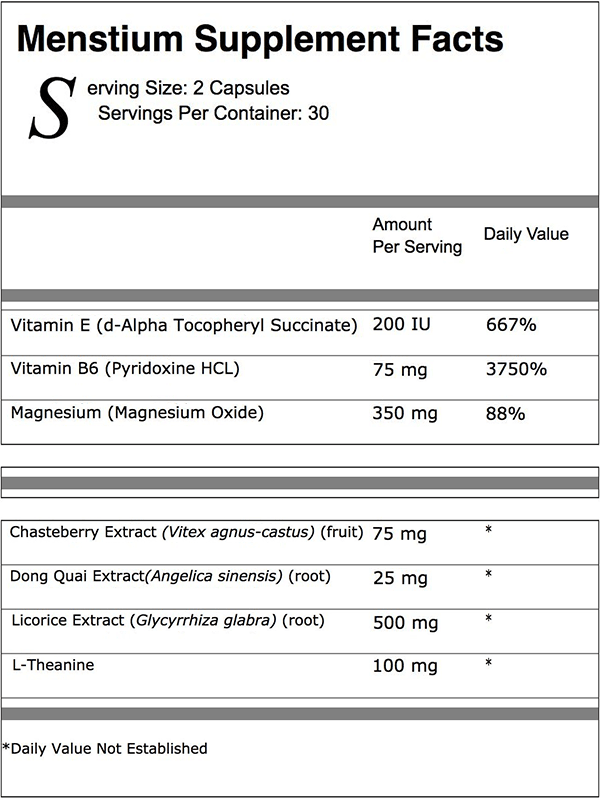 Vitamin E (d-Alpha Tocopheryl Succinate) - antioxidant that prevents free radical damage
Vitamin B6 (Pyridoxine HCL) - maintains normal nerve function, creates hemoglobin, breaks down proteins, and balances blood sugar
Magnesium (Magnesium Oxide) - maintains normal muscle and nerve function, supports a healthy immune system, regulates blood glucose levels, and more vital roles
Chasteberry Extract (Vitex agnus-castus) (fruit) - phytoestrogenic herb added that also balances emotions and mood before and during menses
Dong Quai Extract(Angelica sinensis) (root) - phytoestrogen added to help combat cramps, irregular periods, fatigue, and anemia from heavy flow
Licorice Extract (Glycyrrhiza glabra) (root) - herb that is traditionally used to alleviate pain and cramps characteristic of dysmenorrhea
L-Theanine - amino acid that helps relax the mind without causing drowsiness
Other Ingredients
Vegetarian Capsule (Hypromellose), Magnesium Stearate, Rice Powder
Menstium Safety & Side Effects
Menstium Safety
Please consult with your doctor before use if suffering from a health condition, especially those which are hormone-dependent. Also, do not use if the safety seal is broken or missing, and keep out of reach of children.
Side Effects of Menstium
There is no mention of short- or long-term side effects of Menstium, although the occurrence of headaches have been mentioned in an Amazon review. Use the supplement with caution and discontinue use if adverse reactions evolve.
Menstium Reviews
Amazon
(7 reviews - Average rating: 3.0 out of 5)
Extremely small sample pool from customers who purchased a 60-capsule bottle:
Positive reviews compliment the supplement for working against sleep disturbances, anxiety, and depression.
Negative reviews mention that the product caused headaches.
No further sources of reviews present on any other reputable website.
Additional Information
Directions
As a dietary supplement, take one capsule in the morning and one capsule in the afternoon with 8 ounces of water. Between 46 to 60 days of continuous use is necessary for optimum results.
Where to Buy Menstium
Menstium can be purchased on the company website or through Amazon.

By Anita Myers, Expert Reviewer | Updated Jun 18, 2020
I am truly passionate about helping others find the path to better health, wellness, and spirituality through yoga. I blog at Anita's Wellness Journey.
Sources
Amazon, https://amzn.to/2LX0k41
Nahid, F. et al. (2010). Evaluating the effect of magnesium and magnesium plus vitamin B6 supplement on the severity of premenstrual syndrome. Iranian Journal of Nursing and Midwifery Research, 15(Suppl 1), 401-405. Retrieved May 17, 2019, from https://www.ncbi.nlm.nih.gov/pmc/articles/PMC3208934/
Nobre, A.C. et al. (2008). L-theanine, a natural constituent in tea, and its effect on mental state. Asia Pacific Journal of Clinical Nutrition, 17 (Suppl 1), 167-168. Retrieved May 17, 2019, from https://www.ncbi.nlm.nih.gov/pubmed/18296328
Progressive Health, http://www.progressivehealth.com/catalog/menstium/