Quick Facts
Company Snapshot
lifeseasons.com/
Texas-based
Less than 10 years in business
Customer support
help@lifeseasons.com
940-455-2826
877-455-2826
Effective for those suffering from PMS symptoms; results will vary
No clinical studies proving efficacy
No money-back guarantee
Price (via lifeseasons.com): $30 for a 1-month supply
How LifeSeasons PreMense-T Works
LifeSeasons PreMense-T contains a proprietary blend of herbs and vitamins that support healthy menstrual cycles by nourishing reproductive organs and supporting uterine tissue tone and blood circulation. For example, the product's content of chaste berry supports the balance of estrogen and progesterone levels, while cramp bark - as its name suggests - helps soothe cramping and irritability. Likewise, anti-inflammatory ginger and vitamin B6 help relieve irritability, reduce fluid retention, and alleviate other PMS symptoms.
LifeSeasons PreMense-T Ingredients
Main ingredients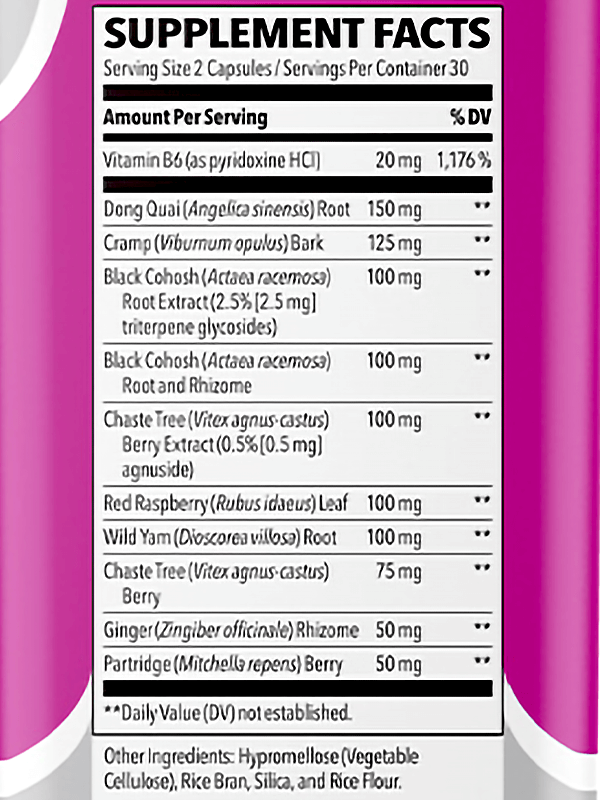 Vitamin B-6 (as pyridoxine hydrochloride) - maintains normal nerve function, creates hemoglobin, breaks down proteins, and balances blood sugar
Dong Quai root (Angelica sinensis) - phytoestrogen added to help combat cramps, irregular periods, fatigue, and anemia from heavy flow
Cramp Bark (Viburnum opulus) - as its name suggests, this phytoestrogen is used to relieve menstrual cramps
Black Cohosh root extract (Cimicifuga racemosa) - phytoestrogenic herb scientifically proven to reduce PMS symptoms of anxiety, tension, and depression
Wild Yam root (Diascoria villosa) - phytoestrogen believed to relieve various PMS symptoms
Red Raspberry leaf (Rubus idaeus & strigosus) - traditionally used as a uterine tonic and to treat heavy periods
Chaste berry (Vitex agnus-castus) - phytoestrogenic herb that balances emotions and mood before and during menses
Ginger root (Zingiber officinale) - anti-inflammatory herb used for relieving pain before a period
Squaw Vine (Mitchella repens) - herb implemented as a uterine tonic
Other ingredients
Vegetable cellulose, rice bran, rice flour, silica
This supplement does not contain artificial colors, gluten, preservatives, yeast, and milk.
LifeSeasons PreMense-T Safety & Side Effects
LifeSeasons PreMense-T Safety
Consult with your healthcare provider first before taking these supplements, especially if pregnant or nursing. Discontinue use if adverse reactions occur upon consumption. If the cap seal is broken or missing, refrain from using.
Side Effects of LifeSeasons PreMense-T
There is no mention of short- or long-term side effects of LifeSeasons PreMense-T. However, users on Amazon report adverse reactions of dizziness, heart palpitations, extreme mood swings, and insomnia.
LifeSeasons PreMense-T Reviews
Amazon
(20+ reviews - Average rating: 3.9 out of 5)
Reviews from customers who purchased a one-month supply:

Positive reviews rave PreMense-T for alleviating PMS symptoms of mood swings, cramps, irritability, anxiety, bloating, fatigue, and breast tenderness as well as for helping reduce heavy flows.
Negative reviews criticize the supplement for not working as well as for causing side effects of dizziness, insomnia, heart palpitations, and extreme mood swings.
LifeSeasons.com
(3 reviews - Average rating: 4.3 out of 5)
Minuscule sample size of reviews from customers who purchased a 60-capsule bottle:
Positive reviews praise the supplement for bringing control to their menstrual cycle patterns and relieving PMS symptoms.
Negative reviews are not present on company site.
No further sources of reviews present on any other reputable website.
Additional Information
Directions
Take capsules every morning with or without food. It is recommended to use consistently for at least a period of two months before expecting results. Keep out of reach of children.
Where to Buy LifeSeasons PreMense-T
LifeSeasons PreMense-T can be purchased from the company's website, Amazon, or select retailers, such as Whole Foods or the Vitamin Shoppe.
---
LifeSeasons® PreMense-T™ is a registered trademark.

By Anita Myers, Expert Reviewer | Updated Jun 18, 2020
I am truly passionate about helping others find the path to better health, wellness, and spirituality through yoga. I blog at Anita's Wellness Journey.
Sources
Amazon, https://amzn.to/2UI1Dnf
LifeSeasons. (n.d.). PreMense-T. Retrieved March 18, 2019, from https://lifeseasons.com/premense-t-pms-supplement
Livdans-Forret, A.B. et al. (2007). Menorrhagia: A synopsis of management focusing on herbal and nutritional supplements, and chiropractic. The Journal of the Canadian Chiropractic Association, 51(4), 235-246. Retrieved March 15, 2019, from https://www.ncbi.nlm.nih.gov/pmc/articles/PMC2077876/
Roemheld-Hamm, B. (2005). Chasteberry. American Family Physician, 72(5), 821-824. Retrieved March 15, 2019, from https://www.aafp.org/afp/2005/0901/p821.html