Quick Facts
Company Snapshot
www.leslabs.com
California-based
Manufactured in the USA
Money-back guarantee
Customer support
1-877-567-5370
support@leslabs.com
No clinical studies of the supplement proving satisfactory effects on ovulatory function
Effective for those trying to conceive naturally; results will vary
60-day money-back guarantee
Price: $30 for a 60-capsule bottle
How LES Labs Fertility Health Works
LES Labs Fertility Health supports a healthy menstrual cycle and female hormonal balance. Its natural ingredients are safe for those trying to conceive as well as those looking to treat endocrine disorders. Among its formula are myo-inositol, a vitamin-like compound that promotes hormonal balance, especially in those with PCOS; DIM for healthy estrogen metabolism; folate that supports all stages of conception; and chaste tree berry, which has been used for centuries to regulate ovulation. The research-backed vitamins included make this fertility supplement a well-rounded option for those wanting to promote optimal reproductive health.
LES Labs Fertility Health Ingredients
Main ingredients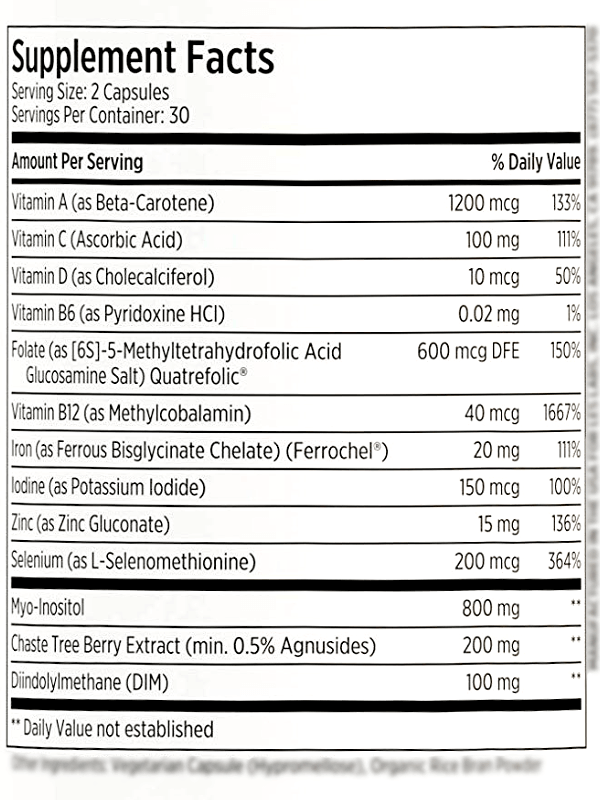 Vitamin A (as Beta-Carotene) - found essential for normal female reproductive function and embryonic events throughout pregnancy1
Vitamin C (Ascorbic Acid) - scientifically researched to increase serum progesterone levels in women with luteal phase defect; dietary supplementation may reduce risk of birth defects2
Vitamin D (as Cholecalciferol) - found to improve insulin resistance in women with PCOS3
Vitamin B6 (as Pyridoxine HCl) - reduces the risk of ovulatory infertility; important for enzyme function and protein metabolism; infertile women found to have lower levels than fertile women4
Folate (as [6S]-5-Methyltetrahydrofolic Acid Glucosamine Salt) Quatrefolic® - mineral that positively influences oocyte quality and maturation, implantation, placentation, fetal growth, and organ development
Vitamin B12 (as Methylcobalamin) - essential for cell reproduction; can reduce the risk of miscarriage; insufficient levels reported in more than half of infertile women4
Iron (as Ferrous Bisglycinate Chelate) (Ferrochel®) - when taken alongside vitamin C, which increases its absorption, iron can help women regain or boost fertility
Iodine (as Potassium Iodide) - regulates metabolism, bone growth, and brain development; deficiency could lead to delayed pregnancy5
Zinc (as Zinc Gluconate) - essential component of genetic material; deficiency can cause hormonal imbalance, reduced fertility, and increased miscarriage risk
Selenium (as L-Selenomethionine) - used to make antioxidants that protect your body from free radical damage; can prevent chromosomal breakage, which can cause birth defects and miscarriage
Myo-Inositol - belongs to the vitamin B complex group and is produced from glucose; encourages healthy insulin and testosterone levels6
Chaste Tree Berry Extract (min. 0.5% Agnusides) - phytoestrogenic herb added to help regulate ovulatory function
Diindolylmethane (DIM) - compound found in cruciferous vegetables that promotes hormonal balance by aiding in estrogen metabolism, reducing the ratio of stronger estrogens to weaker ones7

Other ingredients
Vegetarian Capsule (Hypromellose), Organic Rice Bran Powder
LES Labs Fertility Health Safety & Side Effects
LES Labs Fertility Health Safety
Pregnant or lactating women and those undergoing treatment for a medical condition should consult a physician before taking this supplement. Keep out of reach of children.
Side Effects of LES Labs Fertility Health
LES Labs does not report any side effects that can be induced by taking their fertility supplement. However, reviewers claim it may cause allergic reactions and gastrointestinal issues.
LES Labs Fertility Health Reviews
Amazon
(50+ reviews - Average rating: 4.0 out of 5)
Reviews from customers who purchased a 60-capsule bottle:
Positive reviews recommend taking Fertility Health because it helped them restore ovulation after having children, coming off of birth control, and for those with PCOS. They also claim it aids with hormonal acne and other PMS symptoms.
Negative reviews discredit the fertility supplement for causing itchy skin and gastrointestinal distress (from DIM) as well as for simply not working.
No further sources of reviews present on any other reputable website. (Reviews on LES Labs' website appear to come from Amazon.)
Additional Information
Directions
Take two capsules daily or as recommended by your overseeing doctor.
Where to Buy LES Labs Fertility Health
LES Labs Fertility Health can be purchased from Amazon or through the company website.
---
LES Labs® is a registered trademark.

By Anita Myers, Expert Reviewer | Updated Jun 18, 2020
I am truly passionate about helping others find the path to better health, wellness, and spirituality through yoga. I blog at Anita's Wellness Journey.
Sources
Amazon, https://amzn.to/2nOK6yk
Chavarro, J.E. et al. (2008). Use of multivitamins, intake of B vitamins and risk of ovulatory infertility. Fertility and Sterility, 89(3), 668-676. doi: 10.1016/j.fertnstert.2007.03.089
Ebisch, I.M. et al. (2007). The importance of folate, zinc and antioxidants in the pathogenesis and prevention of subfertility. Human Reproduction Update, 13(2), 163-174. doi: 10.1093/humupd/dml054
Glenville, M. (2008). Boost Your Fertility. USA: Fair Winds Press. Available from Google Books.
LES Labs, https://www.leslabs.com/products/fertility-health
Footnotes:
Maheswari, A. et al. (2014). Vitamin A Deficiency and Female Fertility Problems: A Case Report and Mini Review of the Literature. Journal of Women's Health Care, 3(6), 317. doi: 10.4172/2167-0420.1000210
Henmi, H. et al. (2003). Effects of ascorbic acid supplementation on serum progesterone levels in patients with a luteal phase defect. Fertility and Sterility, 80(2), 459-461. doi: 10.1016/S0015-0282(03)00657-5
Grzechocinska, B. et al. (2013). The role of vitamin D in impaired fertility treatment. Neuro Endocrinology Letters, 34(8), 756-762. Retrieved September 13, 2019, from https://www.ncbi.nlm.nih.gov/pubmed/24522025

Schaefer, E. & Nock, D. (2019). The Impact of Preconceptional Multiple-Micronutrient Supplementation on Female Fertility. Clinical Medicine Insights: Women's Health, 12. doi: 10.1177/1179562X19843868
National Institutes of Health. (2018). Iodine deficiency may reduce pregnancy changes, NIH study suggests. Retrieved September 27, 2019, from https://www.nih.gov/news-events/news-releases/iodine-deficiency-may-reduce-pregnancy-chances-nih-study-suggests
Constantino, D. et al. (2009). Metabolic and hormonal effects of myo-inositol in women with polycystic ovary syndrome: a double-blind trial. European Review for Medical and Pharmacological Sciences, 13(2), 105-110. Retrieved September 27, 2019, from https://www.ncbi.nlm.nih.gov/pubmed/19499845

Harvard Health Publishing. (2014). By the way, doctor: What does Indolplex do? Retrieved September 27, 2019, from https://www.health.harvard.edu/newsletter_article/By_the_way_doctor_What_does_Indolplex_do