Quick Facts
Company Snapshot
www.herbapexusa.com/
Boston-distributed
Product of India
Customer support
Effective for those suffering from PMS symptoms; results will vary
No clinical studies proving efficacy
No money-back guarantee
Price (via herbapexusa.com): around $15 for a 90-capsule bottle
How HERBAPEX Period Care & PMS HBRX Works
HERBAPEX Period Care & PMS HBRX contains a blend of Ayurvedic herbs that have been traditionally used in herbal medicine to maintain normal hormone levels and, thus, help relieve a variety of PMS symptoms, from headaches and lower back pain to water weight gain, mood disturbances, cramping, and more.
HERBAPEX Period Care & PMS HBRX Ingredients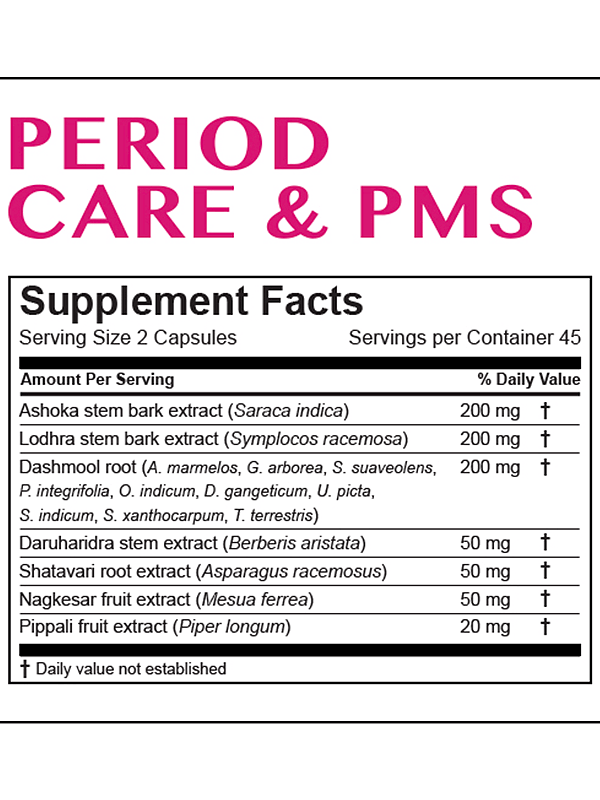 Main Ingredients
Ashoka stem bark extract (Saraca indica) - medicinal plant traditionally used to treat menorrhagia, periods with abnormally long or heavy bleeding
Lodhra stem bark extract (Symplocos racemosa) - Indian medicinal plant traditionally used for gynecological disorders and scientifically studied to be effective in the treatment of high androgen levels in polycystic ovary syndrome (PCOS) in rat models
Dashmool root - anti-inflammatory, 10-root powder that is traditionally used to relieve pain as a uterine tonic

Daruharidra stem extract (Berberis aristata) - used in herbal medicine to regulate periods, including irregularities and menstrual pains
Shatavari root extract (Asparagus racemosus) - phytoestrogenic herb traditionally implemented to regulate hormonal secretion, thus balancing moods
Nagkesar fruit extract (Mesua ferrea) - antibacterial herb that reduces and regulates excessive bleeding
Pippali fruit extract (Piper longum) - traditional Ayurvedic herb with antidepressant, antioxidant, and anti-inflammatory pharmacological activities
Other Ingredients
Vegetarian capsule (Hydroxypropyl Methylcellulose)
This supplement is gluten-, dairy-, and soy-free as well as non-GMO.
HERBAPEX Period Care & PMS HBRX Safety & Side Effects
HERBAPEX Period Care & PMS HBRX Safety
Please consult with your doctor before use if you are pregnant, nursing, or on a prescribed medication. Do not use if the safety seal is broken or missing. Keep out of reach of children and out of direct sunlight.
Side Effects of HERBAPEX Period Care & PMS HBRX
There is no mention of short- or long-term side effects. Use the supplement with caution and discontinue use if adverse reactions evolve.
HERBAPEX Period Care & PMS HBRX Reviews
HerbapexUSA.com
(10 reviews – Average rating: 4.9 out of 5)
Extremely small sample pool from customers who purchased a 90-capsule bottle:
Positive reviews compliment the supplement for working to alleviate mood swings, stomach pains, insomnia, depressed moods, and more.
Negative reviews are not present on the company website, but one consumer does complain of the length of time it takes for it to become effective.
No further sources of reviews present on any other reputable website.
Additional Information
Directions
Take two capsules twice daily with meals as a dietary supplement.
Where to Buy HERBAPEX Period Care & PMS HBRX
HERBAPEX Period Care & PMS HBRX can be purchased on the company website or through Amazon.
---
HERBAPEX™ Period Care & PMS HBRX™ is a registered trademark.

By Anita Myers, Expert Reviewer | Updated Jun 18, 2020
I am truly passionate about helping others find the path to better health, wellness, and spirituality through yoga. I blog at Anita's Wellness Journey.
Sources
Amazon, https://amzn.to/2IPofzX
Aruldass, C.A. et al. (2013). Effects of Mesua ferrea leaf and fruit extracts on growth and morphology of Staphylococcus aureus. Microscopy and Microanalysis, 19(1), 254-260. Doi: 10.1017/S1431927612013785
HERBAPEX, https://www.herbapexusa.com/period-care-and-pms-hbrx.html#SeeReviewDiv
Jadhav, M. et al. (2013). Anti-androgenic effect of Symplocos racemosa Roxb. against letrozole induced polycystic ovary using rat model. Journal of Coastal Life Medicine, 1(4), 309-314. doi: 10.12980/JCLM.1.2013C79
Kumar, S. et al. (2011). Overview for Various Aspects of the Health Benefits of Piper Longum Linn. Fruit. Journal of Acupuncture and Meridian Studies, 4(2), 134-140. doi: 10.1016/S2005-2901(11)60020-4
Yadav, N.K. et al. (2015). Saraca indica Bark Extract Shows In Vitro Antioxidant, Antibreast Cancer Activity and Does Not Exhibit Toxicological Effects. Oxidative Medicine and Cellular Longevity, 2015, 1-15. doi: 10.1155/2015/205360