Quick Facts
Company Snapshot
flovitamins.com/
California-based
The number of years in business is indeterminate
Customer support
Effective for those suffering from PMS symptoms; results will vary
No clinical studies proving efficacy
60-day money-back guarantee
Price (via flovitamins.com): $30 for a 1-month supply
How FLO PMS Gummy Vitamins Work
FLO PMS Gummy Vitamins consist of a proprietary blend of the phytoestrogenic herbs chasteberry and dong quai alongside vitamin B6. Chasteberry has been in use for thousands of years for its effects in indirectly increasing the secretion of luteinizing hormone, which increases progesterone to relieve anxiety and other emotional symptoms of PMS, while dong quai healthily balances estrogen levels to thus relieve cramps and provoke a calming effect in the body.
FLO PMS Gummy Vitamins Ingredients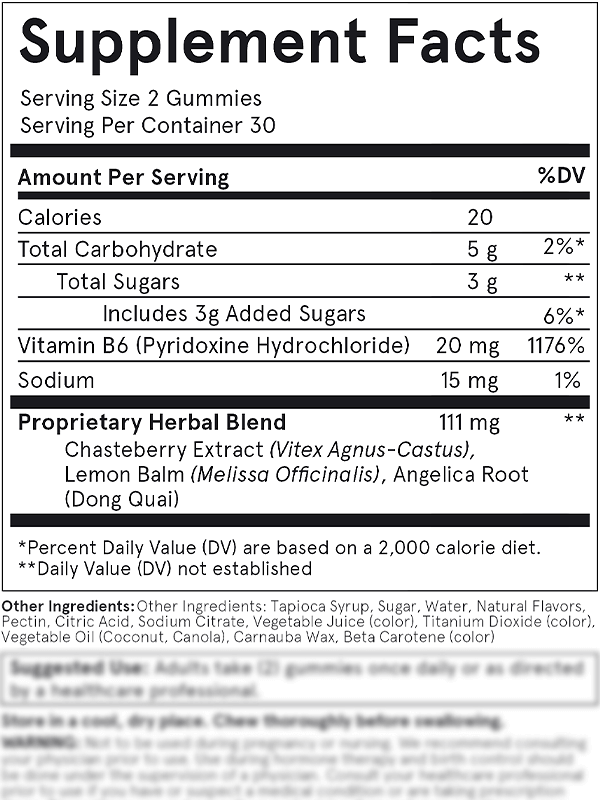 Main ingredients
Vitamin B6 (as pyridoxine hydrochloride) - maintains normal nerve function, creates hemoglobin, breaks down proteins, and balances blood sugar
Vitex Agnus-Castus (Chasteberry Extract) - phytoestrogenic herb that balances emotions and mood before and during menses
Maltodextrin - food additive that serves to improve texture, flavor, and shelf life
Melissa Officinalis (Lemon Balm) - herb traditionally used to ease stress and anxiety
Angelica Sinensis (Dong Quai) - phytoestrogen added to help combat cramps, irregular periods, fatigue, and anemia from heavy flow
Other ingredients
Tapioca syrup, sugar, natural flavors, vegetable juice (color), titanium dioxide (color), beta-carotene (color), pectin, organic tapioca maltodextrin, citric acid, sodium citrate, organic sunflower oil, organic carnauba wax
This supplement does not contain gluten and is non-GMO and vegan.
FLO PMS Gummy Vitamins Safety & Side Effects
FLO PMS Gummy Vitamins Safety
FLO PMS Gummy Vitamins are not to be used when pregnant or nursing. If pursuing hormone therapy, on other medications, or suspect a medical condition, consult your doctor before use. Discontinue use if adverse reactions occur upon consumption. If the cap seal is broken or missing, refrain from using.
Side Effects of FLO PMS Gummy Vitamins
There is no mention of short- or long-term side effects of FLO PMS Gummy Vitamins. However, users on Amazon mention adverse reactions of bloating and cramping among those who suffer from endometriosis and heavy periods.
FLO PMS Gummy Vitamins Reviews
Amazon
(25+ reviews - Average rating: 4.5 out of 5)
Small sample of reviews from customers who purchased a one-month supply:
Positive reviews rave FLO for easing PMS symptoms of irritability, mood swings, cramps, acne, cravings, anxiety, and bloating as well as for its apparently delightful taste.
Negative reviews criticize the supplement for worsening symptoms of cramping and bloating in those with endometriosis, cramping, and heavy periods in general.
FLOvitamins.com
(30 reviews - Average rating: 5 out of 5)
Reviews from customers who purchased a 60-capsule bottle:
Positive reviews praise the supplement for its pleasant taste and ability to relieve cramps, bloating, acne, mood swings, and more.
Negative reviews are not present on company site, yet some reviews appear to be exact duplicates of those from Amazon.
No further sources of reviews present on any other reputable website.
Additional Information
Directions
Take two gummies daily. Chew thoroughly before swallowing. It may take two full cycles to feel its effects. Store in a cool, dry place, and keep out of reach of children.
Where to Buy FLO PMS Gummy Vitamins
FLO PMS Gummy Vitamins can be purchased from the company's online website or Amazon.

By Anita Myers, Expert Reviewer | Updated Jun 18, 2020
I am truly passionate about helping others find the path to better health, wellness, and spirituality through yoga. I blog at Anita's Wellness Journey.
Sources
Amazon, https://amzn.to/2XPsiQR
FLO, https://flovitamins.com/