Quick Facts
Company Snapshot
www.metagenics.com/
California-based
20+ years on the market
Money-back guarantee
Clinical research showing rhapontic rhubarb reduces peri- and postmenopausal symptoms
Effective for those going through the menopausal transition; results will vary
Partial money-back guarantee offered when purchased through participating physicians (refund available for up to $34.95 for 30 tablets and up to $94.95 for 90 tablets)
Price (via Amazon): around $50 for 1-month supply
How Estrovera Works
Metagenics' - the company that produces Estrovera - site and the official Estrovera website do not explicitly explain how the supplement works to combat menopausal symptoms. However, external research shows that the main ingredient, rhubarb root extract (ERr), contains phytoestrogens, which act similarly to endogenous estrogens in filling the hormonal void.
Estrovera Ingredients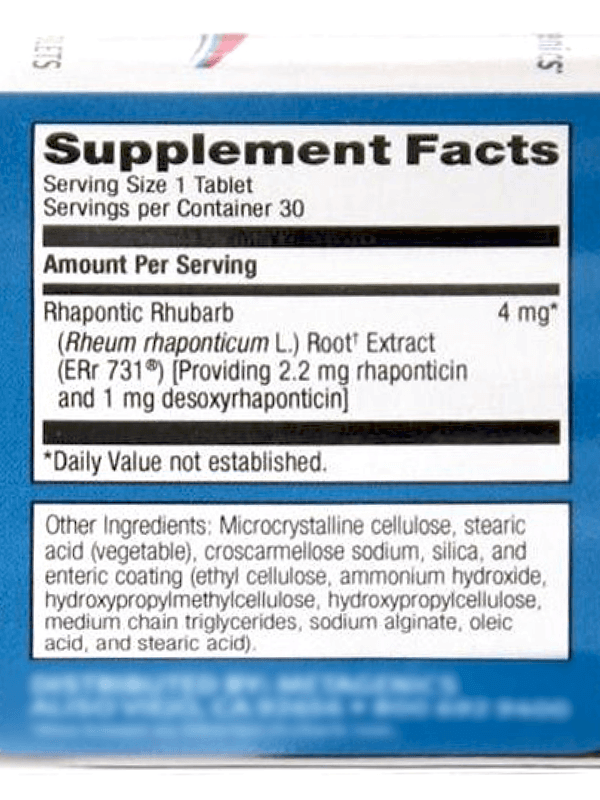 Main Ingredients
Siberian rhubarb root extract (ERr 731®) - originating from eastern Europe, a phytoestrogen proven to reduce the frequency and severity of menopausal symptoms
Other Ingredients
Microcrystalline cellulose, stearic acid (vegetable), croscarmellose sodium, silica, and enteric coating (ethyl cellulose, hydroxypropyl-methylcellulose, medium-chain triglycerides, ammonium hydroxide, sodium alginate, hydroxypropylcelulose, oleic acid, and stearic acid).
This product is non-GMO, gluten-free, and vegetarian.
Estrovera Safety & Side Effects
Estrovera Safety
There is no information presented on the company website pertaining to safety for long-term use. Regardless, this menopause supplement is not recommended for women who are pregnant or breastfeeding. It is also contraindicated for those with known or suspected estrogen-dependent cancers. If taking any type of medication, speak with your doctor before using Estrovera. Keep this product closed tightly in a cool, dry place.
Side Effects of Estrovera
The official Estrovera website does not list any side effects. Even so, the supplement is well tolerated by most of the women who take it. For those who did exhibit side effects, some mentioned include digestive upsets (gas, bloating); depression; swollen and tender breasts; constipation; dizziness; and more.
Estrovera Reviews
Amazon
(250+ reviews - Average rating: 3.8 out of 5)
Reviews from customers who purchased a 30-day supply:
Positive reviews compliment Estrovera for relief from hot flashes, difficulty concentrating, irritability, fatigue, night sweats, insomnia, and more.
Negative reviews berate the product for its ineffectiveness, high cost, dangerous inactive ingredients, and side effects of gas, bloating, and stomach upset.
No further sources of reviews present on other reputable websites.
Additional Information
Directions
Take one tablet daily with a glass of water and food. Take the tablet at the same time each day or as advised by a doctor. If taking other medications simultaneously, consult with a trusted healthcare professional first before consumption.
Where to Buy Estrovera
Estrovera can be purchased directly from Amazon. If trying to purchase Estrovera from the product page (www.estrovera.com) or the manufacturer's website (https://www.metagenics.com/estrovera), you will be directed to purchase the supplement from a participating practitioner.

---
Estrovera™ is a registered trademark.

By Anita Myers, Expert Reviewer | Updated Jun 18, 2020
I am truly passionate about helping others find the path to better health, wellness, and spirituality through yoga. I blog at Anita's Wellness Journey.
Sources
Amazon, https://amzn.to/2Ei1YUt

Estrovera, www.estrovera.com

Heger, M. et al. (2006). Efficacy and safety of a special extract of Rheum rhaponticum (ERr 731) in perimenopausal women with climacteric complaints: a 12-week randomized, double-blind, placebo-controlled trial. Menopause, 13(5), 744-759. Retrieved March 21, 2019, from https://www.ncbi.nlm.nih.gov/pubmed/16894335

Metagenics Estrovera, https://www.metagenics.com/estrovera

Vollmer, G. et al. (2010). Treatment of menopausal symptoms by an extract from the roots of rhapontic rhubarb: the role of estrogen receptors. Chinese Medicine, 5:7. doi: 10.1186/1749-8546-5-7