Quick Facts
Company Snapshot
eunatural.com/
Nevada-based
Less than 10 years in business
Money-back guarantee
Customer support
408-256-1387
info@eunatural.com
No clinical studies of the supplement proving favorable effects on ovulatory function
Effective for those trying to conceive naturally; results will vary
90-day money-back guarantee
Price (via store.eunatural.com): $30 for a 60-capsule bottle
How CONCEPTION Works
CONCEPTION is a fertility supplement that doubles as a prenatal supplement. Its formula includes essential nutrients needed for menstrual cycle health - such as myo-inositol, which has been proven to improve insulin resistance in women with polycystic ovary syndrome (PCOS), a main contributor to infertility - as well as those necessary for a healthy pregnancy, like folic acid, which helps prevent neural tube defects. With its proprietary blend of phytoestrogenic herbs, vitamins, and minerals, this supplement helps women achieve hormonal balance for successful conception.
CONCEPTION Female Fertility Prenatal Ingredients
Main ingredients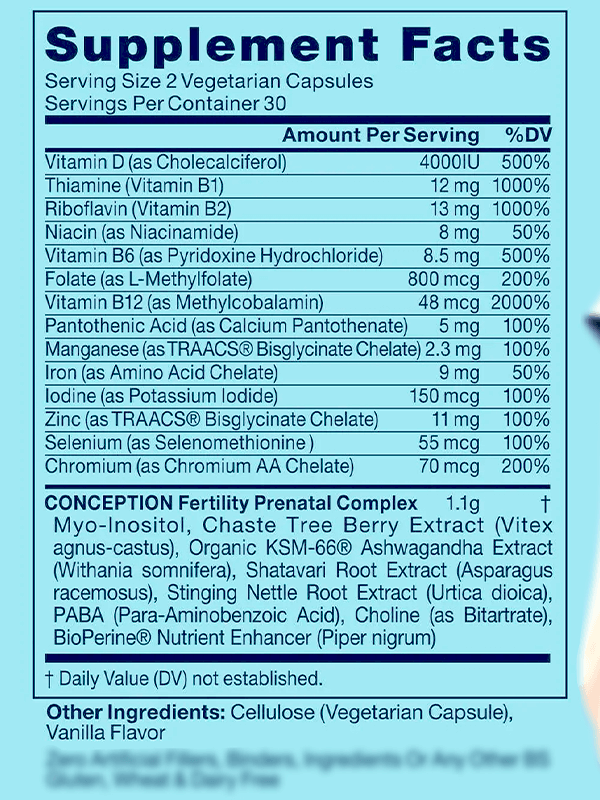 Vitamin D (as Cholecalciferol) - scientifically proven to modulate reproductive processes in men and women; well-known for maintaining healthy calcium and phosphorus levels for bone health
Thiamin (as Thiamine Hydrochloride) - helps with the process of changing carbs into energy and supports nerve signal transmission
Riboflavin (vitamin B2) - essential component of enzymes that assist in bodily energy production, cell function, and drug and fat metabolism
Niacin (as Niacinamide) - helps the body lower cholesterol and improve circulation
Vitamin B6 (as Pyridoxine Hydrochloride) - maintains normal nerve function, creates hemoglobin, breaks down proteins, and balances blood sugar
Folate (as L-Methylfolate) - mineral that positive influences oocyte quality and maturation, implantation, placentation, fetal growth, and organ development
Vitamin B12 (as Methylcobalamin) - contributes to healthy brain and nervous system functioning
Pantothenic Acid (as Calcium Pantothenate) - promotes conversion of protein, carbs, and fats into energy
Iron (as Amino Acid Chelate) - essential mineral for blood production and transfer of oxygen from the lungs to the tissues
Iodine (as Potassium Iodide) - supports healthy thyroid function
Zinc (TRAACS® Bisglycinate Chelate) - antioxidant mineral that plays an important role in ovulation
Selenium (as L-Selenomethionine) - trace mineral that helps the body to produce antioxidant enzymes
Manganese (as TRAACS® Bisglycinate Chelate) - mineral that is necessary for healthy ovulatory patterns
Chromium (as Amino Acid Chelate) - mineral useful in PCOS to reduce insulin resistance and stimulate ovulation
Myo-Inositol - belongs to the vitamin B complex group and is produced from glucose; encourages healthy insulin and testosterone levels
Chaste Tree Berry Extract (Vitex agnus-castus) - phytoestrogenic herb added to help regulate ovulation
Organic KSM-66® Ashwagandha Extract (Withania somnifera) - adaptogenic, Ayurvedic herb traditionally taken to improve sexual function and support healthy fertility in women
Shatavaria Root Extract (Asparagus racemosus) - phytoestrogenic herb traditionally used to regulate hormonal secretion, thus balancing moods
Stinging Nettle Root Extract (Urtica dioica) - effect on fertility has yet to be scientifically studied, but has been shown to reduce inflammation in the body
PABA (Para-Aminobenzoic Acid) - antioxidant that prevents free radical damage
Choline (as Bitartrate) - essential nutrient necessary for lipid transport and metabolism, cell membrane signaling, and other physiological functions
BioPerine Nutrient Enhancer (Piper nigrum) - causes an increase in the bioavailability of the other ingredients
Other ingredients
Cellulose (Vegetarian Capsule)
This supplement does not contain fillers, binders, artificial ingredients, gluten, or wheat. KSM-66® contains a milk derivative. It is not tested on animals.
CONCEPTION Female Fertility Prenatal Safety & Side Effects
CONCEPTION Safety
Consult with your healthcare professional before use, especially if taking simultaneously with other medications or natural supplements.
Side Effects of CONCEPTION
CONCEPTION may cause side effects of nausea, cramping, acne, or changes in urine color. If these adverse reactions occur, take only one capsule.
CONCEPTION Female Fertility Prenatal Reviews
Amazon
(1,600+ reviews - Average rating: 3.8 out of 5)
Reviews from customers who purchased a 60-capsule bottle:
Positive reviews praise CONCEPTION for allowing them to get pregnant after years of trying, especially women who suffer from PCOS and menstrual irregularities in general.
Negative reviews demote the product for causing acne, B6 toxicity (causing seizures and neurological problems), headaches, stomach pains, constipation, irregular bleeding, and more.
Walmart
(12 reviews - Average rating: 4.5 out of 5)
Small sample of reviews from customers who purchased a 60-capsule bottle:
Positive reviews are happy for the product being able to normalize ovulation and periods after months of irregularities.
Negative reviews mention the product leads to color or other urine changes and that it simply doesn't work.
Ebay
(14 reviews - Average rating: 4.9 out of 5)
Small sample of reviews from customers who purchased a 60-capsule bottle:
Positive reviews rave the product's effectiveness in balancing hormones quickly after starting supplementation.
Negative reviews are not found on Ebay.
No further sources of reviews present on any other website.
Additional Information
Directions
When first starting off, during the first 2 weeks, take 1 capsule daily with food and 8 oz. of water. After this adjustment period, take 2 capsules daily. Once conception is achieved, women may continue use through the first trimester.
Where to Buy CONCEPTION
CONCEPTION can be purchased from stores like Walmart. It may also be acquired directly from the company website or through Amazon or Ebay.

By Anita Myers, Expert Reviewer | Updated Jun 18, 2020
I am truly passionate about helping others find the path to better health, wellness, and spirituality through yoga. I blog at Anita's Wellness Journey.
Sources
Amazon, https://amzn.to/2YDR4TK
American Society for Nutrition. (2018). A Diet Low in Manganese Increases Complications with Ovulation and May Impact Fertility. Retrieved May 17, 2019, from https://nutrition.org/a-diet-low-in-manganese-increases-complications-with-ovulation-and-may-impact-fertility/
Ashoush, S. et al. (2015). Chromium picolinate reduces insulin resistance in polycystic ovary syndrome: Randomized controlled trial. The Journal of Obstetrics and Gynaecology Research, 42(3), 279-285. doi: 10.1111/jog.12907
Constantino, D. et al. (2009). Metabolic and hormonal effects of myo-inositol in women with polycystic ovary syndrome: a double-blind trial. European Review for Medical and Pharmacological Sciences, 13(2), 105-110. Retrieved May 17, 2019, from https://www.ncbi.nlm.nih.gov/pubmed/19499845
Dongre, S. et al. (2015). Efficacy and Safety of Ashwagandha (Withania somnifera) Root Extract in Improving Sexual Function in Women: A Pilot Study. BioMed Research International, 2015. doi: 10.1155/2015/284154
Ebay, https://www.ebay.com/itm/CONCEPTION-Fertility-Prenatal-Vitamins-Regulate-Your-Cycle-Balance-Hormones-/253585085636
Ebisch, I.M. et al. (2007). The importance of folate, zinc and antioxidants in the pathogenesis and prevention of subfertility. Human Reproduction Update, 13(2), 163-174. doi: 10.1093/humupd/dml054
EU Natural, https://store.eunatural.com/products/conception-female-fertility-prenatal
Kesarwani, K. & Gupta, R. (2013). Bioavailability enhancers of herbal origin: An overview. Asian Pacific Journal of Tropical Biomedicine, 3(4), 253-266. doi: 10.1016/S2221-1691(13)60060-X
Lerchbaum, E. & Obermayer-Pietsch, B. (2012). Vitamin D and fertility: a systematic review. European Journal of Endocrinology, 166(5), 765-778. doi: 10.1530/EJE-11-0984
MedlinePlus. (2018). Selenium in diet | Zinc in diet | Niacin. Retrieved October 31, 2018, from https://medlineplus.gov/ency/article/002414.htm | https://medlineplus.gov/ency/article/002416.htm | https://medlineplus.gov/druginfo/natural/924.html
National Institutes of Health. (2018). Choline. Retrieved May 17, 2019, from https://ods.od.nih.gov/factsheets/Choline-HealthProfessional/
Regidor, P.A. & Schindler, A.E. (2016). Myoinositol as a Safe and Alternative Approach in the Treatment of Infertile PCOS Women: A German Observational Study. International Journal of Endocrinology, 2016, 9537632. Doi: 10.1155/2016/9537632
Walmart, https://www.walmart.com/ip/CONCEPTION-Fertility-Prenatal-Vitamins-Regulate-Cycle-Balance-Hormones-Aid-Ovulation-Myo-Inositol-Vitex-Folate-Folic-Acid-60-Vegetarian-Soft-Capsules/966393445