Quick Facts
Company Snapshot
concepta.solutions.com
Florida-based
Money-back guarantee
Customer support
866-626-9277
support@concepta.solutions
No clinical studies of the supplement proving favorable effects on ovulatory function
Effective for those trying to conceive naturally; results will vary
Lifetime money-back guarantee
Price (via amazon.com): $23 for a 90-capsule bottle
How Women's Fertility Boost Works
Women's Fertility Boost combines the strength of vitamins, minerals, and traditional herbs to provide women with a natural solution to an enhanced fertility and improved libido. Its myo-inositol and ashwagandha content is acclaimed to benefit women suffering from PCOS, while tribulus and vitex are added for menstrual regularity and maca for optimal endocrine system function. In total, this dietary supplement works to improve ovulation and egg quality to promote natural reproductive function.
Women's Fertility Boost Ingredients
Main ingredients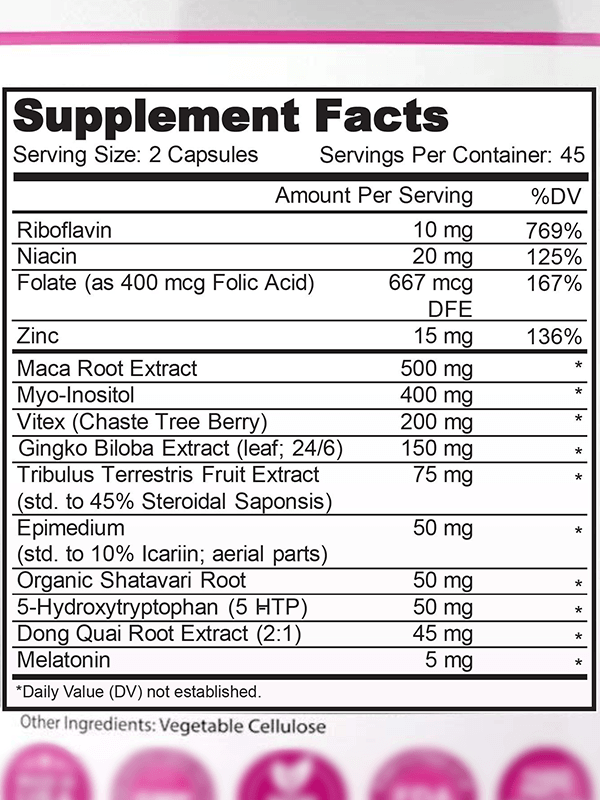 Riboflavin - essential component of enzymes that assist in bodily energy production, cell function, and drug and fat metabolism
Niacin - helps the body lower cholesterol and improve circulation
Folate (as 400 mcg Folic Acid) - mineral that positively influences oocyte quality and maturation, implantation, placentation, fetal growth, and organ development
Zinc - antioxidant mineral that plays an important role in ovulation
Maca Root Extract - Peruvian herb scientifically proven to alleviate psychological and physical symptoms of hormonal imbalance
Myo-Inositol - belongs to the vitamin B complex group and is produced from glucose; encourages healthy insulin and testosterone levels
Vitex (Chaste Tree Berry) - phytoestrogenic herb added to help regulate ovulation
Ginkgo Biloba Extract (leaf) - herb commonly believed to benefit brain function and act as an antioxidant
Tribulus Terrestris Fruit Extract - traditional Chinese herb taken to normalize ovulation and improve symptoms of sexual disorders
Epimedium - Traditional Chinese Medicine herb that is acclaimed to produce aphrodisiac effects
Organic Shatavari Root - phytoestrogenic herb traditionally used to regulate hormonal secretion, thus balancing moods
5-Hydroxytryptophan (5 HTP) - used by the body to make serotonin
Dong Quai Root Extract - phytoestrogen that combats cramps, irregular periods, fatigue, and anemia from heavy flow
Melatonin - hormone that regulates sleep cycles; important for normal nerve and brain function
Other ingredients
Vegetable Cellulose
This supplement does not contain gluten, nuts, dairy, fish, eggs, wheat, soy, preservatives, or animal derivatives.
Women's Fertility Boost Safety & Side Effects
Women's Fertility Boost Safety
Consult with your healthcare professional before use, especially if taking simultaneously with other medications or natural supplements. Do not use if safety seal is broken or missing.
Side Effects of Women's Fertility Boost
Women's Fertility Boost may cause side effects of upset stomach, headaches, and more. If side effects are too intense, the company encourages customers to contact them for a full refund.
Women's Fertility Boost Reviews
Amazon
(180 reviews - Average rating: 3.8 out of 5)
Reviews from customers who purchased a 90-capsule bottle:
Positive reviews praise Women's Fertility Boost for helping them conceive after months or years of trying, improving ovulatory patterns, and having great customer service.
Negative reviews demote the product for not working and causing hair loss, irregular periods, headaches, sleepiness, nausea, stomachaches, and nipple pain, among other symptoms.
No further sources of reviews present on any other website.
Additional Information
Directions
Take two capsules daily with food, or follow instructions of your healthcare provider. Women who are pregnant, nursing, under the age of 18, or with a known medical condition should consult with a doctor before use.
Where to Buy Women's Fertility Boost
Women's Fertility Boost can be purchased from Amazon.

By Anita Myers, Expert Reviewer | Updated Jun 18, 2020
I am truly passionate about helping others find the path to better health, wellness, and spirituality through yoga. I blog at Anita's Wellness Journey.
Sources
Amazon, https://amzn.to/2JPaBvJ
Chauhan, N.S. et al. (2014). A Review on Plants Used for Improvement of Sexual Performance and Virility. BioMed Research International, 2014, 868062. doi: 10.1155/2014/868062
Concepta Solutions, http://concepta.solutions/products/female-fertility/
Constantino, D. et al. (2009). Metabolic and hormonal effects of myo-inositol in women with polycystic ovary syndrome: a double-blind trial. European Review for Medical and Pharmacological Sciences, 13(2), 105-110. Retrieved June 14, 2019, from https://www.ncbi.nlm.nih.gov/pubmed/19499845
Ebisch, I.M. et al. (2007). The importance of folate, zinc and antioxidants in the pathogenesis and prevention of subfertility. Human Reproduction Update, 13(2), 163-174. doi: 10.1093/humupd/dml054
MedlinePlus. (2018). Zinc in diet | Niacin. Retrieved June 14, 2019, from https://medlineplus.gov/ency/article/002416.htm | https://medlineplus.gov/druginfo/natural/924.html
Michigan Medicine. (2015). 5-HTP. Retrieved June 14, 2019, from https://www.uofmhealth.org/health-library/hn-2793000
Regidor, P.A. & Schindler, A.E. (2016). Myoinositol as a Safe and Alternative Approach in the Treatment of Infertile PCOS Women: A German Observational Study. International Journal of Endocrinology, 2016, 9537632. doi: 10.1155/2016/9537632