Quick Facts
Company Snapshot
www.conceiveplus.com
Chicago-based U.S. headquarters
15+ years in business
No money-back guarantee
Customer support
Email helpdesh@sasmar.com
Live chat online
Fill out request online
No clinical studies of the supplement proving favorable effects on ovulatory function
Effective for those trying to conceive naturally; results will vary
No money-back guarantee
Price (via conceiveplus.com): almost $30 for a 60-capsule bottle

How Conceive Plus Women's Fertility Support Works
Conceive Plus Women's Fertility Support is a fertility supplement that is formulated with a blend of vitamins, minerals, and other nutrients necessary for women to have healthy ovulation and optimal reproductive system health. Among its ingredients are zinc - whose deficiency can cause hormonal imbalance, reduced fertility, and increased miscarriage risk - as well as folic acid, which helps prevent neural tube defects. It also includes vitamins C, D, and E, among others.
Conceive Plus Women's Fertility Support Ingredients
Main ingredients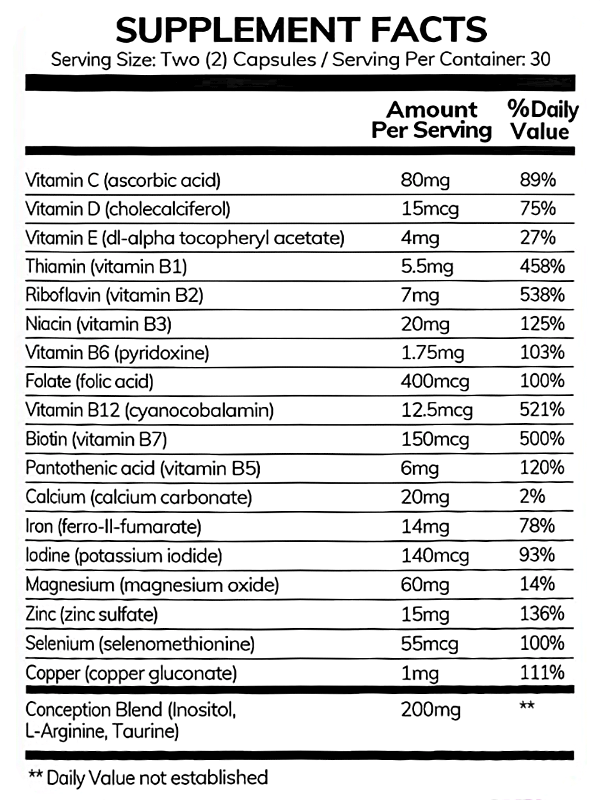 Vitamin C (ascorbic acid) - increases serum progesterone levels in women with luteal phase defect; dietary supplementation may reduce risk of birth defects

Vitamin D (cholecalciferol) - found to improve insulin resistance in women with PCOS
Vitamin E (dl-alpha tocopheryl acetate) - antioxidant effects could improve endometrial response in women with unexplained infertility
Thiamin (vitamin B1) - scientifically found to lower the risk of ovulatory infertility
Riboflavin (vitamin B2) - decreases the risk of ovulatory infertility
Niacin (vitamin B3) - reduces the risk of ovulatory infertility
Vitamin B6 (pyridoxine) - reduces the risk of ovulatory infertility; important for enzyme function and protein metabolism
Folate (folic acid) - mineral that positively influences oocyte quality and maturation, implantation, placentation, fetal growth, and organ development
Vitamin B12 (cobalamin) - essential for cell reproduction; can reduce the risk of miscarriage
Biotin (vitamin B7) - crucial for embryonic growth
Pantothenic acid (vitamin B5) - necessary for hormone and cholesterol production; produces, transports, and releases energy from fats
Calcium - important mineral for muscle contraction, nerve transmission, and the proper release of hormones
Iron - when taken alongside vitamin C, which increases its absorption, iron can help women regain or boost fertility
Iodine - regulates metabolism, bone growth, and brain development; deficiency could lead to delayed pregnancy
Magnesium (magnesium oxide) - regulates body temperature, protein synthesis, and nerve and muscle health; may reduce pregnancy complications such as fetal growth restriction and preeclampsia, or high blood pressure
Zinc (zinc sulfate) - essential component of genetic material; deficiency can cause hormonal imbalance, reduced fertility, and increased miscarriage risk
Selenium (selenomethionine) - used to make antioxidants that protect your body from free radical damage; can prevent chromosomal breakage, which can cause birth defects and miscarriage
Copper - its imbalance can interfere with early pregnancy and fetal health
Inositol - clinically proven to increase pregnancy rate in infertile women undergoing ovulation induction by possibly improving embryo quality
L-Arginine base - shown to improve fertilization rates in women with history of failed IVF attempts
Taurine - suggested to play a role in pre-implantation development of fertilized egg as the female reproductive tract's fluids contain high concentrations of this amino acid

Other ingredients
Vegetarian capsule (Hypromellose, Titanium dioxide, Allura red (RED 40)), Potato starch, Sunflower oil
This supplement is suitable for vegetarians and does not contain gluten, wheat, preservatives, or artificial flavors.
Conceive Plus Women's Fertility Support Safety & Side Effects
Conceive Plus Women's Fertility Support Safety
Consult with your healthcare professional before use, especially if taking simultaneously with other medications or natural supplements or suffer from food allergies. Keep the bottle closed and stored in a cool, dry place at all times. Keep product out of reach of children.
Side Effects of Conceive Plus Women's Fertility Support
The company of Conceive Plus Fertility Support for women does not mention any adverse reactions from the supplement's use. Nevertheless, if side effects do occur, consult with your doctor about best action to take.
Conceive Plus Women's Fertility Support Reviews
Amazon
(5,600+ reviews - Average rating: 3.9 out of 5)
Positive reviews praise Conceive Plus Women's Fertility Aid for allowing them to get pregnant after years of trying, especially women who suffer from PCOS and other menstrual irregularities.
Negative reviews discredit the product for causing irregular periods as well as not helping them to become pregnant.
Additional Information
Directions
Take two capsules daily with food up to 90 days before planned pregnancy. Continue taking daily as required until conception occurs or as advised by your healthcare professional.
Where to Buy Conceive Plus Women's Fertility Support
Conceive Plus Fertility Support can be purchased from stores like Walmart. It may also be acquired directly from the company website or through Amazon.

By Anita Myers, Expert Reviewer | Updated Apr 11, 2023
I am truly passionate about helping others find the path to better health, wellness, and spirituality through yoga. I blog at Anita's Wellness Journey.
Sources
Amazon, https://amzn.to/2Lh8wtc
Badawy, A. et al. (2007). N-Acetyl cysteine and clomiphene citrate for induction of ovulation in polycystic ovary syndrome: a cross-over trial. Acta Obstetricia et Gynecologica Scandinavica, 86(2), 218-222. doi: 10.1080/00016340601090337
Chavarro, J.E. et al. (2008). Use of multivitamins, intake of B vitamins and risk of ovulatory infertility. Fertility and Sterility, 89(3), 668-676. doi: 10.1016/j.fertnstert.2007.03.089
Conceive Plus, https://www.conceiveplus.com/product/conceive-plus-womens-fertility-support-60-caps/
Devreker, F. et al. (1999). Effects of taurine on human embryo development in vitro. Human Reproduction, 14(9), 2350-2356. doi: 10.1093/humrep/14.9.2350
Ebisch, I.M. et al. (2007). The importance of folate, zinc and antioxidants in the pathogenesis and prevention of subfertility. Human Reproduction Update, 13(2), 163-174. doi: 10.1093/humupd/dml054
Glenville, M. (2008). Boost Your Fertility. Massachusetts: Fair Winds Press. Available from Google Books.
Grzechocinska, B. et al. (2013). The role of vitamin D in impaired fertility treatment. Neuro Endocrinology Letters, 34(8), 756-762. Retrieved April 11, 2023, from https://www.ncbi.nlm.nih.gov/pubmed/24522025
Henmi, H. et al. (2003). Effects of ascorbic acid supplementation on serum progesterone levels in patients with a luteal phase defect. Fertility and Sterility, 80(2), 459-461. doi: 10.1016/S0015-0282(03)00657-5
Maheswari, A. et al. (2014). Vitamin A Deficiency and Female Fertility Problems: A Case Report and Mini Review of the Literature. Journal of Women's Health Care, 3(6), 317. doi: 10.4172/2167-0420.1000210

Mutalip, S.S.M. et al. (2018). Vitamin E as an Antioxidant in Female Reproductive Health. Antioxidants (Basel), 7(2), 22. doi: 10.3390/antiox7020022
National Institutes of Health. (2018). Iodine deficiency may reduce pregnancy changes, NIH study suggests. Retrieved April 11, 2023, from https://www.nih.gov/news-events/news-releases/iodine-deficiency-may-reduce-pregnancy-chances-nih-study-suggests
Perry, C.A. & Caudill, M.A. (2012). Biotin: Critical for Fetal Growth and Development Yet Often Overlooked. Nutrition Today, 47(2), 79-85. doi: 10.1097/NT.0b013e31824c5ca0
Zarean, E. & Tarjan, A. (2017). Effect of Magnesium Supplement on Pregnancy Outcomes: A Randomized Control Trial. Advanced Biomedical Research, 6, 109. doi: 10.4103/2277-9175.213879
Zheng, X. et al. (2017). Inositol supplement improves clinical pregnancy rate in infertile women undergoing ovulation induction for ICSI or IVF-ET. Medicine, 96(49), e8842. doi: 10.1097/MD.0000000000008842