Hormone imbalance can happen at menopause, during menstruation, before menstruation and at other times in a woman's life. While the menstruation cycle and its side effects still remains a mystery to doctors, it is believed that estrogen and progesterone fluctuate and can produce a hormone imbalance.
Keep reading to find out more about natural hormone balance
Why Does it Happen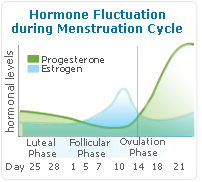 It is thought that the hormones progesterone and estrogen are in a delicate balance and are responsible for dramatic effects that can happen to a woman's body. The amounts of these hormones can vary from woman to woman.
Normally, in the first 10 to 12 days of the menstrual cycle only estrogen is produced. If ovulation happens, if an ovary is not fertilized, then progesterone is produced by the ovaries. At the end of the cycle, the levels of the two hormones drop and cause menstruation. The levels of estrogen and progesterone are supposed to equal each other out, but this is rarely the case.
Keep reading to find out the signs of hormonal imbalance
Signs of Hormonal Imbalance
Although the symptoms of hormonal imbalance can vary from woman to woman, below you will find a list that depicts how the hormones balance each other.
Depression
Headaches
Risk of miscarriage
Irregular menstrual flow
Fibrocystic breasts
Increases risk of gall bladder
Increases endometrial cancer
Decreases sex drive
Increases blood clotting
Weight gain

Causes thyroid imbalance

Elevated blood pressure

Depletes bone density
Natural antidepressant
Prevents miscarriages
Normalizes periods
Protects fibrocystic breasts

Needed for embryo survival

Prevents endometrial cancer
Restores sex drive
Normalizes blood clotting
Utilizes fat for energy
Causes thyroid balance
Regulates blood pressure
Stimulates bone density
Keep reading to find about natural hormone balance.
Treatment for Natural Hormone Balance

The first thing to do get your hormone levels check by your medical practitioner. From there you can decide how you would like to approach balancing your hormones. Many find that hormone replacement treatment comes with too many risks and turn to natural treatments.
Here is a list of some of the natural ways to balance hormones naturally:

Exercise

Diet

Staying away from alcohol, tobacco, and other harmful substances
Relaxing
Reducing stress
Dong quai
Black cohosh

Omega 3
It is important to point out that exercise and a healthy diet are key to maintaining healthy hormone levels.
Other alternative medicines like aromatherapy, herbs, and other supplements have been found to help woman get their hormones back on track.
As stated previously, if you are experiencing pain or one or many of the symptoms above, it is time to see your doctor and find out what is going on. From there you can find different solutions that work for your body.
For more information on treatment for natural hormone balance, click on this link.