Low testosterone levels can cause a surprising array of both physical and psychological complications. Abnormally high levels, too, can result in a range of unpleasant side effects. To avoid either scenario, it's important to understand what constitutes a normal testosterone level.
Ranges of Testosterone Levels
Testosterone is measured in nanograms per deciliter (ng/dL), and the amount found in the body differs with each individual. Because there's no "standard" individual level of testosterone, many experts differ on what "normal" really means. Generally, however, a range of 15 to 70 ng/dL is considered normal for women, though testosterone levels vary with age and other factors.
Prepubescent ranges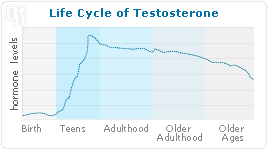 Prior to puberty, the body places higher emphasis on the production of other hormones, making testosterone levels during the period the lowest overall.
Premenopausal ranges
Premenopause indicates a "middle" range of testosterone levels. Compared to prepubescent levels, however, premenopausal testosterone levels are fairly high.
Menopausal and postmenopausal ranges
By menopause and postmenopause, women are producing less estrogen, but have the highest level of testosterone.
Continue reading to understand the implications of high testosterone levels.